Pictory AI Review: Fast Video Editing
In this Pictory AI Review, we will look at this cloud tool's main features and benefits that can help you produce quality video content in seconds.
Pictory AI is a revolutionary video creation tool that leverages artificial intelligence technology to offer users an easy-to-use and affordable way to create captivating videos from texts. With Pictory AI, creating professional-quality videos has never been easier. It is entirely operated online, meaning no downloads are required to use the software, and it is cloud-based, which makes it accessible from anywhere at any time.
Understanding the Basics of Pictory
Pictory is a photo editing tool that allows you to enhance and personalize your photos with a wide range of filters, frames, and other effects. With its user-friendly interface, you can easily add a creative touch to your photos in just a few clicks.
One of the critical benefits of Pictory is its ability to automatically adjust the lighting and color of your photos, giving you a professional look with minimal effort. The app also has different filters, like vintage, black-and-white, and more, that you can use to change the mood and style of your photos.
Pictory AI Options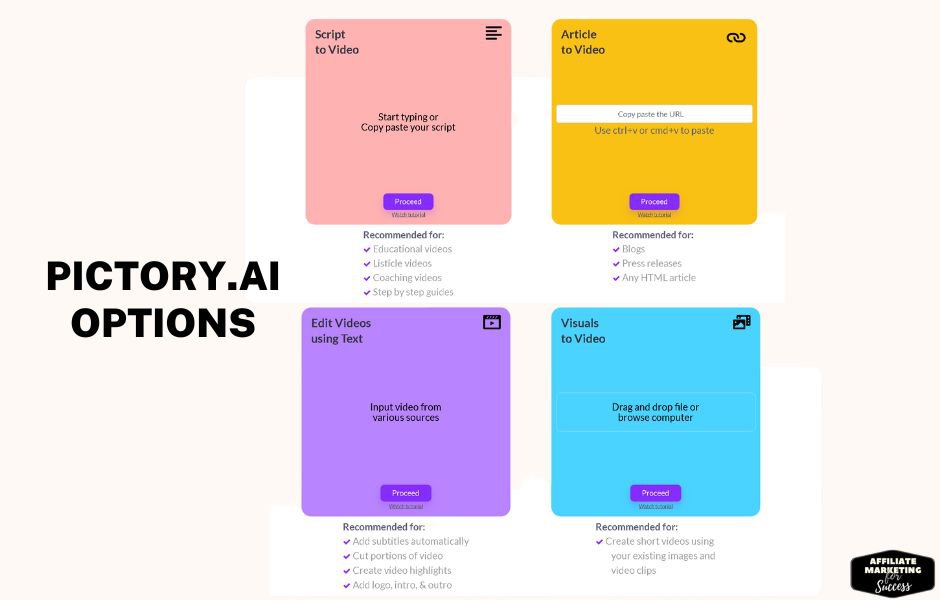 Script to Video
The platform uses powerful A. I use technology to create videos from your scripts, taking just minutes. The video is of professional quality, with over 3 million video clips and crystal clear narration (own voice or A.I.).
Simply input your script into the editor and have Pictory do its majic.
Overall, the Script to Video option of Pictory.ai is easy to use and provides full control to the user to review and edit the text and video to their liking. The A.I. engine of Pictory will summarize the content, make a storyboard for the video, and find the best parts of long-form videos.
Article to Video 
Quickly and easily transform any article or blog post into a visually engaging video with Pictory. Simply input the URL, choose the desired video format, and let the tool handle the rest. You'll receive a professional-looking video with graphics and animations in just a few minutes. Utilize this option to present your content attractively and increase brand visibility.
Edit Videos Using Text
With Pictory.ai, users can easily edit videos using simple text commands, allowing them to customize and enhance every detail of their video. The platform also provides powerful tools for adding music, captions, titles and other effects to the videos. Moreover, it supports multiple file formats and offers an extensive library of stock images and footage that can be used to further personalize the videos. 
Visuals to Video 
With Pictory.ai, users can access a range of powerful tools and features such as motion tracking, dynamic transitions, automatic audio sync and several other editing options. The user can also add text, images, logos and other elements to the video with ease. 
The Main Features of Pictory AI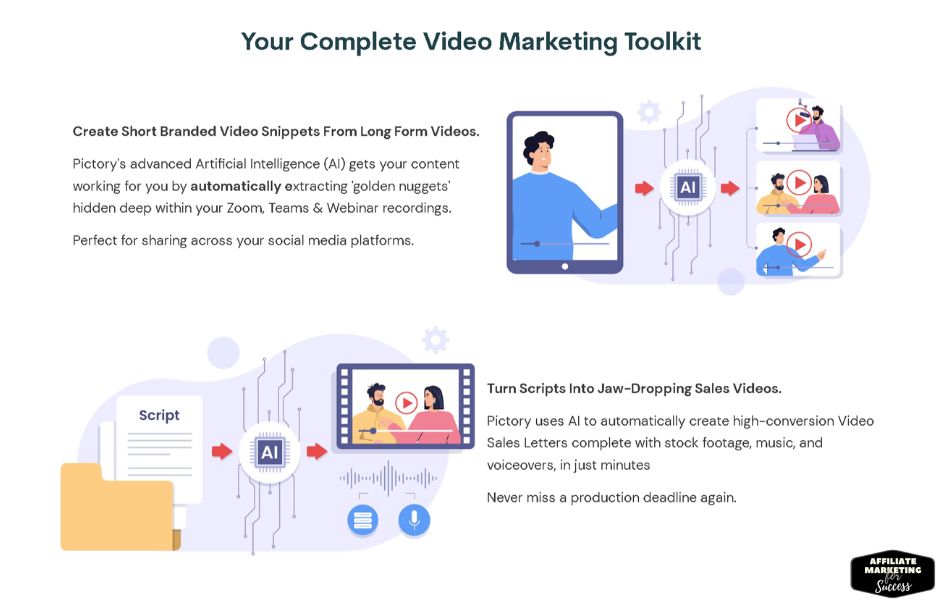 At its core, Pictory AI is designed to help you create engaging videos with minimum effort. Here are some of the features and benefits that make it an excellent choice for anyone looking to create videos:
Quick and easy video creation: With Pictory AI, you can create high-quality videos in minutes, using text or a script. The A.I. technology automatically generates a video based on your inputs, saving you time and effort. 
Wide selection of A.I. voiceovers: Pictory AI offers over 40 A.I. voiceovers to choose from, allowing you to add a human-like voice to your videos.
User-friendly interface: The software is designed to be easy to use, even for those with no technical knowledge. You can review and edit videos to your liking with ease.
Affordable pricing: Pictory AI has four pricing tiers ranging from free to enterprise, with the free tier allowing users to create three videos. The other tiers come with unlimited video creation rights, making it accessible to everyone, regardless of budget. 
Extracts golden nuggets from long form videos: Pictory AI's advanced Artificial Intelligence (A.I.) helps you get more out of your content by automatically extracting golden nuggets hidden within your videos. This makes it perfect for sharing your content across social media platforms.
The Benefits of Using Pictory AI for Your Storytelling Projects
Whether you're looking to create a visual story for your business, personal projects, or just for fun, Pictory offers a wealth of benefits that make it the perfect platform for your needs. Here are just a few of the key benefits of using Pictory:
Increased Engagement: With beautiful, captivating visuals, Pictory can help you to engage your audience and keep them coming back for more.
Improved Brand Awareness: With the ability to easily share your stories on social media, Pictory can help you to build your brand and reach a wider audience.
Increased Productivity: With its user-friendly interface and customizable templates, Pictory can help you to quickly create stunning visual stories, freeing up your time for other important tasks.
Unmatched Flexibility: Whether you're a professional photographer or just starting out, Pictory offers the flexibility and customization options you need to create a unique and engaging visual story.
Improved Decision-Making: By extracting meaningful insights from visual data, Pictory AI helps businesses make informed decisions, resulting in improved efficiency, productivity, and profitability.
Enhanced Customer Understanding: The platform's ability to analyze images and videos gives businesses a deeper understanding of their customers, including their preferences, behavior, and pain points.
Increased Accuracy: Pictory AI's advanced computer vision algorithms ensure highly accurate visual data analysis, reducing the risk of human error.
Faster Processing Time: The platform's efficient algorithms allow businesses to analyze large volumes of visual data quickly and efficiently, reducing the time and resources required for manual analysis.
Customization: The ability to train custom models to recognize specific objects, scenes, and attributes enables businesses to tailor the platform to their specific needs.
How to Get Started with Pictory: A Step-by-Step Guide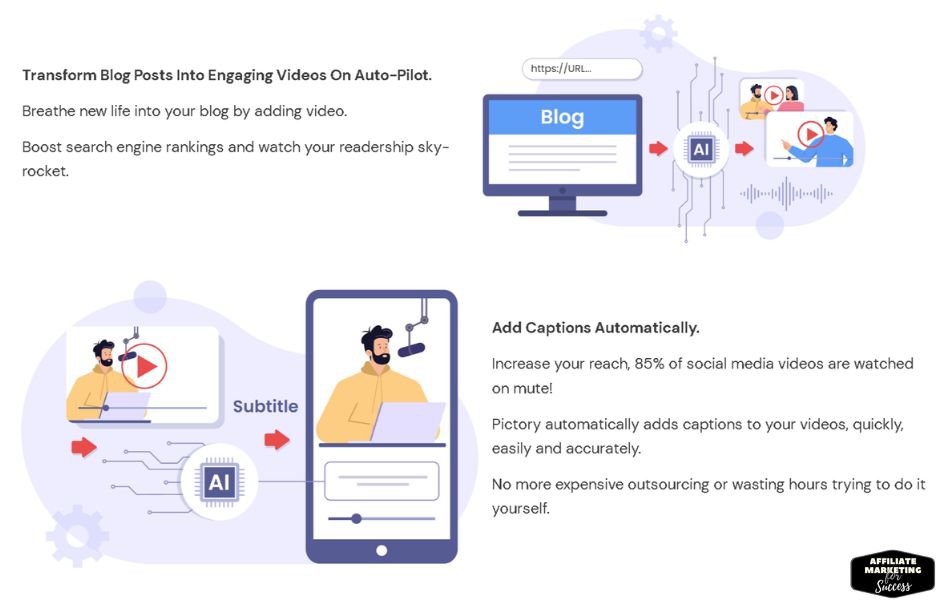 Ready to get started with Pictory? Here's a step-by-step guide to help you get up and running in no time:
Sign up for an account: Visit the Pictory website and sign up for a free account.
Choose a template: Browse through the selection of templates and choose one that best fits your needs.
Customize your design: Use the customizable options to tailor your design to your brand or personal style.
Add your content: Upload your photos and add text to bring your story to life.
Share your story: Share your story on social media, email, or any other platform of your choice.
Advanced Editing Features
Pictory is intended to be simple to use, but it also includes advanced editing capabilities for those who want to take their images to the next level. These include the ability to change the brightness, contrast, saturation, and other settings. You may also utilize the selective editing tool in the app to make fine tweaks to certain portions of your shot.
Pictory also has a fantastic collection of frames, which can add a touch of originality and individuality to your images. With so many variations, you may choose the right frame to match your photo and make it stand out.
The User Experience
Pictory's user interface is excellent, making it easy to start and alter your photographs immediately. The app's layout is simple and easy to use, with clear instructions and useful hints throughout. As a result, it is an excellent choice for novice and advanced users.
Pictory is also accessible for iOS and Android devices, so you may use it on your smartphone or tablet. This makes it a useful option for individuals who are constantly on the move and want to be able to edit their images no matter where they are.
Why Pictory AI Dominates the Competition
Pictory offers a wealth of features that make it the perfect platform for creative storytelling. Here are just a few of the key features that set Pictory apart from the competition:
User-Friendly Interface: With a simple and intuitive interface, Pictory makes it easy for users of all skill levels to create stunning visual stories.
Wide Selection of Templates: Pictory offers a variety of templates to help users quickly get started, or users can easily create their own unique layouts.
Customizable Design Options: Pictory gives users complete control over their design, with a wide range of options to help them create a look that truly represents their brand.
Seamless Sharing: With the ability to easily share stories on social media and other platforms, Pictory makes it easy for users to reach their audience and get their stories seen by the world.
How Does Pictory Dominates Competition?
Pictory is different from other photo editing programs because it is easy to use and has a lot of editing options. Even though other programs may have more editing options, they can be difficult and scary for people who don't know much about editing pictures.
Pictory, on the other hand, is the perfect mix of simple and advanced, making it a great choice for people who want to improve their photos without too much trouble. Furthermore, its being available on iOS and Android smartphones give it an obvious advantage over some of its competitors.
Why Choose Pictory AI Over Other Video Creation Tools
Pictory AI stands out from other video creation tools for its ease of use, affordability, and wide range of features. It also has a good reputation. Users like how responsive the customer service is and how easy the software is to use.
Moreover, Pictory AI's use of A.I. technology sets it apart from other video creation tools, allowing for producing professional-quality videos in a fraction of the time it would take with other devices. Additionally, the extensive library of stock videos and the ability to add A.I. voiceovers to your videos make Pictory AI a one-stop solution for all your video creation needs.
Pictionary.ai vs. Vidnami
They are both Video Creation Tools for Professional Results. Choose from Pictionary.ai's illustration and animation library or Vidnami's wide range of templates, themes, and editing tools to make explainer, educational, promotional, marketing, and advertisement videos. The right tool for your needs depends on the type of content you want to make.
Pitory.ai vs. Wisecut
Professionals can use Pitory.ai's advanced editing features, while Wisecut is a mobile app that makes it easy for anyone to make a video. Choose the best tool for your video needs from Pitory.ai's full suite of editing tools for businesses or Wisecut's easy-to-use interface for making quick videos for social media.
How to Get the Most Out of Pictory
There are a few tips and tactics to remember if you want to get the most out of Pictory. To begin, try out different filters and frames to discover the best appearance for your images. Also, play around with the app's editing tools to see how they change your photos and find the right balance.
It's also critical to maintain your photo library organized and easily accessible since this will make it easier to search and edit your photos when necessary. Consider using a picture management tool or organizing your photos into albums within your device's photo library to do this.
Pricing Model of Pictory AI
The pricing model of Pictory AI is designed to be cost-effective, flexible, and efficient. It consists of a pay-as-you-go plan which allows customers to use the platform on an as-needed basis and pay only for the services they need. Pictory AI is ideal for businesses with varying needs or on tight budgets. Pictory AI also has an annual plan that gives people who sign up for the service in bulk a discount. Both payment plans can be scaled up or down at any time, depending on the customer's needs and budget. 
Standard Plan: $19 Per User/Month
Under this plan, members can produce 30 videos (with 720p video output) and receive 10 hours of video transcription per month. They can generate text-to-video projects that have a duration of up to 10 minutes and edit videos for an hour at most. The standard plan also gives you access to three custom templates, 5000 sound recordings, and 25 text-to-speech voices that are powered by artificial intelligence.
Premium Plan: $39 Per User/Month
The premium plan enables users to make up to 60 videos (with 720p and 1080p resolution) with 20 hours of video transcription per month. The maximum length for text-to-video conversion is 20 minutes, while video editing can be done for up to three hours.
It includes 10 customizable templates, 15,000 musical pieces, and 42 A.I. voices for text-to-speech conversion. The package also includes automatic synchronization of voiceover, custom introduction and ending sequences, integration with Hootsuite, and batch downloading of videos in CSV format.
Enterprise Plan: Custom
The enterprise plan is most suitable for big businesses. Its features and cost have been adapted to the company's preference, including a committed account supervisor.
Conclusion
Pictory AI is a solid and intelligent visual A.I. platform that offers a variety of features and benefits to businesses, including improved decision-making, higher customer comprehension, and increased accuracy. However, due to its high cost and technological requirements, the platform may not be ideal for all enterprises.
To assess whether Pictory AI is the best solution, analyze your requirements and budget. Pictory AI is a very useful tool for businesses that want to stay ahead of the competition. Its cutting-edge technology and ability to analyze a lot of data make it a great choice.
Unlock the Power of A.I. Video Creation with Pictory AI – Get Your Videos Made Today!
Try Pictory for FREE

Risk-Free and No Credit Card Required
Automatically create short, highly-sharable branded videos from your long-form content.
Quick, easy & cost-effective.
No technical skills or software download required.
I'm Alexios Papaioannou, a word wizard, and affiliate marketing ninja with a decade of experience crafting killer blog posts that captivate and convert. Specializing in affiliate marketing, content writing, analytics, and social media. My secret weapon is a love of running that boosts my creativity and energy. Let's create epic content together!