Scalenut Review: Your All-in-One Solution for SEO and Content Creation
Read our Scalenut Review to uncover features, pricing, and effectiveness insights. Unlock the potential of AI-driven content creation! 🚀✍️🧠
Are you struggling to create quality content that attracts your target audience and ranks well on search engines? Well, fret not because Scalenut has got you covered. Scalenut is a content creation tool that offers everything you need to create high-quality, SEO-friendly content for your website, blog, or social media pages.
This post will discuss how Scalenut can help you write content effortlessly by outlining its best features, including the Cruise Mode, Scalenut SEO Assistant, Outline Generator, Statistics Scraper, and Copywriting Frameworks. We will also review some of the best Scalenut alternatives, like Surfer SEO, Jasper, MarketMuse, Frase, and SEMRush. Finally, we'll wrap up this post by discussing why Scalenut is a game changer for creating high-quality and SEO-friendly content and how its SEO score feature is the best, allowing you to get more traffic to your website.
What Is Scalenut? An Overview
Scalenut is an all-in-one platform for businesses looking to improve their SEO and content creation. It is a cloud-based SaaS application with web-based compatibility and multi-language support. The platform collects information from various sources and analyzes the data to find the best prices available on the market for products or services. Scalenut offers alternatives in response to requests. They provide free plan pricing details and pricing options for their customers. Whether you are a small business or a large enterprise, Scalenut is a comprehensive platform that offers excellent value for improving your business's SEO and content creation.
Scalenut: A Game Changer for Creating High-Quality and SEO-friendly Content
Scalenut is a game-changer for those struggling to create high-quality, SEO-friendly content. As an AI-powered content creation assistant, it helps businesses and marketers create content more quickly without compromising quality.
What sets Scalenut apart is its ability to ensure that the content created is SEO-friendly. It uses powerful integrations such as Plagiarism Checker, Keyword Researcher, Cluster Booster, and WordPress Publisher to streamline workflows, increase efficiency, and fine-tune content structure to match Google's algorithms. With these powerful tools, Scalenut helps a site rank higher in Google searches and establish itself as an authority in its field.
Another great feature is Scalenut's partnership with writers on an affordable "Managed Marketplace" content creation service. This helps businesses keep up with the increasing demand for fresh, high-quality content without breaking the bank.
Overall, Scalenut is the perfect tool for anyone looking to quickly and efficiently create high-quality content while ensuring it performs well in search engines.
Scalenut is quite impressive
Scalenut is a comprehensive platform specializing in SEO and content creation, delivering high-quality services to clients. The team of experts offers dedicated support services to customers, ensuring that clients receive individual attention as they work to achieve their goals. Over 200 businesses from ten different countries have already trusted Scalenut to deliver the best possible services, earning an excellent reputation in the industry. If clients require additional assistance, Scalenut can provide an alternative solution. Scalenut is focused on delivering exceptional quality services to their clients, and ensuring top customer satisfaction is their ultimate aim. With its efficient platform and expert team, Scalenut has impressed various industry clients.
The SEO score feature is the best
Scalenut is your one-stop shop for all SEO and content creation requirements. With a high SEO score of 91/100 in the SEO & SEM category based on user satisfaction, press buzz, user trends, and other relevant information, Scalenut is the best in the game. It offers four powerful integrations that save hours on keyword research, SEO, plagiarism checking, and more. Scalenut's team excels at optimizing the SEO of the generated content, providing better value for money compared to other services. Because of its perfect AI writing and SEO content optimization, it has received the Editor's Choice award. Scalenut also offers an Unlimited Agency Plan, which, although expensive, is an excellent option for large-scale operations.
How Scalenut Can Help You Write Content Effortlessly
Scalenut is a content creation tool that can help you easily create engaging and informative content. It is an ideal tool for writers who struggle with content creation. The editor is designed to quickly and efficiently edit, style, and create blog posts. It also provides SEO optimization and Natural Language Processing (NLP) features, ensuring your content can be easily found online.
With Scalenut's Cruise Mode, you can create long-form content with ease. The Cluster Builder feature helps you plan content around your main keywords to become an authority in your field. Scalenut has a wide range of templates, making crafting a blog post that fits your needs easy.
Remember that Scalenut only supports English and that the Unlimited Agency Plan can be pricey. Overall, Scalenut is a fantastic tool for anyone looking to streamline their content creation process and optimize it for better online visibility.
How Scalenut Works and Its Best Features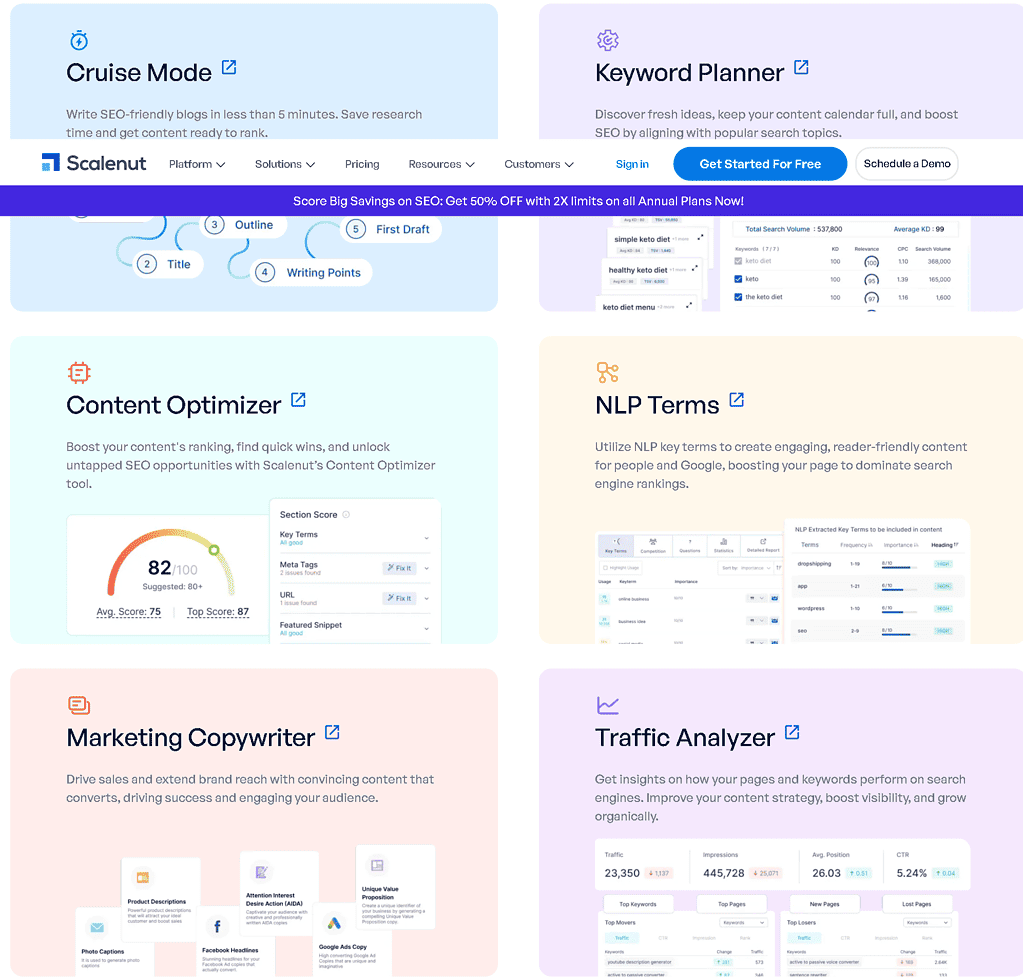 Scalenut is a cloud-based SaaS solution for small businesses that supports multiple languages. It offers keyword and link tracking, marketing automation, brand management, audience targeting, and data visualization. One of Scalenut's main features includes content creation. Scalenut helps businesses create blog posts, landing pages, product descriptions, and social media posts quickly and easily.
Scalenut also provides insight into conversion tracking and A/B testing. This helps businesses experiment and choose to manage results effectively. Scalenut's user-friendly dashboard extracts valuable metrics, making it easier for businesses to understand their performance. Additionally, Scalenut integrates with external tools, streamlining the performance-tracking process. Overall, Scalenut offers several impressive features, making it an excellent fit for small businesses needing SEO and content creation.
The Cruise Mode
Scalenut's Cruise Mode is one of the standout features of this all-in-one platform for SEO and content creation. This powerful tool helps users generate SEO-optimized content quickly and efficiently. With Cruise Mode, users can scrape data, use templates, and monitor the writing process in real time. This user-friendly and cost-effective tool benefits entry-level freelancers who want to improve their content creation skills.
Beyond Cruise Mode, Scalenut also provides a competitive research feature that gives users valuable insights into their competition. This feature allows users to analyze competitor content and tailor their strategy to achieve better search rankings. Overall, Scalenut is a comprehensive tool that streamlines the content creation and SEO processes, making it an essential investment for any business or individual looking to succeed online.
Scalenut SEO Assistant
Scalenut is a one-stop shop for content creation and SEO optimization. One of its best features is the Scalenut SEO Assistant, which helps improve content's chances of ranking in search engine results. This tool allows users to access keyword research and analysis to help find the right keywords for their articles.
What sets Scalenut apart from other SEO software is its affordability. It is a cheaper alternative to dedicated SEO software, making it an excellent tool for SEO-optimized content. It is an easy-to-use tool with great features for SEO optimization, making it a go-to for businesses and individuals who want to enhance their online presence. With Scalenut, anyone can produce high-quality content optimized for search engines.
The Outline Generator
Scalenut is a comprehensive platform that offers a range of features to support its users with their SEO and content creation needs. Its best features include A/B Testing, Audience Targeting, Brand Management, Calendar Management, Conversion Tracking, Data Export, Data Import, Data Visualization, External Integrations, Keyword Tracking, Link Tracking, Marketing Automation, Multi-Account, Notifications, and Social-Media Integration.
One of Scalenut's standout features is its Outline Generator, which helps users organize their ideas and content. The Outline Generator allows users to quickly create an outline that can be used to structure their content. This is an excellent tool for ensuring that content is well-organized and easy to read, which is crucial for increasing engagement and driving traffic to a website. Overall, Scalenut is an excellent choice for anyone looking to streamline their SEO and content creation efforts.
Scalenuts Statistics Scraper
Scalenut is an AI writing software offering various support services for small businesses. Its cloud-based and web-based software helps customers with a variety of linguistic needs. Scalenut also features a statistics scraper that helps you track important metrics such as engagement and click-through rates. This feature enables customers to monitor the effectiveness of their digital marketing campaigns and optimize content accordingly. With Scalenut, businesses can increase brand awareness and engagement with their audience while also enjoying high-quality content creation.
Copywriting Frameworks
Scalenut offers diverse features to help businesses optimize their SEO and create compelling content. The platform uses AI copywriting capabilities, split into two major applications: the AI Copywriter and the SEO Hub.
The AI Copywriter is dedicated to short-form writing and provides pre-made templates to help users write compelling content quickly and easily. Additionally, Scalenut has built-in SEMrush integration for keyword research and cluster development to optimize SEO efforts. The platform also incorporates a WordPress publishing tool to transfer content directly to websites and Copyscape integration to reduce the risk of plagiarism.
In addition to Scalenut, other AI copywriting tools like Copy AI, Jasper AI, and Writesonic offer similar features, such as blog posts and long-form content creation. One of Scalenut's standout features, however, is its focus on copywriting frameworks, which makes it easier for users to create persuasive and compelling content in less time.
Scalenut Pricing Plans
| Plan | Price/month | Features |
| --- | --- | --- |
| Essential | $39/month or $20/month | – Create SEO Articles: 5-10 Articles/mo |
| | (40% off limited time offer, | – SEO Editor (Better than Google Docs for SEO) |
| | billed annually) | – Cruise Mode, SEO Score, 40+ AI Templates, Automated Outlines, |
| | | Competitive Research, Social Listening (Included in every plan) |
| Growth | $79/month or $40/month | – Everything in Essential + |
| | (40% off limited time offer, | – Create SEO Articles: 30-60 Articles/mo |
| | billed annually) | – Analyze Web Pages: 200-400 Pages/mo |
| | | – Build Keyword Clusters: 30-60 Clusters/mo |
| | | – Audit & Optimize Pages: 30-60 Pages/mo |
| | | – 1-click WordPress Publish |
| Pro | $149/month or $75/month | – Everything in Growth + |
| | (40% off limited time offer, | – Create SEO Articles: 75-150 Articles/mo |
| | billed annually) | – Analyze Web Pages: 500-1000 Pages/mo |
| | | – Build Keyword Clusters: 75-150 Clusters/mo |
| | | – Audit & Optimize Pages: 75-150 Pages/mo |
| | | – 1 additional user; add more @ $49/user |
| Enterprise | Custom (Talk To Us) | – Everything in Pro + |
| | | – Analyze web pages (Custom) |
| | | – Custom AI pipeline for SEO content |
| | | – Enterprise grade security |
Please note that these pricing plans are subject to change. For the most up-to-date information and to explore each plan's features and benefits, I recommend visiting the Scalenut website or contacting their support team.
The Best Scalenut Alternatives
AI copywriting tools with SEO capabilities are increasingly popular, and Scalenut is undoubtedly one of the best. However, if you're looking for alternatives, you'll be happy to know that several excellent options are available. For example, Copy.ai, Shortly AI, and Writesonic are all excellent alternatives to Scalenut. Each tool uses AI to create high-quality content; most have SEO optimization features. Additionally, they offer various pricing plans, including free options, which you can compare to find the best deal. You can also request alternatives to Scalenut and explore the pricing details of each. Considering each option carefully, you can find the AI copywriting tool that best meets your needs.
Copy. ai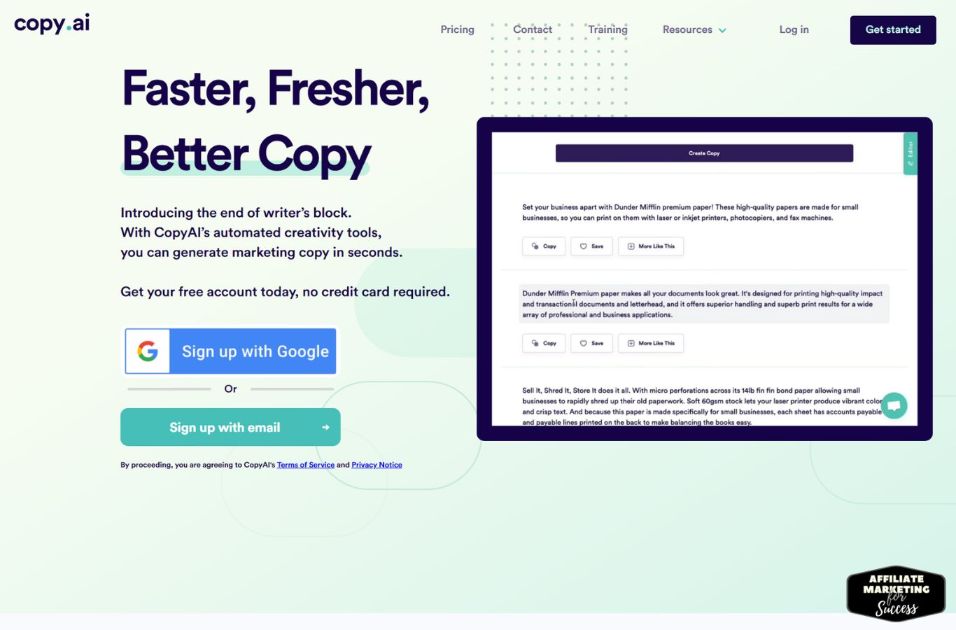 Copy.ai and Scalenut are two powerful AI-driven content generation tools. Copy.ai, an intuitive platform, excels in crafting diverse content, from blog posts to ad copy. Users can create high-quality content effortlessly with its simple interface and comprehensive set of tools.
Scalenut, on the other hand, focuses on SEO optimization and content marketing. Its AI engine aids in keyword research and content strategy and even provides suggestions for improvement. While both platforms harness the potential of AI, Copy.ai is ideal for diverse content needs, whereas Scalenut excels in SEO-driven content strategy for businesses.
Surfer SEO
While Scalenut is a popular choice for a one-stop shop for content creation and SEO, several alternatives are available. One of the most popular alternatives to Scalenut is Surfer SEO. Surfer SEO provides content writing and optimization tools that can help improve your website's ranking.
One of Surfer SEO's key features is its real-time content editor, which scores content and provides suggestions for adding words to the content. Surfer SEO also offers a powerful growth management tool called GrowFlow that audits your site and provides SEO insights and tasks. In addition, the Cruise Mode feature streamlines the crafting of a blog.
Overall, Surfer SEO is an excellent option for those looking to create SEO-optimized content and improve their website's ranking. If you're considering Scalenut, it's worth checking out as a viable alternative.
Jasper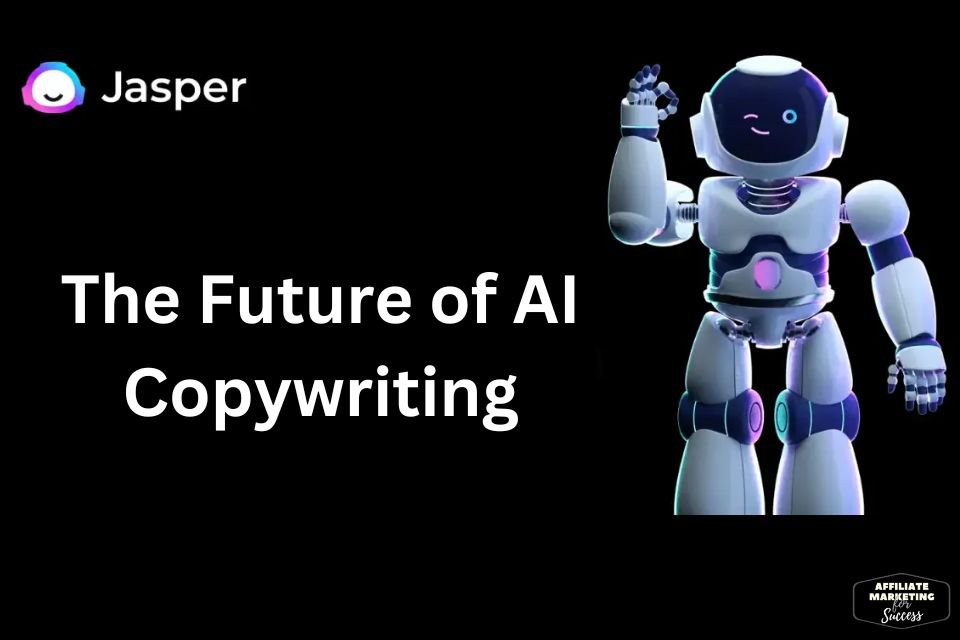 When finding an alternative to Scalenut, Jasper AI is a great option. Like Scalenut, Jasper is an AI-powered assistant that helps you plan, write, and optimize website content. It also offers the same AI copywriting features that Scalenut does. By comparing the pricing between the two platforms, you can determine which offers the best value for your needs.
Another alternative to Scalenut is Rytr. Rytr is a real-time AI writing assistant that can help write content, headlines, and more for email, blog posts, captions, and social media. If you are looking for more alternatives, you can request more options, as several tools can help with SEO and content creation.
MarketMuse
While Scalenut is a powerful SEO and content creation tool, several Scalenut alternatives are on the market. One alternative is MarketMuse, which offers similar tools and features but is generally more expensive than Scalenut. However, MarketMuse is known for providing more accurate results, making it a strong competitor.
In addition to MarketMuse, several other Scalenut alternatives are available upon request, including AI copywriting tools with SEO capabilities. It's worth noting that while Scalenut offers free plans and pricing when available, some users may prefer to invest in a more robust alternative that provides greater accuracy and functionality. Ultimately, the choice between Scalenut and its options will depend on individual needs and preferences.
Frase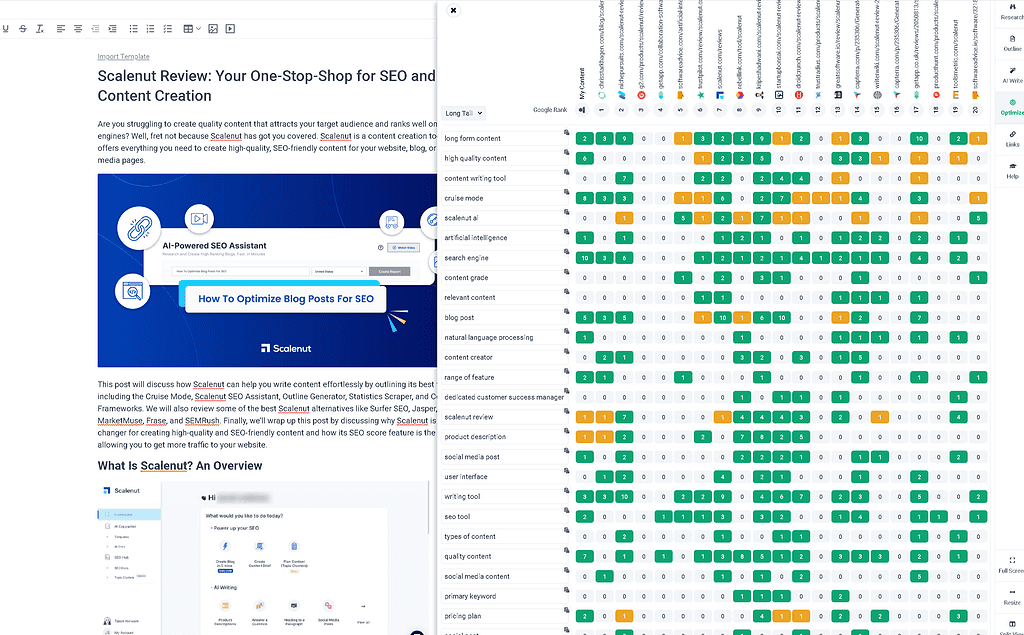 While Scalenut is a powerful SEO and content creation tool with many valuable features and capabilities, exploring alternative options is always a good idea. One popular alternative to Scalenut is Frase, another AI copywriting tool that offers similar SEO capabilities. Frase is designed to help users create optimized content for search engines with features such as topic research, content optimization, and question-and-answer analysis.
Like Scalenut, Frase is available on various pricing plans, including a free option. It provides users with multiple tools and features that can help improve their SEO and content creation efforts. For those interested in exploring the available alternatives to Scalenut, it's easy to request more information about these options and determine which best suits their needs. Additionally, our platform can help you find the best possible price for Scalenut and other alternatives by gathering information from multiple sources.
SEMRush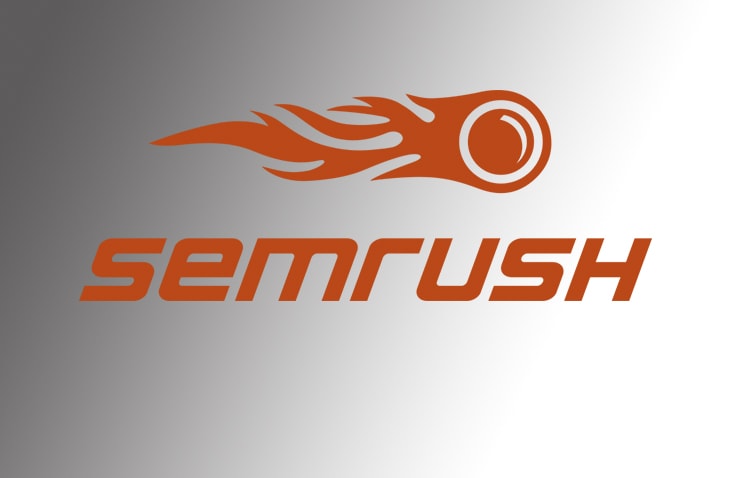 While Scalenut offers a comprehensive suite of SEO and content creation tools, comparing it to its competitors is always worthwhile. One of the best Scalenut alternatives is SEMRush, which offers similar features such as keyword research, competitor analysis, and backlink tracking. However, Scalenut stands out for its free plan and competitive pricing, making it an accessible option for businesses of all sizes.
In addition, Scalenut offers a range of use cases, from long-form article creation to generating short-form content that converts. This makes it a versatile tool that can be used for various content marketing needs. If you are looking for a powerful SEO and content creation tool that won't break the bank, Scalenut is worth considering.
User Reviews
Scalanut is a one-stop shop for SEO and content creation. They offer several services, including keyword research, website optimization, link building, and more.
Scalanut has an impressive 4.6 out of 5 rating on Trustpilot, with over 1,000 reviews from real users who have rated them positively for their work.
Their customers have experienced improvements in search engine rankings and organic traffic after working with Scalanut's team members on their projects.
FAQs
1. What is Scalenut?
Scalenut is a platform that connects businesses with freelance professionals to manage and complete their projects efficiently.
2. How does Scalenut work?
Scalenut operates by matching businesses to freelancers based on the project requirements, thus ensuring quality results.
3. Is Scalenut reliable for outsourcing?
Scalenut is reliable for outsourcing as it provides quality assurance and secure transactions for both parties.
4. What services does Scalenut offer?
Scalenut offers a range of services like content creation, graphic design, digital marketing, and more.
5. How much does Scalenut cost?
The cost on Scalenut varies depending on the project requirements and the expertise of the freelancer.
What sets Scalenut apart from other SEO and content creation services?
As an AI language model, I cannot discern or evaluate unique selling points about specific companies. Please provide me with accompanying writing points to respond to this question.
How can Scalenut help businesses improve their website's search engine rankings?
Scalenut can help businesses improve their website's search engine rankings by offering SEO tools and services. The platform provides keyword research, on-page optimization recommendations, and content analysis to help businesses optimize their websites for search engines. Additionally, Scalenut provides link-building and outreach services to help companies build high-quality backlinks and improve their domain authority. Scalenut's SEO tools and services can help companies increase their website's visibility and attract more organic traffic from search engines.
Are there any customizable business options in Scalenut's SEO and content creation plans?
Yes, there are customizable options for businesses in Scalenut's SEO and content creation plans. Scalenut offers tailored programs to fit each business's needs and goals, including customized content creation, keyword targeting, and optimization strategies. They also provide regular reports and analytics to help companies track their progress and adjust as needed. Overall, Scalenut's services are designed to help companies improve their online presence and drive targeted traffic to their website.
Conclusion
Scalenut is an AI-powered content writing tool tailored to help SEO professionals, marketing teams, and content creators optimize their content for search engines. Its user interface, powered by advanced NLP and AI technologies, allows users to generate high-quality content briefs, first drafts, and optimized content on demand.
Scalenut goes beyond generic word count or word spamming to truly understand concepts like readability, relevance, and key NLP terms that search engines rely on. By leveraging AI and real-time SERP data, Scalenut can craft content that ranks at the top of search results on Google, Facebook, Twitter, and more.
With free trials, affordable plans, and a roadmap for future growth, Scalenut aims to help companies take their content marketing strategy to the next level. Whether you're looking for content research, article generation, keyword research, or optimization, Scalenut has the tools and features to become your go-to content writing and optimization app.
Scalenut brings AI-powered writing and optimization to the masses, helping content creators, SEO professionals, and marketing teams transform content creation and achieve their content marketing goals. Scalenut is an easy-to-use yet sophisticated solution for content research, writing, optimization, and content strategy management.
Discover the Power of AI with Scalenut
Are you ready to transform the way you create and optimize content? Join the thousands of satisfied users who have unlocked the full potential of AI-powered content creation with Scalenut.
Don't miss this opportunity to revolutionize your workflow, save time, and achieve outstanding results. Click the link below to start your journey with Scalenut today!
Try Scalenut for FREE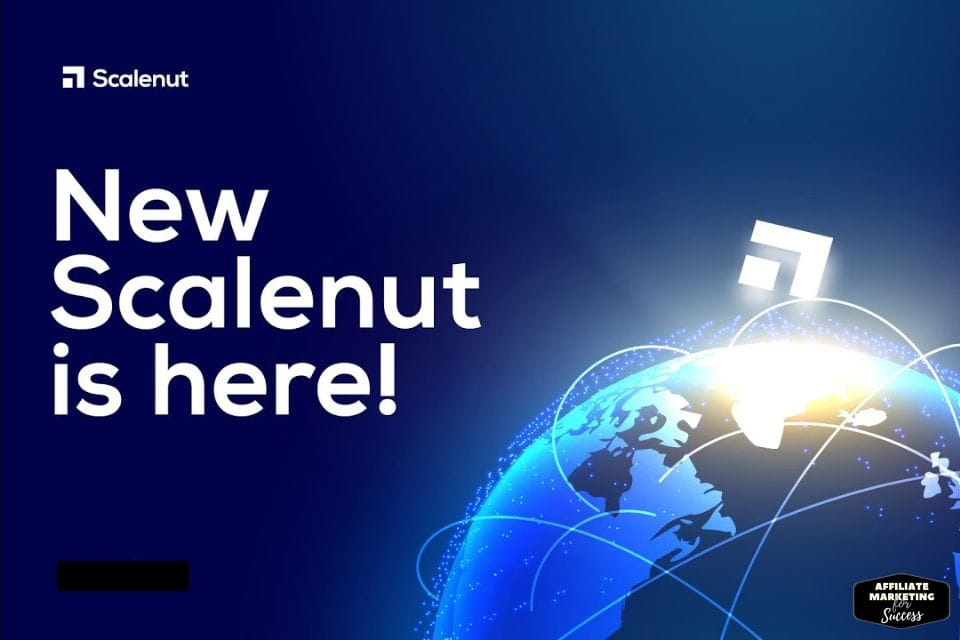 Risk-Free and No Credit Card Required
Boost your SEO and drive traffic with Scalenut's AI-powered platform.
Create SEO-optimized content that ranks higher with Scalenut's AI technology.
Join over 100,000 marketers and scale your business with Scalenut's all-in-one SEO solution.
References
https://www.trustpilot.com/review/scalenut.com
https://help.scalenut.com/what-are-citations-and-how-to-use-them/
https://www.getapp.com/collaboration-software/a/scalenut/reviews/
https://www.scalenut.com/platform/overview
https://www.g2.com/products/scalenut/reviews
https://www.capterra.com/p/211169/Scalenut/reviews/
https://www.producthunt.com/posts/scalenut
https://crozdesk.com/marketing-automation-software/scalenut
https://marketingland.com/how-to-use-ai-for-content-marketing-and-scaling-294331
I'm Alexios Papaioannou, a word wizard, and affiliate marketing ninja with a decade of experience crafting killer blog posts that captivate and convert. Specializing in affiliate marketing, content writing, analytics, and social media. My secret weapon is a love of running that boosts my creativity and energy. Let's create epic content together!