Revolutionizing Content Marketing: MarketMuse Review and AI-driven Strategies
In this MarketMuse Review you'll discover how this game-changing AI content marketing tool empowers content strategies for success.
Discover the future of content marketing with MarketMuse, an AI-driven powerhouse revolutionizing how businesses create and optimize their content strategies.
 Say goodbye to guesswork and hello to data-driven insights as MarketMuse empowers your brand to craft engaging, relevant, and high-performing content that connects with your audience and outshines the competition. Dive into the MarketMuse world and unlock cutting-edge AI technology's potential to elevate your content game to new heights.
This comprehensive MarketMuse Review will explore how this cutting-edge tool can elevate your content game, streamline workflows, and ultimately drive unbeatable results. Get ready to unlock the full potential of your content marketing strategy with the power of artificial intelligence!
Introduction to MarketMuse
MarketMuse is a web-based Search Engine Optimization (SEO) solution created to assist content producers, and marketers develop superior content that performs well in search engines. The platform utilizes artificial intelligence (AI) to examine topic models, pinpoint pertinent keywords, and enhance content for search intent.
Established in 2013 by Aki Balogh and Jeff Coyle, MarketMuse has evolved into an all-encompassing content marketing tool offering content strategy, evaluation, and enhancement functions. The system is relied upon by promotional firms, SEO organizations, and marketing departments of every dimension to boost their organic search positions.
Step-by-step Guide on MarketMuse
Discover the power of MarketMuse with this comprehensive overview of its main features. The table below highlights the essentials, such as content optimization, competitor comparison, and keyword research. Each feature is detailed and rated based on its effectiveness, coverage, and more. Explore the capabilities of MarketMuse and step up your content marketing game with this informative and captivating snapshot.
Feature
Description
Rating
(1-5)
Rating Parameter
Content Optimization
Analyzes content to improve target keywords' relevance
4.5
Effectiveness
Content Planning
Identifies content gaps and provides topic suggestions
4
Coverage
Competitor Comparison
Compares content to industry leaders
4
Benchmarking
SERP Analysis
Analyzes search engine results pages for insights
3.5
Competitiveness
Content Inventory
Organizes and manages existing content
3.5
Usability
Keyword Research
Provides in-depth keyword data and suggestions
4.5
Thoroughness
Content Scoring
Rates content quality based on target keywords
4
Measurement
Question Research
Identifies relevant questions for content creation
4
Engagement
Understanding the MarketMuse Workflow
MarketMuse offers several powerful tools, such as:
Content briefs
Content planning and optimization
Keyword recommendations
Content audits
Internal and external links suggestions
These tools can help you create a seamless content creation process that handles keyword research and optimization, ensuring your content ranks higher on search engines.
Comprehensive Content Analysis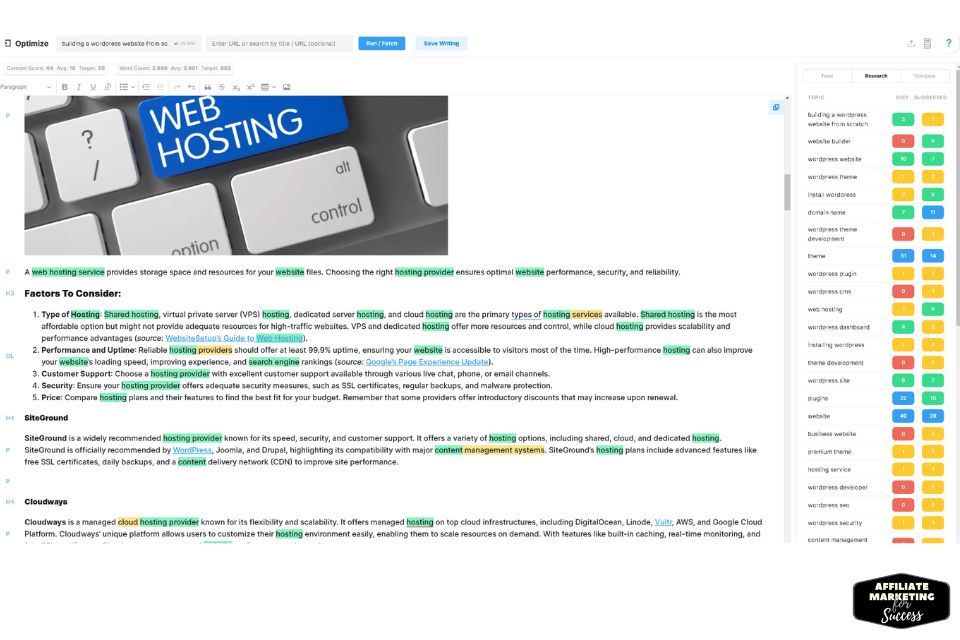 MarketMuse's proprietary content analysis evaluates your content across key SEO metrics like keyword usage, content depth, and relevance. It provides actionable recommendations for optimization, assigning a target score for each page and suggesting keywords and specific guidance to boost quality and relevance, thereby increasing organic search traffic and rankings.
Content Strategy and Planning
The platform's content strategy and planning features help you identify opportunities, optimize existing content, and plan your content calendar. By analyzing your competitors' content, MarketMuse can identify content gaps and suggest topics that will resonate with your target audience.
Content Briefs and Optimization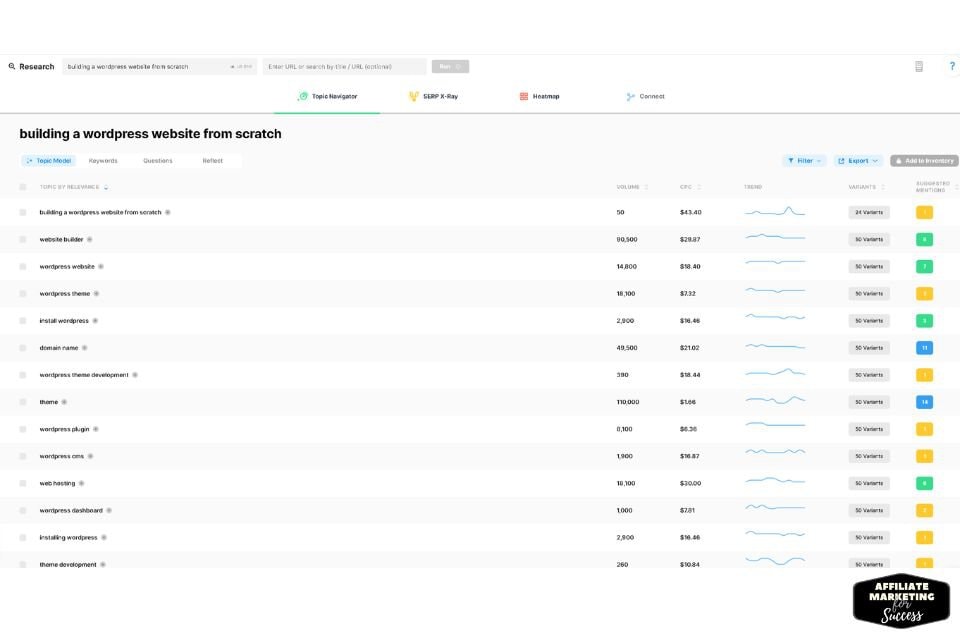 MarketMuse's content briefs provide detailed instructions for content creators, including target keywords, subtopics, and questions to address. The platform's content optimization tools help you fine-tune your content to align with search intent and improve its search engine rankings.
Internal Links and External Link Suggestions
The platform recognizes pertinent internal and external links for incorporation into your content. These recommendations aid in enhancing your content's credibility and significance and can also assist search engines in comprehending the central theme of your content.
Setting Up Projects
MarketMuse's powerful project management system enables you to organize and execute your content marketing and SEO initiatives efficiently. Create unlimited projects to manage your strategies for blog content creation, existing content optimization, content calendars, and more – perfect for agencies, SEO consultants, and website owners overseeing multiple properties. With streamlined project setup and customizable workflows, MarketMuse helps you drive impact and results through a targeted, data-driven content marketing and optimization approach.
Researching Topics and Keywords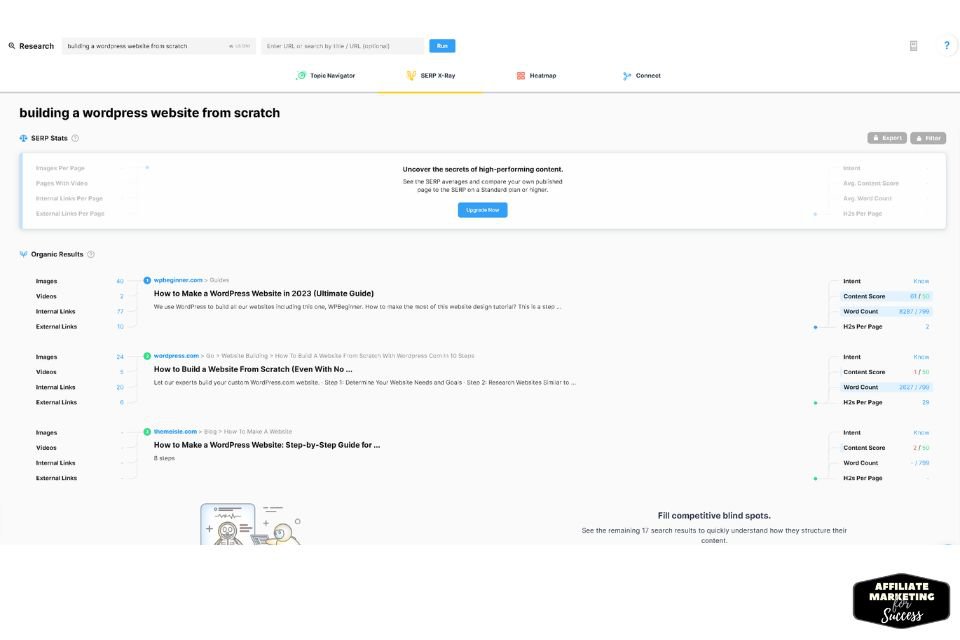 MarketMuse's AI-powered Keyword Research analyzes your content topic to uncover the most relevant and high-potential keywords and long-tail phrases. The Keyword Planner and Long-Tail Keyword Research use machine learning to surface untapped keyword opportunities and hidden gems that can drive more organic traffic and accelerate rankings. By revealing the keywords your target audience searches for, MarketMuse enables you to create content that answers real user questions and delivers an immediate SEO impact.
Optimizing Content
MarketMuse provides a content score that measures the depth and quality of your content and recommends how to improve it. You can use the content optimizer to identify gaps in your existing content and align it with the search intent of your target keyword. This results in more relevant content that attracts and engages users.
Analyzing Competitors and Domain Authority
To outrank your competitors, you need to understand their content strategy thoroughly. MarketMuse's competitor analysis tool allows you to compare your content with that of top-ranking competitors, identifying opportunities to create more comprehensive and relevant content. Plus, it offers valuable domain authority insights to help you build your site's online presence and credibility.
Planning and Executing Your Content Strategy
MarketMuse offers powerful content planning tools that help you develop a data-driven content strategy. By integrating the platform with your content calendar and focusing on high-quality content, you can consistently produce content that ranks well on search engines and drives organic traffic.
Key Features of MarketMuse
A prominent aspect is its capacity to assess content caliber. With MarketMuse, you thoroughly review your material and acquire advice on enhancement. Another attribute is its AI-driven content examination that aids in spotting gaps and prospects within your content approach. This enables you to refine your content for search engines and attract additional organic visitors to your website.
MarketMuse further enhances legibility via its content analysis instrument that appraises your writing style and tone. This functionality is vital for sustaining reader involvement and minimizing bounce rates. Moreover, the system supplies tailored data that assists in making informed choices. By comprehending your audience's habits, you can create content that connects with them and boosts conversions.
Relative to other SEO utilities in the market, MarketMuse delivers a comprehensive answer for content optimization, encompassing everything from investigation to analysis to refinement. With its user-friendly interface, MarketMuse simplifies managing your SEO endeavors and producing reports.
Analyzing Content Quality
Being a content developer, the excellence of my output is paramount to me. That's why I'm ecstatic to have discovered MarketMuse, an instrument that evaluates my content's quality and pinpoints areas for enhancement. Utilizing its content score function, I can swiftly gauge how effectively my content ranks for the keywords I aim to target. But it goes beyond that.
MarketMuse employs AI-driven examination to propose pertinent subtopics and keyword lengths I can integrate into my content to augment its quality and relevance. This readily available data conserves time and guarantees that my content is of the highest caliber. Courtesy of MarketMuse, I can confidently generate material that is certain to captivate my audience and elevate my search engine positions.
Using AI-Powered Content Analysis
We now arrive at a primary attribute of MarketMuse – its AI-driven content examination. As observed earlier, MarketMuse evaluates your site material and detects shortcomings in your content approach.
This is when the AI aspect takes effect. Employing its exclusive semantic analysis capacities, MarketMuse scrutinizes thousands of pages on a specified subject and delivers customized, impartial insights on enhancing your content quality and pertinence.
This data-focused method ensures you advance with your content strategy, equipped with the most reliable objective insights, rather than depending on generic information and views. I've experienced this as particularly valuable in refining my content and boosting my website's comprehensive performance.
MarketMuse's Heatmap Analysis Feature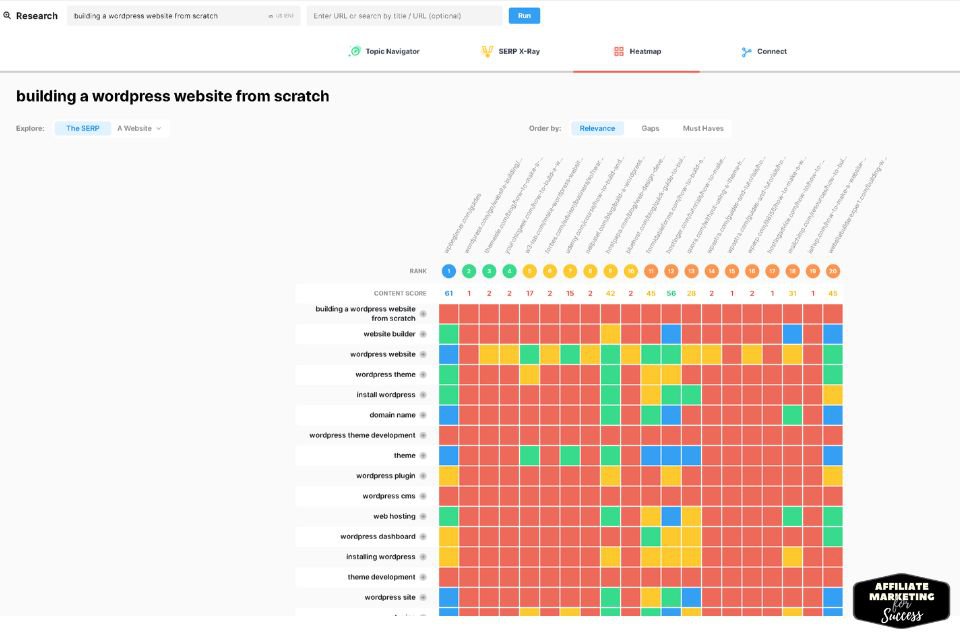 MarketMuse's Heatmap Analysis provides a visual overview of your content's SEO performance. It generates a color-coded heatmap to spot pages ranking well or struggling for critical terms. The intuitive display makes it easy to see where your opportunities and issues lie. You can then drill down into the insights and recommendations to understand how to improve poorly performing content and leverage your top-ranking pages as a model to replicate. With Heatmap Analysis, MarketMuse turns your rankings data into actionable SEO strategy direction.
How MarketMuse Helps Improve Readability
As a content developer, I've perpetually grappled with striking the ideal balance between incorporating pertinent keywords and preserving excellent readability. That's where MarketMuse comes into play. Employing its AI-driven content evaluation, MarketMuse offers advice for enhancing readability by proposing alterations like lengthening sentences or modifying word selection.
This can significantly impact retaining readers engrossed and on your webpage. Additionally, MarketMuse's semantic structure aids in ensuring that your content's language aligns with Google's expectations. This can further facilitate readability and enrich the comprehensive quality of your content, increasing the likelihood of performing well in search outcomes.
In summary, I've discovered that MarketMuse's readability optimization suggestions have assisted me in crafting superior quality, more captivating content that connects with my audience.
MarketMuse Pricing and Plans
MarketMuse offers a range of pricing plans to accommodate different users. Here's an updated breakdown of the available methods:
You can explore the different pricing plans on MarketMuse's website. Although MarketMuse can be considered a premium SEO tool, its steep price is justified by the powerful and comprehensive tools it offers.
Pros and Cons of MarketMuse
Pros:
1. Comprehensive insights: The platform delivers data-driven recommendations to improve content quality, relevance, and search rankings.
2. Time-saving: MarketMuse speeds up content creation and optimization, allowing content teams to work more efficiently.
3. Improved content performance: With AI-driven insights, MarketMuse helps users create content that performs better in search and resonates with the target audience.
Cons:
1. Pricing: MarketMuse can be expensive for small businesses or individual users, as it offers advanced features targeting larger content teams and enterprises.
2. Learning curve: Some users may find the platform's rich features and multiple data points overwhelming initially, requiring a period of learning and adaptation.
MarketMuse Alternatives and Competition
While MarketMuse is a fantastic tool for content optimization, other SEO tools on the market might be more suitable for your business, such as:
Ahrefs
Moz
Clearscope
Frase
Surfer
When choosing a content marketing platform, it's essential to consider factors like pricing, features, and the learning curve involved. MarketMuse is a powerful content marketing tool worth considering if you're serious about improving your organic search ranking and creating top-quality content.
MarketMuse Alternatives: How Do They Compare?
Several MarketMuse alternatives exist, such as Frase and other AI-powered SEO tools. While these alternatives may offer similar features at a lower cost, they may not provide the same level of sophistication and accuracy as MarketMuse. It's essential to compare different tools to find the best fit for your needs and budget.
| Software | Description | Website | Main Features |
| --- | --- | --- | --- |
| Clearscope | Content optimization platform that uses AI to analyze and improve the content | https://www.clearscope.io/ | Keyword optimization, content analysis, competitor research, content grading, content briefs |
| SEMrush | All-in-one marketing toolkit for SEO, PPC, content marketing, and more | https://www.semrush.com/ | Keyword research, site audit, backlink analysis, content marketing tools, social media management |
| Ahrefs | SEO and content marketing platform that helps businesses rank higher in search engines | https://ahrefs.com/ | Site explorer, keyword research, content analysis, backlink checker, rank tracker |
| Frase | AI-powered content optimization tool that helps you create content that ranks | https://www.frase.io/ | Content optimization, topic research, FAQ optimization, answer engine optimization |
| Surfer | SEO tool that helps you optimize your content by analyzing top-ranking pages on search engines | https://surferseo.com/ | Content editor, SERP analyzer, keyword research, content audit, content planner |
| WordLift | AI-powered SEO tool that helps you optimize your content for search engines | https://wordlift.io/ | Automated metadata, content recommendations, structured data, knowledge graph, semantic search |
| NeuronWriter | AI-powered content writing tool that helps you generate high-quality content quickly and easily | https://neuronwriter.com/ | Content generation, research, optimization, editing, collaboration |
Is MarketMuse Worth the Hefty Price Tag?
As an AI-driven content marketing platform, MarketMuse offers powerful features like content briefs, keyword recommendations, and competitor analysis. Though the pricing may be steep, the 7-day unlimited free trial allows users to explore its capabilities before committing to a monthly plan. While content strategists and marketing teams may find the platform's advanced features justifiable, individual website owners and smaller projects should consider more cost-effective alternatives.
Is MarketMuse the Premium SEO Tool You Need in 2023?
Whether MarketMuse remains a premium SEO tool worth the investment in 2023 depends on how its features and capabilities stack up against the evolving SEO landscape.
MarketMuse has long been popular for in-depth SEO research, competitive analysis, and content optimization insights. Its AI-powered tools can uncover strategic opportunities that manual research may miss. However, SEO continues to change rapidly, with Google algorithm updates, new ranking factors, and more players in the SEO tool market.
For MarketMuse to be a must-have premium tool in 2023, it must continue evolving its features and machine learning to provide actionable insights and recommendations that align with the latest SEO best practices. Suppose it stagnates or new tools can match or exceed its capabilities at a lower price. In that case, MarketMuse may not remain essential or justifiable as a premium expense for all SEO practitioners.
Whether or not MarketMuse is the premium SEO tool you need in 2023 ultimately depends on your agency or team's needs, budget, and MarketMuse's continued innovation and value in the face of a fast-changing SEO landscape.
FAQs
What does MarketMuse do?
MarketMuse is an AI-powered content analysis tool that helps you optimize your website content for better rankings and engagement.
How does MarketMuse automate content audits?
MarketMuse uses AI technology to analyze your website and provide objective insights on what content is working and missing, helping you prioritize the right content faster.
How does MarketMuse help with keyword organization?
MarketMuse helps you prioritize keywords by clustering them into topic groups, allowing you to build authority and improve your chances of ranking.
How can MarketMuse help me publish faster?
MarketMuse provides Content Briefs that serve as blueprints for articles, providing structure, topic coverage, and links, minimizing edits, and speeding up the publishing process.
How does MarketMuse ensure high-quality content?
MarketMuse identifies low-quality or outdated content that may harm your rankings and provides real-time feedback on content quality, helping you improve your overall authority.
Final Thoughts on MarketMuse Review
In conclusion, MarketMuse is an excellent resource for content creators, content strategists, and SEO professionals looking for a powerful and comprehensive content marketing platform. With its AI-driven tools and in-depth analysis of search engines, MarketMuse can help you create relevant, high-quality content that ranks higher and drives organic traffic. While the pricing might be steep for some, its features and benefits make it a worthy investment for businesses that prioritize search engine optimization.
Take your content marketing to the next level with MarketMuse. Uncover AI-powered insights and opportunities to boost traffic and rankings now. Start with the FREE plan:
References
The Digital Merchant: https://thedigitalmerchant.com/seo/marketmuse-review/
Kripeshadwani.com: https://kripeshadwani.com/marketmuse-review/
Niche Pursuits: https://www.nichepursuits.com/marketmuse-review/
SEO Tool Station: https://seotoolstation.com/marketmuse-review/
The SEO Project: https://theseoproject.com/marketmuse-review/
Shane Barker: https://shanebarker.com/blog/marketmuse-review/
SaaS Scout: https://saasscout.com/marketmuse-review/
I'm Alexios Papaioannou, an experienced affiliate marketer and content creator. With a decade of expertise, I excel in crafting engaging blog posts to boost your brand. My love for running fuels my creativity. Let's create exceptional content together!