Unlocking the Secret to Epic Content: WriteSonic Review
Read our in-depth WriteSonic review and learn how it can revolutionize your content marketing strategy. Discover the power of generating high-quality content in minutes with WriteSonic, an AI-driven content creation tool that helps you.
This WriteSonic review will explore this AI-powered writing tool's features, benefits, and use cases, transforming user content creation across various industries. WriteSonic is designed to help content creators generate high-quality content efficiently, including blog posts, product descriptions, and social media posts, making it a must-have tool for marketing teams and agencies.
What is WriteSonic?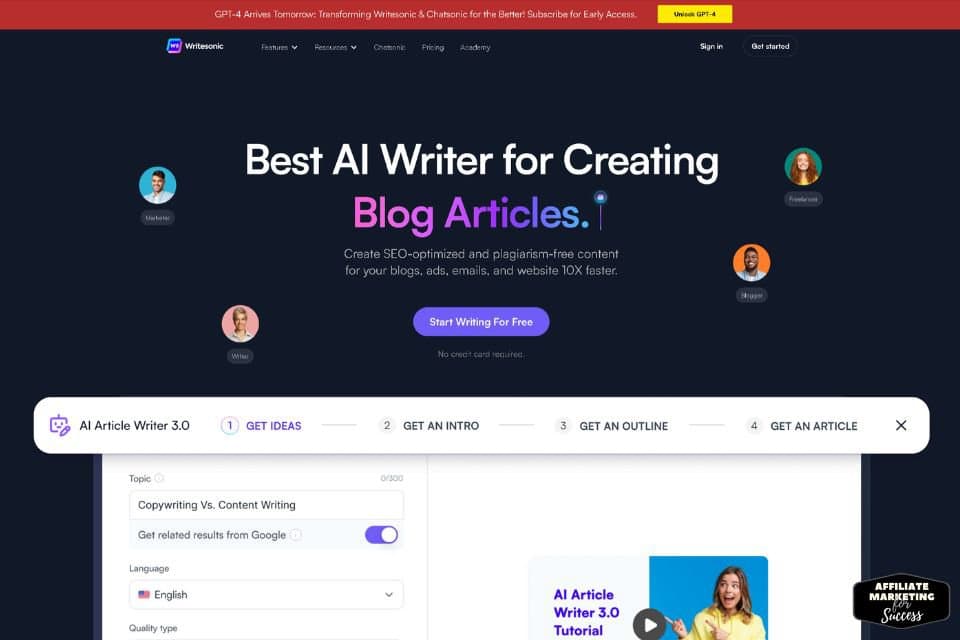 WriteSonic is an AI-driven content generation software created by Samanyou Garg in San Francisco that empowers content creators, marketing teams, and creative agencies to produce high-quality content efficiently. By harnessing advanced language prediction models, WriteSonic can craft unique content for various applications, such as blog posts, sales emails, Facebook Ads, and Google Ads, streamlining the content marketing process for users across diverse industries.
A versatile AI-powered writing tool that analyzes your writing style, identifies common mistakes and provides constructive feedback to elevate your content. With its proofreading function, ensure error-free content before sharing or submitting. Ideal for writers, bloggers, and content creators seeking efficiency and consistency.
Features of WriteSonic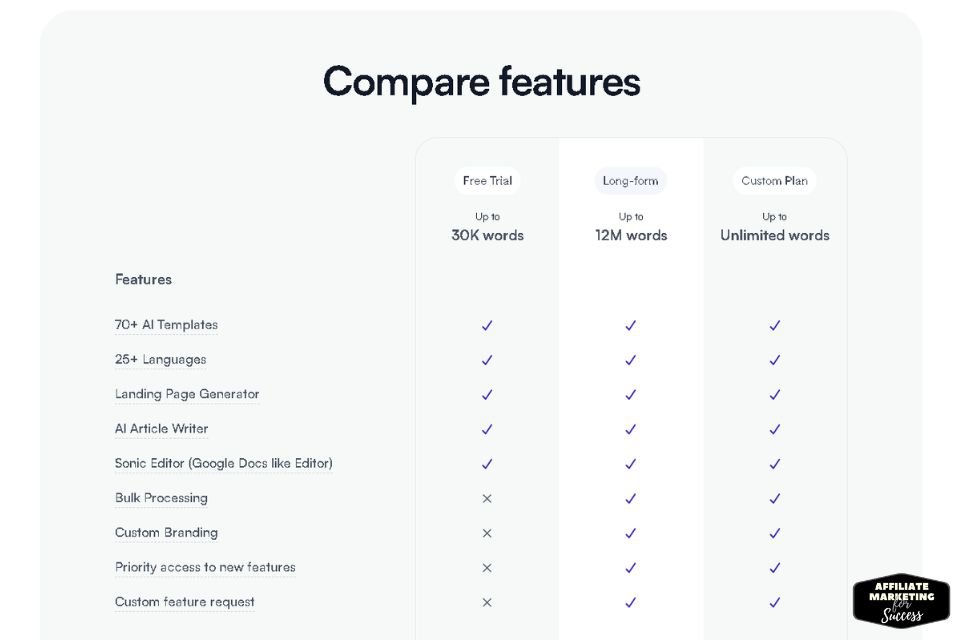 Experience the power of WriteSonic's cutting-edge content creation and rewriting tool designed to generate top-notch content in record time.
The process of creating content with WriteSonic involves the following steps:
Selecting the type of document you want to write (blog post, article, etc.)
Choosing one of the pre-built templates as your starting point (or creating your own)
Writing your draft using any number of tools available on the platform, such as a range prediction model, grammar correction tool, or image integration feature
Once you're done writing your first draft, you can use one of many rewriting tools available on this platform, such as Content Writing Assistant, which will help rewrite sentences automatically based on their context, or Surfer SEO, which allows users to rewrite sentences based on keywords used by search engines like Google & Bing, etc.
Key Features of WriteSonic
User Interface
The WriteSonic user interface is meticulously designed to be user-friendly and efficient, enabling users to navigate its extensive collection of features and content types swiftly. Furthermore, the platform provides a Chrome extension, adding an extra layer of accessibility and convenience for users.
Content Types
WriteSonic supports various content types, including blog posts, product descriptions, social media posts, sales emails, SEO meta descriptions, and long-form content. This versatility makes it an excellent tool for eCommerce agencies, marketing teams, and content creators who need to produce various types of content regularly.
AI-Powered Content Generation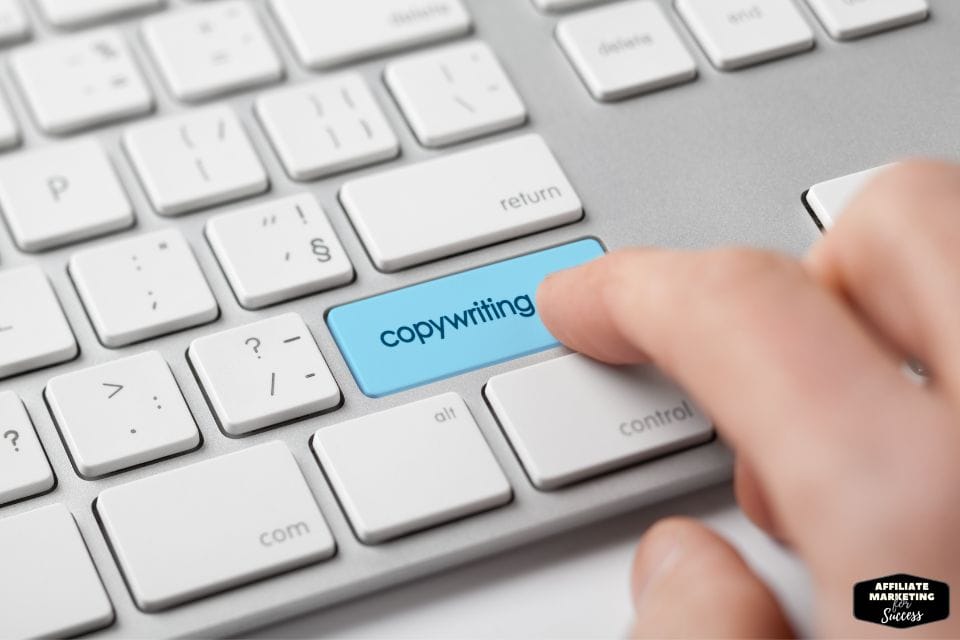 Utilizing the power of AI, WriteSonic can generate content within minutes, incorporating relevant keywords and creating high-quality outputs that require minimal editing. The language models used by WriteSonic have been trained to understand the context and structure of content, resulting in accurate and precise text that supports claims with reputable scientific studies and trusted sources.
Content Templates and Formulas
The platform offers a range of pre-built templates and copywriting formulas for different types of content, making it easy for users to create high-converting landing pages, engaging marketing content, and blog post ideas. These templates help streamline the content creation process and ensure consistency in output quality.
Editing and Grammar Correction
WriteSonic includes AI-driven editing tools that help users refine their content and correct grammar mistakes, ensuring the final output is polished and professional.
Surfer SEO Integration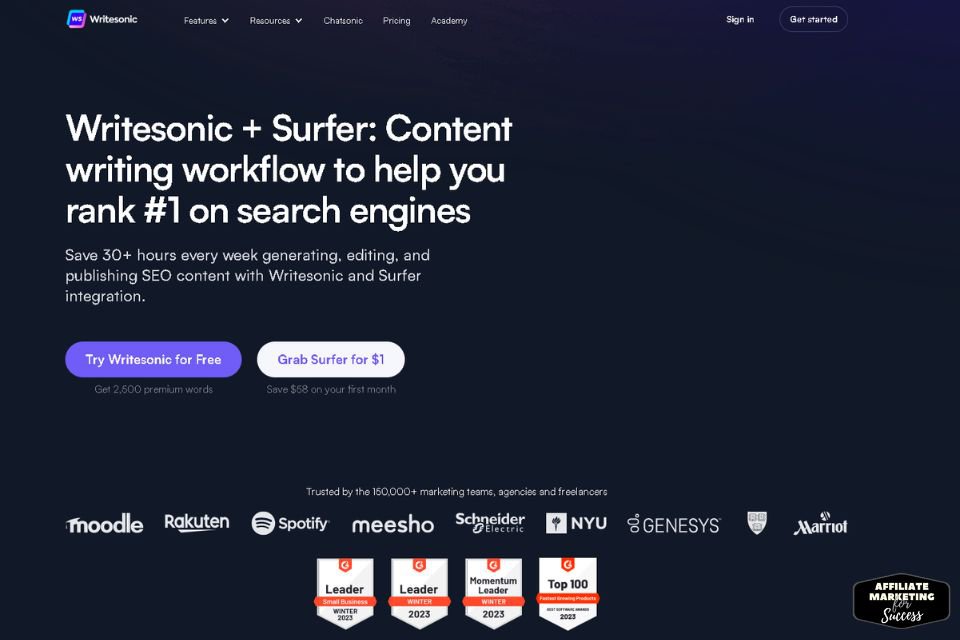 The platform integrates with Surfer SEO, allowing users to optimize their content for search engines by incorporating relevant keywords and ensuring proper keyword coverage.
Unlimited Credits and Subscription Plans
WriteSonic offers several subscription plans with varying access levels to features and credits. The unlimited credits option allows users to generate as much content as they need daily without worrying about running out of credits.
Customer Support
WriteSonic provides excellent customer service, with a dedicated customer support team available to assist users with any issues or questions about the platform.
WriteSonic Pricing Plans
Multiple pricing plans are available for WriteSonic, catering to different user needs and budgets. The Basic program offers access to a limited set of features, while the Long-form plan includes more advanced features and greater access to content types. Agencies and teams can also opt for customized programs that offer additional user seats and tailored features.
Pricing Plans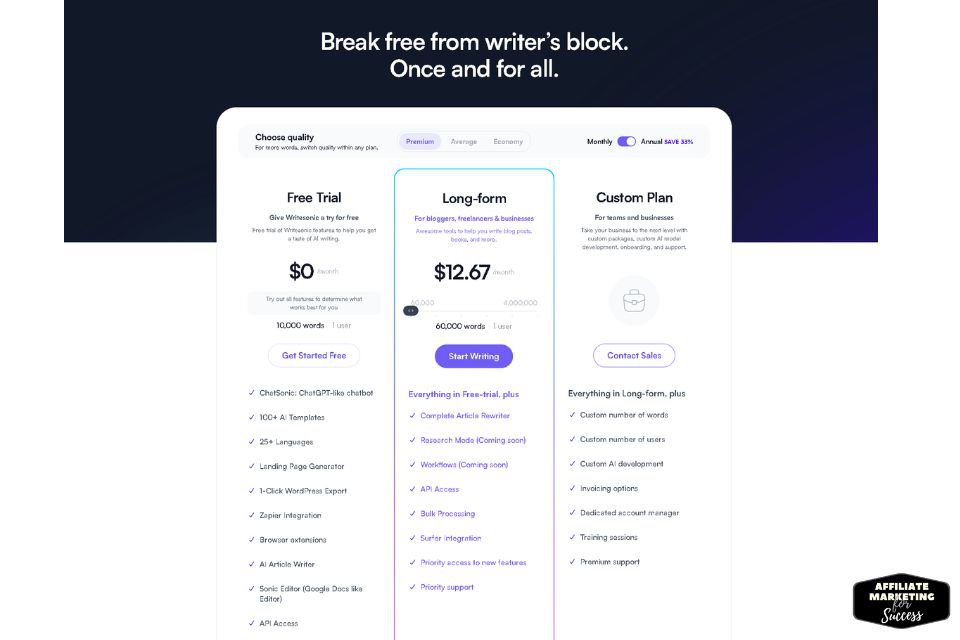 You can choose from Basic, Long-form, and Unlimited plans. The basic goal is free and allows you to write up to 1,000 words monthly. If you want more credits, the Long-form plan will be a better choice as it offers unlimited writing credits for $4 per month or $40 annually (a discount of 40%).
The last option is the Subscription Plan, which gives users access to all features, including unlimited writing credits for $6 per month or $60 annually (a discount of 60%). This subscription also comes with an additional benefit – access to live chat support by experts who can help with any issues related to using the WriteSonic AI Writing Tool.
Benefits of Using WriteSonic
User-friendly Interface: Effortlessly craft high-quality content with WriteSonic's intuitive and easy-to-use platform.
Exceptional Content Quality: Harness the power of AI technology to generate top-notch content without the need for time-consuming writing or costly professional writers.
AI-Powered Efficiency: Ideal for users seeking impressive results without extensive writing experience, WriteSonic saves you time while consistently delivering outstanding content for your campaigns.
Drawbacks of WriteSonic
While WriteSonic is an excellent tool for writers, it does have its drawbacks.
The most obvious one is that it only supports English. This isn't the right choice if you want an AI-powered writing tool in another language.
Another thing that might not be ideal is that there's no browser extension available (yet). This means that if you're working on a computer or laptop with Firefox as your browser and would like to use WriteSonic directly within your browser window without having to go through their website first every time, then this won't work out very well either since there's no such option available yet!
Some other things worth mentioning include no content generation software, no content shortener, no content rephrase, no copywriting formulas, no image downloader/uploader tool, and no design matter creator/editor tool.
Pros and Cons of WriteSonic
Pros
A wide range of content types supported
AI-powered content generation for quick and accurate outputs
User-friendly interface and Chrome extension for ease of use
Integration with Surfer SEO for optimizing content for search engines
Unlimited credits option for worry-free content creation
Excellent customer service and support
Cons
Some users may find the pricing plans expensive, especially for smaller businesses.
Occasionally, grammar mistakes or inconsistencies in the AI-generated content might require manual editing.
Although the platform supports a wide range of languages, some languages may not be as well-supported as others.
WriteSonic for Free
Writesonic for Free is a free version of Writesonic that allows you to create unlimited documents. It offers most of the features that premium users enjoy but with some limitations. For example, all documents are stored in one folder with limited theme options.
Writesonic for Free allows you to generate up to 25,000 total words. The paid plans start at $12.67 a month for long-form content. Writesonic also offers a 33% discount on annual payments. Is there anything else you would like to know about Writesonic?
I received message. Writesonic for Free allows you to generate up to 25,000 total words. The paid plans start at $12.67 a month for long-form content. Writesonic also offers a 33% discount on annual payments.
WriteSonic Alternatives: Comparing AI-Powered Content Writing Tools
Copy.ai is a popular alternative to Writesonic, which uses AI to generate copy. Jasper is another alternative that is known for creating human-like content. Longshot AI excels in developing long-form content. Frase and Rytr are also popular alternatives. I don't have enough information to compare them to Writesonic in detail.
If you're looking for alternatives to WriteSonic, several popular options are available in the market, each with unique features and strengths. Here are some of the top competitors:
1. Copy.ai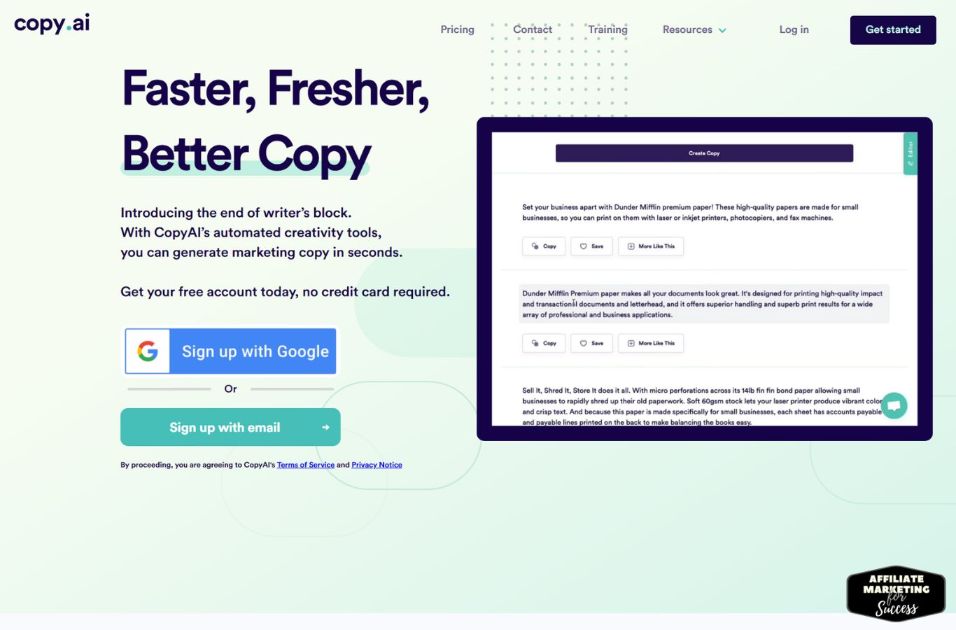 Copy.ai is a widely used alternative to WriteSonic, leveraging AI technology to generate compelling copy for various content types. It offers an intuitive user interface and numerous templates to help users create engaging content effortlessly.
CopyAI: Create Marketing Copy In Seconds
CopyAI: Create Marketing Copy In Seconds
We earn a commission if you make a purchase, at no additional cost to you.
2. Jasper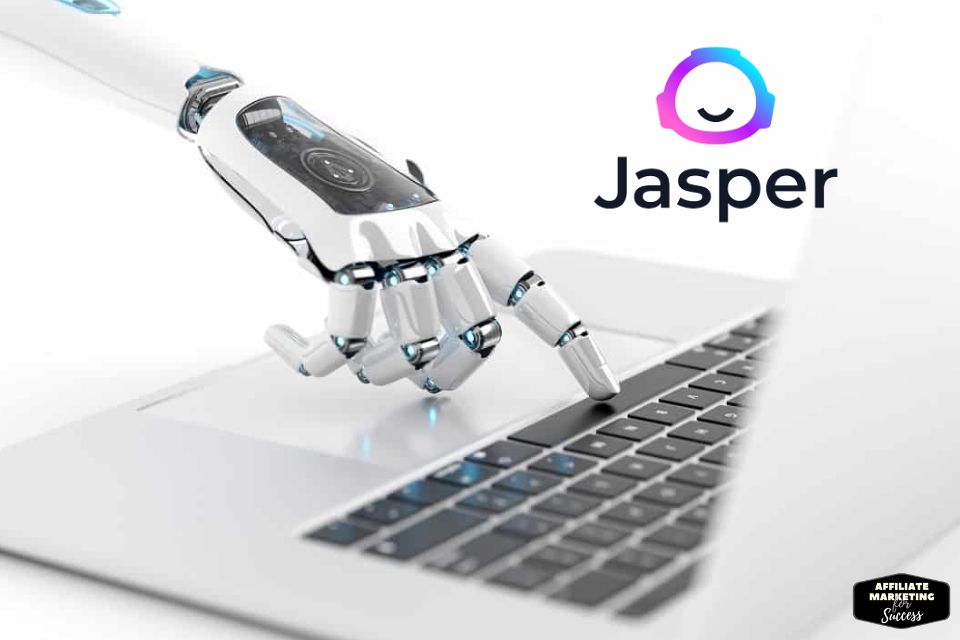 Jasper, aka Jarvis, is another popular AI content-writing tool. It uses a leading AI-driven content creation platform known for generating human-like content. With its extensive features, it caters to diverse content marketing requirements.
3. Longshot AI
Longshot AI specializes in generating long-form content, such as blog posts and articles. Its advanced AI algorithms ensure high-quality outputs, making it an excellent option for users focusing on creating in-depth content.
4. Frase
Frase is a versatile AI-powered content writing tool that combines content creation with SEO optimization. It analyzes top-ranking content for specific keywords, allowing users to easily create well-researched and optimized articles.
5. Rytr
Rytr is another WriteSonic alternative that offers a wide range of features for content generation. Its AI algorithms can craft content types, such as blog posts, social media updates, and product descriptions, making it a versatile choice for content creators.
While each of these WriteSonic alternatives has its strengths, evaluating your specific content marketing needs and preferences is essential to choosing the most suitable AI-powered content writing tool for your requirements.
Regarding pricing, Writesonic is 2X cheaper than Jasper on a monthly plan and 4X cheaper on an annual plan 1. Writesonic also has more ratings than Jasper, with over 10,000+ ratings on G2, Caperra, and Trustpilot 1
Comparing Top AI Writing Tools: Writesonic vs. Copy.ai vs. Jasper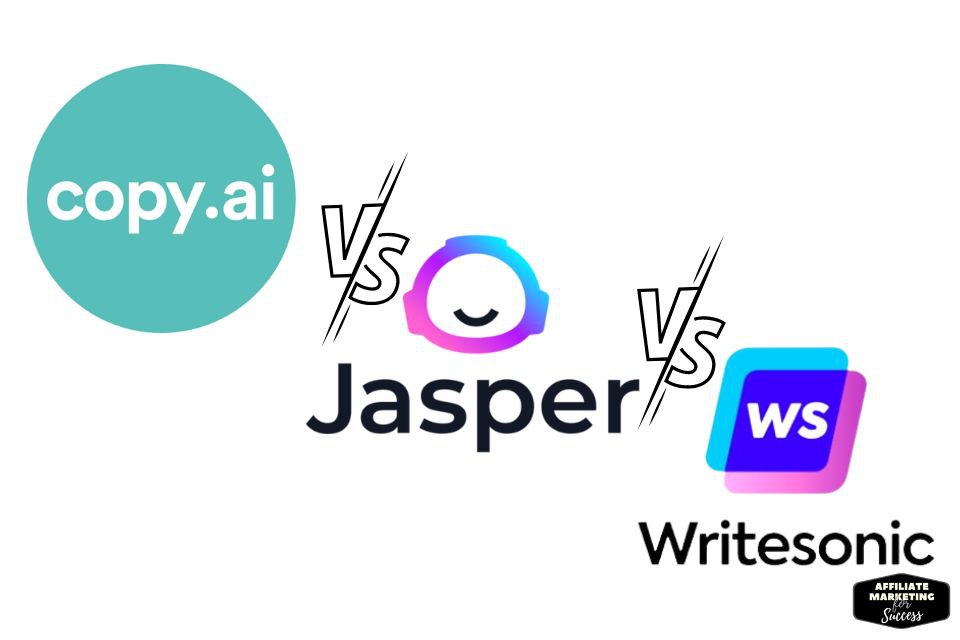 In the rapidly evolving world of AI-powered content generation tools, it's essential to compare the features, capabilities, and pricing of the leading platforms to make an informed decision. The table below compares three popular AI writing tools: WriteSonic, Copy.ai, and Jasper. By examining their content formats, AI capabilities, ease of use, collaboration features, and pricing, you can better understand which tool best suits your content creation needs. Dive into the comparison to discover the perfect solution for your content marketing strategy.
WriteSonic Extension for Chrome
WriteSonic for Chrome is a browser extension that simplifies content creation by integrating with your Google Docs account. This tool offers several key features, including:
AI-powered writing suggestions for improved word flow
Real-time analysis of commonly used words in your document
Access to an extensive library of ready-to-use phrases and sentences
User Reviews
WriteSonic has received positive feedback for its AI-driven writing capabilities, catering to users with varying skill levels and experience. It's beneficial for improving their grammar and spelling or exploring different writing styles. However, some users have expressed concerns about the lack of control over the finished product, as WriteSonic does most of the work for you. They also note that other similar programs on the market may be more suitable for users seeking comprehensive document editing features alongside writing assistance.
FAQs
What is WriteSonic?
WriteSonic is a content generation tool that helps you create compelling and engaging written content.
How does WriteSonic work?
WriteSonic uses advanced AI algorithms to analyze data and generate high-quality content based on your input.
Can I customize the content generated by WriteSonic?
Yes, you can customize the content by providing specific instructions and preferences to get the desired output.
Is WriteSonic suitable for all types of content?
Yes, WriteSonic is designed to generate content for various purposes, including articles, blog posts, social media updates, and more.
What are the benefits of using WriteSonic?
WriteSonic saves time, enhances creativity, and helps you produce high-quality content that resonates with your audience.
Conclusion
In conclusion, WriteSonic is a potent AI-driven writing tool that empowers content creators, marketing teams, and creative agencies to produce top-quality content efficiently. This state-of-the-art platform boasts numerous features, including:
AI-powered content generation
Automatic formatting
Spell and grammar checking
Moreover, WriteSonic supports various content types like blog posts, product descriptions, and social media posts and offers exceptional customer support. By incorporating this versatile tool into your content marketing strategy, you can streamline the content creation process and achieve remarkable results.
So, whether you're crafting your next blog post or developing engaging social media content, WriteSonic is the ideal solution for faster, better writing and SEO optimization. Give it a try and experience the future of content creation!
Unleash Your Writing Potential with WriteSonic – Start Now!
Ready to transform your content creation process? Try WriteSonic today and unleash the power of AI-driven writing! Don't miss out – start your free trial and experience the future of content generation. Click here to begin your WriteSonic journey!
Try WriteSonic for FREE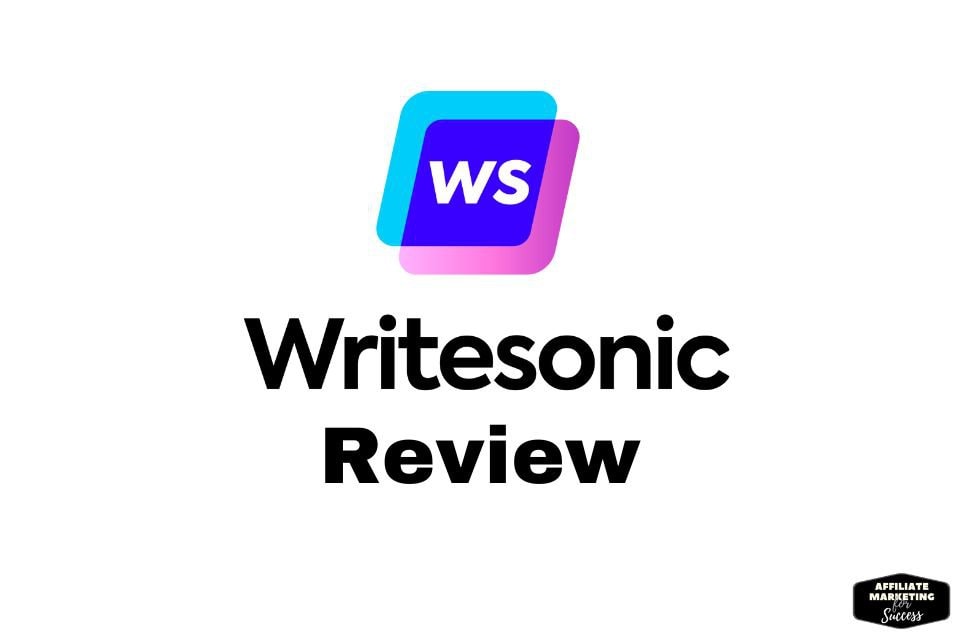 Risk-Free and No Credit Card Required
Unleashing Creativity with AI
Pen Your Success Story with Writesonic
Your AI-Powered Writing Companion
References
Neil Patel, "The Best AI Copywriting Software: How Do They Stack Up?" Neil Patel's Blog, https://neilpatel.com/blog/ai-copywriting/.
DiscoverVibe, "Jasper vs. Rytr vs. Writesonic vs. Copy AI: AI Writing Tool Comparison," DiscoverVibe Blog, https://discovervibe.blog/2021/09/18/jasper-vs-rytr-writesonic-copy-ai/.
Niche Pursuits, "Jasper AI vs. Copy AI: Which AI Writing Tool is Better?" Niche Pursuits Blog, https://www.nichepursuits.com/jasper-ai-vs-copy-ai/.
Content Marketing Profit, "Copy AI vs. Writesonic: A Comprehensive Comparison," Content Marketing Profit Blog, https://contentmarketingprofit.com/copy-ai-vs-writesonic/
I'm Alexios Papaioannou, a word wizard, and affiliate marketing ninja with a decade of experience crafting killer blog posts that captivate and convert. Specializing in affiliate marketing, content writing, analytics, and social media. My secret weapon is a love of running that boosts my creativity and energy. Let's create epic content together!