Katteb Review: Fact-Checked AI Writer for Efficient Content Creation
In this Katteb Review, we explore the AI-powered writing tool offering fact-checked content, GPT-3 technology, and customization for efficient content creation.
Katteb is an AI-driven content creation tool that streamlines your writing process, allowing you to create high-quality content quickly and easily. 
In this review, we'll explore the accuracy and effectiveness of Katteb AI's response and evaluate the platform's writing experience. Additionally, we'll delve into the potential applications of Katteb AI, including content creation for social media, blogs, e-commerce sites, news and media outlets, academic research, and writing.
Based on reliable sources and user reviews, Katteb AI is one of the best AI writing tools available. So, let's dive into the details to see what makes this AI writing tool stand out.
Unleashing the Power of Katteb AI for Content Creation
Katteb leverages state-of-the-art AI technology to deliver an efficient writing tool that can produce unique and engaging content. The AI algorithms used within Katteb enable it to generate factually correct content, reducing the need for manual fact-checking and saving time for content creators.
With the rise of AI art generator tools like Jasper AI, Katteb stands out by offering a range of features designed to improve your content creation process. These features include article rewriter tools and AI copywriting capabilities that help content creators produce articles, product descriptions, and other forms of content quickly and easily.
The Katteb Plus: Revolutionary AI Writer for Fact-Checked Content
One of Katteb's unique selling points is the Katteb Plus feature. Offering a revolutionary approach to AI writing, Katteb Plus uses its own proprietary AI algorithm to help write engaging and accurate content.
The Katteb Plus feature produces factually correct content and addresses issues faced by all other AI writers. This makes Katteb Plus stand out as a reliable and affordable AI copywriter solution for your content creation needs.
Leveraging the Power of GPT-3 for Content Generation
The general AI writing tool available in Katteb leverages the tested and proven GPT-3 AI model. Users can still access a powerful AI writing assistant without opting for the Katteb Plus experience.
GPT-3 provides one-click full AI article generation capabilities to generate content without human intervention. This makes content creation even more efficient and ensures that generated content is coherent and engaging.
Features and Benefits of Katteb
Katteb AI utilizes the advanced NLP models of GPT-3.5, which have been trained on over 350 billion words. This AI writing tool offers an easy-to-use article generator, blog outline, blog ideas, blog intro, and paraphrasing capabilities to assist content creators in generating content effortlessly.
AI-Generated Content Quality
One of the critical aspects of any content writing tool is the quality of the output it produces. Katteb excels in this area, delivering top-notch, well-researched, and fact-checked content. AI algorithms on the platform guarantee content creation are consistent, captivating, and customized for the user's precise needs.
Fact-Checking Feature
Katteb's fact-check feature distinguishes it from competing content creation instruments. This inventive function autonomously confirms the precision of data in AI-produced content, guaranteeing factually-reviewed accuracy. This characteristic is especially advantageous for enterprises and content producers required to generate reliable material adhering to exacting precision and dependability criteria.
Generate a Long-Form Article of 2000+ words
Finally, after 2-4 mins, you get a fully optimized article of 2544 words!
Article Rewriter Tool and Image Generator
Katteb offers a built-in article rewriter tool to rephrase existing content while maintaining its original meaning. It is an ideal solution for content developers looking to repurpose or update their work. The platform also features an image generator, which selects relevant images for blog articles, further enhancing the visual appeal and overall quality of the content.
Time-Saving and Cost-Effective Solution
One of the main benefits of using Katteb is the significant amount of time and resources it can save. The platform's AI algorithms can generate content in minutes, allowing content creators to focus on other crucial aspects of their work. Moreover, by using Katteb, businesses can significantly reduce expenses on content writers, as the platform can efficiently produce short-form content, long-form content, and everything in between at a fraction of the cost.
User Interface and Experience
Katteb boasts an intuitive interface that is easy to navigate and understand, making it accessible to users with varying levels of technical expertise. The platform's seamless user experience ensures that even first-time users can create high-quality content with minimal effort.
The Katteb Dashboard offers 31 different content templates.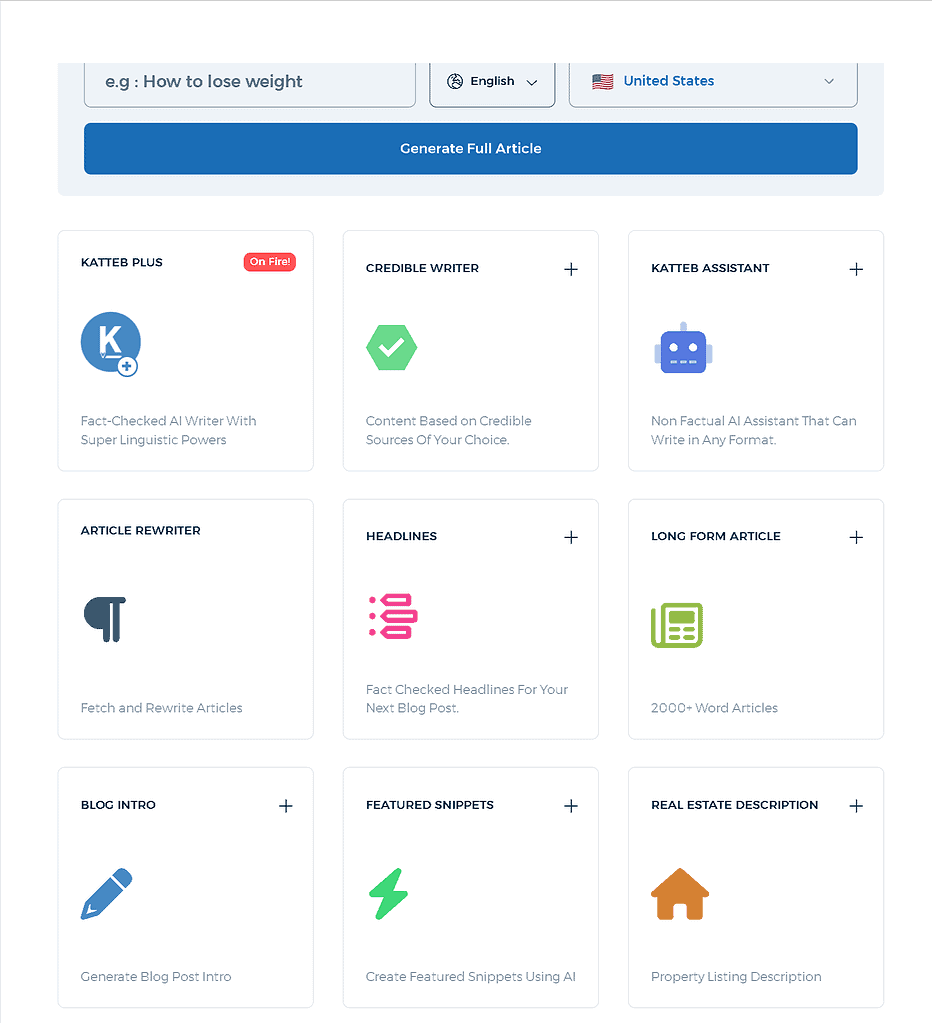 Customizable Output and Content Types
Katteb's platform allows users to customize the output to suit their needs. Users can specify the type of content they want, adjust the length and tone, and even include relevant keywords to optimize the content for SEO. The platform supports a wide range of content types, including blog content, product descriptions, emails, and social media posts, catering to the diverse requirements of its user base.
Active Community and Support
Katteb has an active community of users who share their experiences, insights, and feedback, fostering a supportive and collaborative environment. The platform also offers dedicated customer support through its customer support team, which is readily available to address users' questions or concerns.
Understanding Katteb AI Writer
After reading about the potential applications of Katteb AI Writer, it's essential to understand how the technology works. The software uses natural language processing and machine learning algorithms to analyze prompts and generate responses. The more data and feedback it receives, the output becomes accurate and sophisticated.
This means users can expect a personalized writing experience tailored to their needs and preferences. Additionally, because Katteb is designed to mimic human writing, its output is intended to be engaging, persuasive, and SEO-friendly. With this in mind, it's clear that Katteb AI Writer has the potential to revolutionize the way we approach content creation, from social media marketing to academic research.
Prompting the AI Writer
Regarding Katteb AI Writer, one of the most important aspects is how to prompt the tool to produce quality content. As discussed earlier, Katteb offers an in-built art generator tool that lets users create images through prompts. Similarly, users can provide prompts to the AI Writer to write articles, product descriptions, and other forms of content.
Katteb AI Writer offers a variety of prompt options, such as providing a title, topic, or even a summary of the intended content. The prompts serve as the foundation for the tool to generate content while ensuring that the final product stays relevant to the user's requirements. With the tool's fantastic ability to understand specific prompts, users can save time and effort in generating content without sacrificing quality.
Accuracy of Responses
When using any writing assistance tool, it's crucial to assess the accuracy of its responses. Fortunately, Katteb AI Writer has proven reliable in generating factually correct content for various purposes. As mentioned in the previous sections, Katteb's AI technology is designed to prompt users for specific details and then use natural language processing to draft accurate and high-quality content.
The platform's impressive accuracy level makes it a promising option for businesses and individuals. Furthermore, the potential applications of Katteb AI Writer are vast, ranging from social media content creation to academic writing. Thus, those seeking to streamline their writing process and produce reliable content should try Katteb.
Writing Experience with Katteb AI
Katteb AI Writer testing is positive. AI response accuracy is impressive, enhancing content creation. Customization and human editing are needed for polished results. The tool saves time and effort, providing efficient quality content generation.

Importance of Text Improvement for Search Engines
Section 6 of the Katteb Review highlights the importance of text improvement for search engines. With the growing popularity of SEO as a digital marketing strategy, it has become crucial for websites to rank high in search engine results pages (SERPs). AI writing platforms like Katteb can help achieve this goal by analyzing data and optimizing content for search engines.
With accurate responses and suggestions, creators can improve the quality of their content and increase their chances of ranking higher on SERPs. This benefits businesses, enhance the user experience, and ensures that people find what they are looking for when browsing the web. In conclusion, integrating AI writing tools like Katteb is essential for improving text quality and enhancing the online presence of websites.
Advantages of Using Katteb AI Writer
Katteb AI Writer offers numerous benefits to users, rendering it a crucial instrument for content generation. Automating and enhancing content creation is one significant advantage. Its user-friendly, easy-to-use long-form article creator is accessible to all. The precision of its replies is another merit, assuring high-quality content output. Moreover, the text enhancement function is vital for SEO objectives when crafting online materials.
Using Katteb AI Writer makes creating social media content, blog posts, product descriptions for e-commerce sites, news and media outlet writing, and academic papers easier. These potential applications demonstrate its versatility and usefulness. Overall, Katteb AI Writer provides valuable support to web writers looking to save time and improve the quality of their content.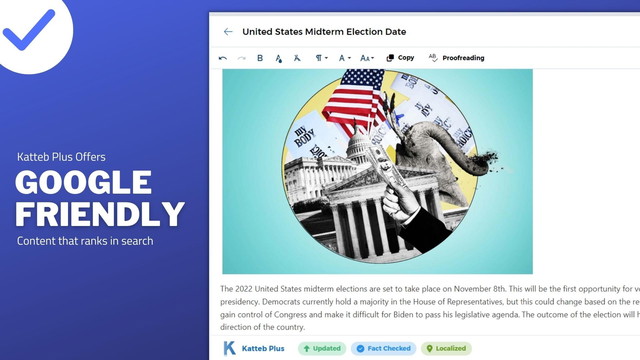 Potential Applications of Katteb AI Writer
The potential applications of Katteb AI Writer are vast and varied, making it a versatile tool for content creation. From writing for social media platforms to crafting blog posts and product descriptions for e-commerce sites, this AI writer can deliver high-quality content that resonates with the target audience. Moreover, it can be a valuable tool for news and media outlets and academic research writing by enabling researchers to produce accurate, well-crafted documents in less time.
The versatility of Katteb AI Writer makes it an essential tool for content creators looking to improve their writing skills and produce search-engine-optimized content. Overall, Katteb AI Writer has the potential to transform the way content is created and consumed, offering a cost-effective and efficient way to make high-quality content that resonates with the target audience.
Limitations of Katteb
Output Quality Consistency
Although Katteb's AI algorithms typically generate top-notch material, some cases might not match human-crafted content. This concern stems from AI algorithm constraints, which could sporadically yield inconsistent or imprecise information. Still, Katteb's fact-checking tool helps lessen this problem quite a bit.

Foreign Language Support
While Katteb accommodates various languages, the platform's efficacy in non-English tongues might not be consistently ideal. This constraint may trouble users seeking to generate materials in different languages. However, Katteb's development team continually improves its language support, and the platform's performance in non-English languages is expected to improve over time.
Comparing Katteb with Alternatives
Katteb vs. Jasper AI
Jasper AI is another popular AI-powered content-writing tool that competes with Katteb. While both platforms offer similar features and benefits, Katteb sets itself apart with its fact-checking feature, ensuring that the content generated is accurate and credible. Additionally, Katteb's lifetime deal offers users a cost-effective alternative to Jasper AI's subscription-based pricing model.
Jasper.AI | Unlock 10,000 words FREE Trial!
Elevate Your Writing with Jasper – The Ultimate AI Copywriter
We earn a commission if you make a purchase, at no additional cost to you.
Katteb vs. Copy.aI
Copy.ai offers a free plan for up to 2,000 words per month with access to most features (except multi-language content). Katteb is a simply awesome app when it comes to quick snappy copywriting. It has the ability to find and distill content that borders on the uncanny.
Katteb vs. Grammarly Business
Grammarly Business, a well-known writing and editing tool, enhances written works' grammar, style, and clarity. While it excels in improving content quality, Grammarly Business does not generate content like Katteb. Therefore, Katteb suits users desiring an all-inclusive content creation answer.

Katteb's Rating and Recommendation
Following a comprehensive examination of Katteb's features, advantages, and constraints, we award the platform a 4-star rating. Its remarkable feature set, high-quality content production, and budget-friendly pricing make it a perfect content creation instrument for creators and enterprises.
Nonetheless, it's crucial to recognize that no AI-driven tool can wholly supplant human content authors. While Katteb excels in rapidly and affordably crafting top-notch content, users must still assess and modify generated materials to satisfy their unique demands and anticipations.
In summary, Katteb is a potent and inventive platform that streamlines content creation, conserving time and resources and assists users in generating factually-validated and explicit materials. If you're a content producer or a firm seeking a dependable and effective content-writing answer, Katteb is unquestionably worth contemplating.
Enhancing Your Experience with Katteb
Trying out Katteb can significantly improve your content creation process. Katteb, an AI article rewriter, offers tools to enhance your AI content writing experience.
The AI templates in Katteb allow users to customize their content generation process, making the tool adaptable for various content types. In addition, Katteb offers support for multiple languages, enabling you to create content for diverse audiences across the globe.
Katteb Pricing Plan: Affordable AI Content Creation Solution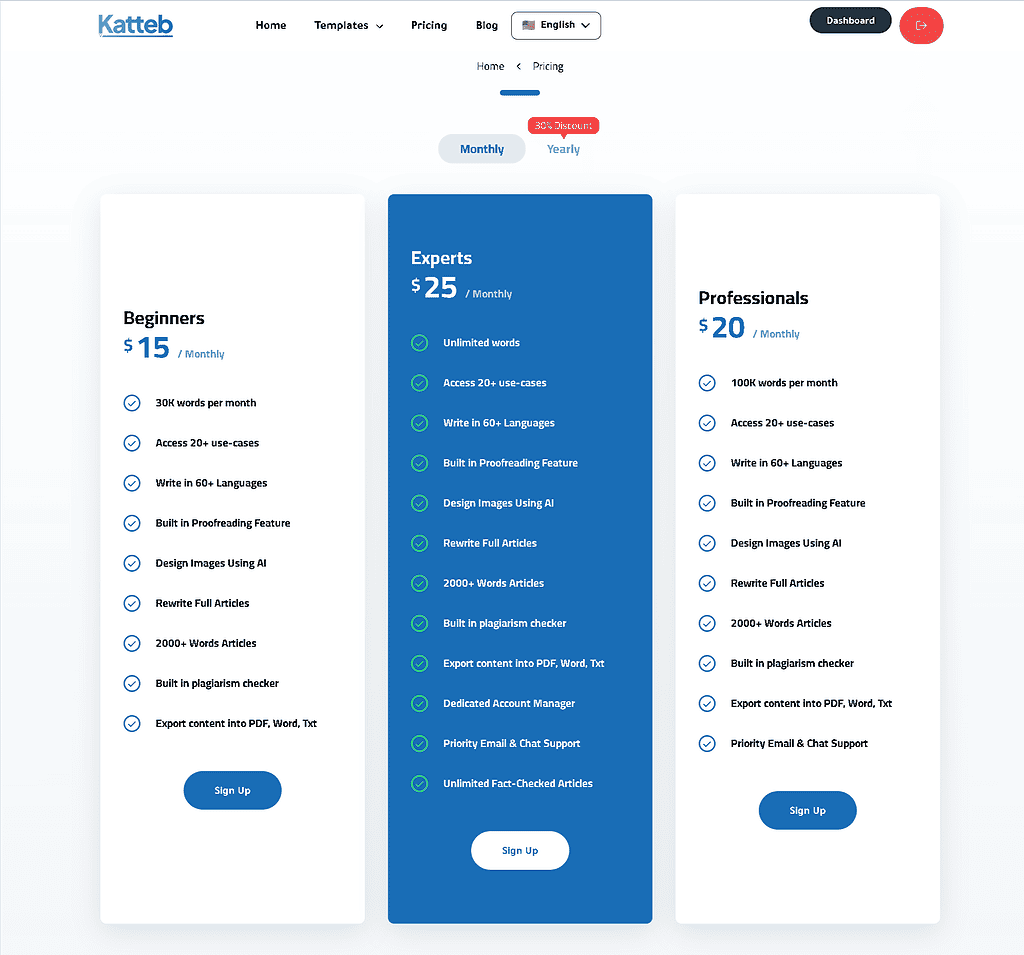 Katteb pricing offers various plans to suit different content creators' needs. The affordability of Katteb makes it an accessible choice for businesses and individuals looking to invest in an AI content platform.
Specifically, Katteb offers 3 different pricing plans:
Beginners $15/monthfor 30K words per month
Professionals $20/month for 100K words per month
Experts $25/month for unlimited words.
You can compare the different pricing plans and choose the most suitable for your content creation requirements.
Why Choose Katteb as Your AI Writing Assistant?
To recap, here's why you should choose Katteb for your AI content creation needs:
Fact-checked AI content generated by the Katteb Plus feature
Powerful AI-driven content generator leveraging GPT technology
Wide range of features designed to streamline the content creation process
Affordability and flexible pricing plans to suit different requirements
Overall, Katteb is an excellent AI writing tool that transforms the content creation process for both beginners and experienced writers. If you're looking for an influential, fact-checked AI writer to enhance your content creation journey, Katteb is the tool to choose from.
So, whether you need a content writer for product descriptions, blog posts, or educational resources, give Katteb a try and experience the difference it can make in your content quality and productivity.
FAQs
Conclusion
In conclusion, Katteb is a powerful AI-driven content creation tool that offers fact-checked content to ensure accuracy and reliability. Its range of features, customization options, and affordability make it an excellent choice for individuals and businesses seeking an efficient solution for their content needs. By leveraging GPT-3 technology and offering a unique Katteb Plus feature, this tool is well-equipped to elevate and streamline your content creation process.
Discover the World of Katteb: Unleash Your Creativity Today!
Katteb – Create quality content with one click
Write Fact-Checked Content
We earn a commission if you make a purchase, at no additional cost to you.
References
https://www.getapp.com/website-ecommerce-software/a/katteb/
https://ltdsreview.com/katteb-ai-fact-check-copywriting-assistant/
https://appsumo.com/products/katteb/reviews/works-like-a-charm-1013056/
https://www.saasworthy.com/product/katteb
https://eucopy.com/katteb-ai-review/
https://innovatebiz.eu/reviews/katteb-something-more-than-an-ai-writer/
https://promptmuse.com/has-katteb-com-just-become-the-best-a-i-writer/
https://turbostackers.com/katteb-review/
https://richardbatt.co.uk/how-katteb-plus-is-revolutionizing-ai-content-creation-a-must-read-katteb-review/
https://www.producthunt.com/products/katteb/alternatives
https://www.trustpilot.com/review/katteb.com
https://www.softwareadvice.com/cms/katteb-profile/​
I'm Alexios Papaioannou, a word wizard, and affiliate marketing ninja with a decade of experience crafting killer blog posts that captivate and convert. Specializing in affiliate marketing, content writing, analytics, and social media. My secret weapon is a love of running that boosts my creativity and energy. Let's create epic content together!