GetResponse Review – Solid, simple, and scalable email marketing platform
GetResponse is a powerful online marketing automation platform trusted by businesses around the world. Learn more in this GetResponse Review.
Email marketing is a cornerstone of any successful business. It allows you to communicate directly with potential and existing customers, forge relationships, and send targeted offers based on their interests.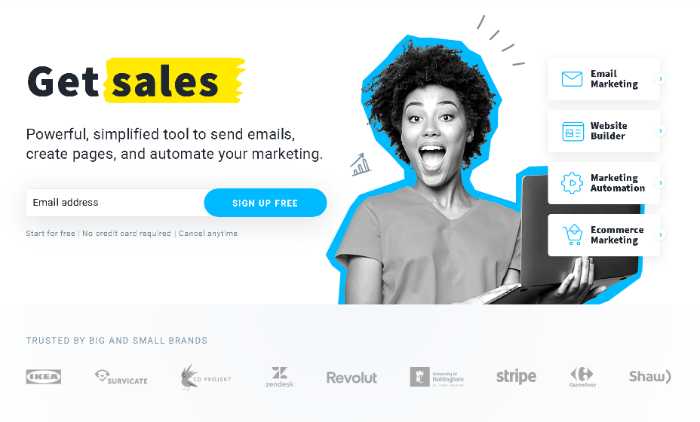 An email marketing service lets you send emails and capture new subscribers, has a convenient way to organize your contacts and monitor your results, and can be easily integrated with other services like WordPress or Google Analytics. It may also have features for more advanced users, like A/B testing, landing pages, click maps showing where people clicked on each link in an email, and unlimited sending and storage of emails in the cloud, so you never lose anything important. GetResponse is one option out there, but it's not perfect. Here are some pros and cons to help you decide if this is the right fit.
What is GetResponse?
GetResponse is an email marketing tool that helps you grow your business through email marketing campaigns. You can use it to create custom email templates, segment your lists and send targeted messages to specific groups of people. The service also offers tools for managing your entire lifecycle — from lead generation through onboarding and nurturing prospects to delivering high-quality content on-demand with just one click. GetResponse also offers landing page creation tools, which can create professional-looking websites that collect visitor information or promote products and services.
GetResponse is a proven email marketing platform that helps businesses grow. Over 900,000 marketers use GetResponse to send billions of emails monthly.
GetResponse provides everything you need to grow your business:
Use email marketing to send newsletters, surveys, and promotions to your subscribers.
Build beautiful landing pages with a drag-and-drop editor.
Email Automation: Create rules for automated follow-up emails based on customer behavior.
Integrations: Connect all of your favorite apps with GetResponse, including WordPress, Shopify, and more.
What is an autoresponder?
An autoresponder is a service that allows you to send an email to a customer after they have signed up for your email list. For example, when someone signs up on your website, an autoresponder will automatically be sent out with information about what they have signed up for and how to use their account. A good autoresponder is a great way to keep in touch with customers and build trust by providing them with helpful information about how best to use the product or service they are purchasing from your business.
You can also use autoresponders as part of a series of emails you want to send out over time. This is helpful if there is something specific about your business (like a sale) that you want customers who sign up at different times throughout the year to receive the same message from you at once-even if those emails sent out over multiple days or weeks!
Ease of Use:
We think GetResponse is one of the easiest email marketing services to use and is a great way to build and manage an email list.
There are several reasons why we believe this:
The interface is simple and intuitive.
It's easy to set up the service, with no complex options or settings.
New users can get started in minutes by simply creating their first campaign using pre-written templates (or creating their own) and adding contacts through a few simple steps. There's also an option for importing existing lists from other providers if you're already using another service like MailChimp or ActiveCampaign.
After your first campaign goes out, you can easily manage it with reporting tools that let you see who opened, clicked on links within the body of emails (such as text messages or social media), unsubscribed from future mailings—and much more.
You can integrate GetResponse into other platforms such as WordPress, so that blog posts are automatically published directly into your newsletter when published on WordPress.
Templates are easy for anyone who wants them; there aren't any complicated coding skills required here either!
The Key Features of GetResponse
Email marketing
GetResponse is a great email marketing tool. It has powerful features such as drip emails, automated follow-up sequences, A/B testing, and split testing to help you send the right emails to your audience.
Landing page builder and forms
GetResponse has an easy-to-use landing page editor that lets you create landing pages with various templates, drag-and-drop elements, and an integrated editor for adding CTAs and call-to-action buttons. You can also create contact forms on your website using GetResponse's form builder.
Autoresponders & Follow-Ups
With GetResponse, you can send automated follow-up campaigns based on the actions of your subscribers or prospects. For example, if someone opens an email but doesn't click any links in your message, In that case, you can automatically send them a reminder email with more information about your product or service. Or, if someone downloads an ebook, they'll automatically get a thank you note with links to other valuable resources on your site.
Automation Rules
Automation rules are built into all plans except for the free plan. So even if you're starting out, you can automate everyday tasks like sending welcome emails to new subscribers or sending discounts when users reach a certain number of purchases. You can also use automation rules to segment your lists into groups that receive different types of content based on their interests.
A/B testing
Test various versions of your emails to see which performs better with your audience. With this feature, you can send out two different versions of an email and see which one performs better over time. This can be helpful when it comes to creating compelling subject lines or content in your emails.
Campaigns
A campaign is a collection of emails that can be sent all at once. You can create multiple campaigns for different purposes and have them scheduled so they are all sent at once (like a newsletter) or at different times throughout the year (like an annual sale).
Automated Email Templates
GetResponse offers over 1,000 automated email templates to help you create unique emails for different types of contacts. The templates include landing pages, shopping cart abandonment emails, welcome emails, and more.
Email marketing software integration
GetResponse can be integrated with top marketing automation platforms like Marketo, HubSpot, Pardot, and Salesforce. This lets you connect your email marketing efforts to other aspects of your business. You can also integrate GetResponse with Google Analytics to track your emails' performance in real-time and gain valuable insight into which messages work best for you.
Landing Pages
Create landing pages with GetResponse's drag-and-drop editor so visitors can subscribe directly from these pages (instead of going through an opt-in form on your website). This helps increase conversion rates because the person doesn't have to leave your site to sign up for your newsletter.
GetResponse Price Plan
Getresponse Free: Getresponse offers a free plan that allows you to use the Getresponse Lite service for an entire year, as long as your list has less than 500 members.
Email Marketing: The Email Marketing plan starts at $19 per month, allowing you to send an unlimited number of emails to up to 1,000 subscribers.
For freelancers or businesses that want to use marketing automation tools, the cost starts at $59 per month for up to 1,000 subscribers.
For a monthly fee of $119, you can use the e-commerce marketing tools for 1,000 subscribers.
Max – custom pricing
Max2—custom pricing.

Additional features and integrations:
MailChimp
Zapier
Google Analytics
Salesforce
HubSpot
Google Adwords, Aweber, Campaign Monitor, and more are all integrated.
An Overview of GetResponse
GetResponse is a web-based email marketing platform that allows you to create and manage email campaigns. It has many advanced features, such as:
A drag-and-drop email builder with over 200 drag-and-drop components (elements).
Automated campaign sequences based on user behavior
Automatic newsletter creation with personalized content recommendations and templates
GetResponse is competitively priced and has a 24/7 support team available.
GetResponse is a web-based email marketing platform that allows users to create and manage email campaigns. It is an excellent choice for businesses of all sizes looking for an easy-to-use yet powerful email marketing solution.
GetResponse has a well-developed support system that is available to all users. You can use it to get answers to your questions and concerns, as well as learn how to use certain features of the platform.
The support team is available 24/7 and is ready to help you with any issue or question you may have. A member of the team will get back to you within one business day and will provide an answer to your question. You can also contact them via email or phone if necessary.
GetResponse vs. Aweber
GetResponse is a good choice if:
You're looking for an affordable option. GetResponse's pricing structure is as straightforward as it gets, with no hidden fees or extra charges. They've got three packages to choose from, each offering more features than the last.
You're looking for a more modern interface. While Aweber does have some decidedly old-fashioned elements—the list-builder tool comes to mind—GetResponse's interface feels much fresher and more up-to-date. It also works in responsive mode on mobile devices like tablets and smartphones, unlike Aweber (though it should be noted that you'll need access to your email client when using GetResponse on these devices).
You're looking for a more flexible platform. Unlike Aweber, which has strict rules about how many subscribers you can have at any given time before they start charging you extra per month or year (depending on your plan), GetResponse allows unlimited users on every account type except their free plan (which only allows 2 users). This means that if you want all the bells and whistles but don't want to pay anything up front, this could be right up your alley!
The Downsides to Using GetResponse
There are a few downsides to using GetResponse. First, it's not free. You have to pay for the software and its features, so this isn't an option for those on a budget. Additionally, there's no free trial or demo version of their software available for users to try before committing to using it full-time in their business or organization. If you want to test out how GetResponse works before purchasing it yourself, your only options are:
Downloading one of their templates and editing them yourself (this can be difficult if you don't know what you're doing)
Signing up for a free account with another email marketing provider that offers email templates as well as other valuable features such as analytics reports
Learn the features you need to make your email marketing successful.
You can use GetResponse to:
Send email newsletters and automated messages.
Conduct market research using surveys.
Build relationships with automated follow-up emails.
GetResponse is an all-in-one marketing platform that offers tools to help you build your business.
GetResponse Support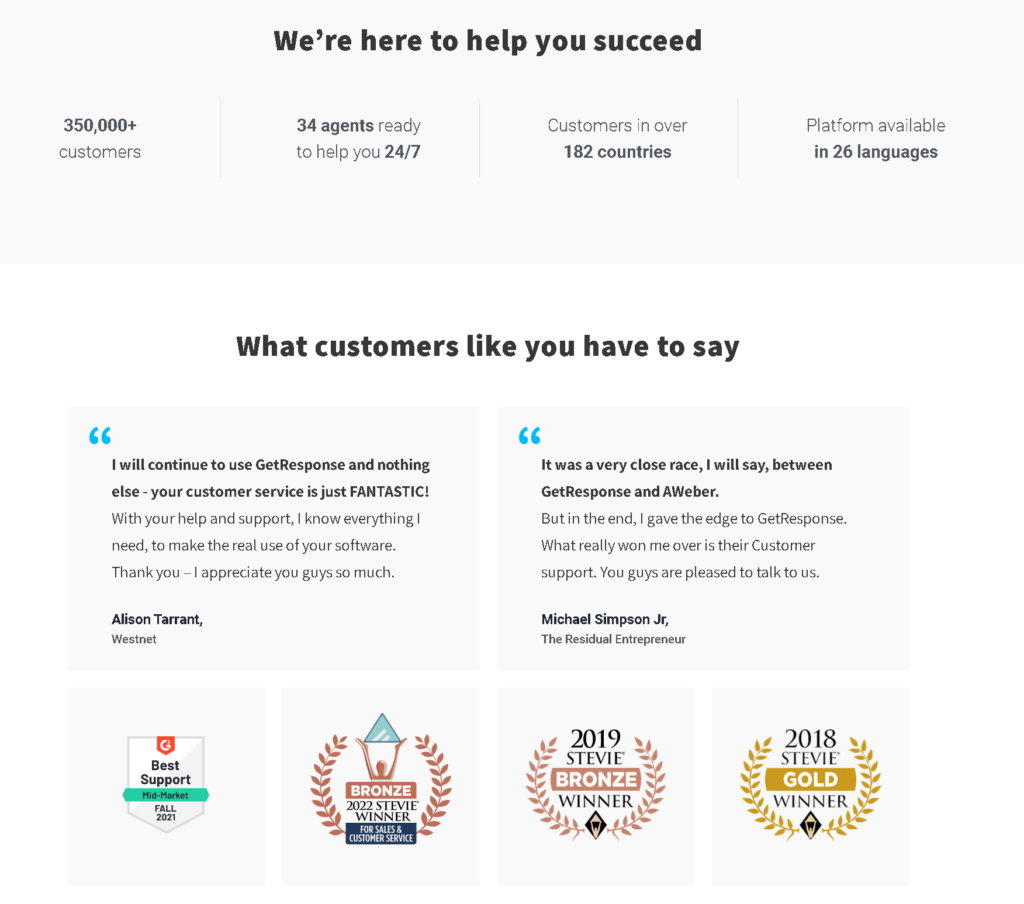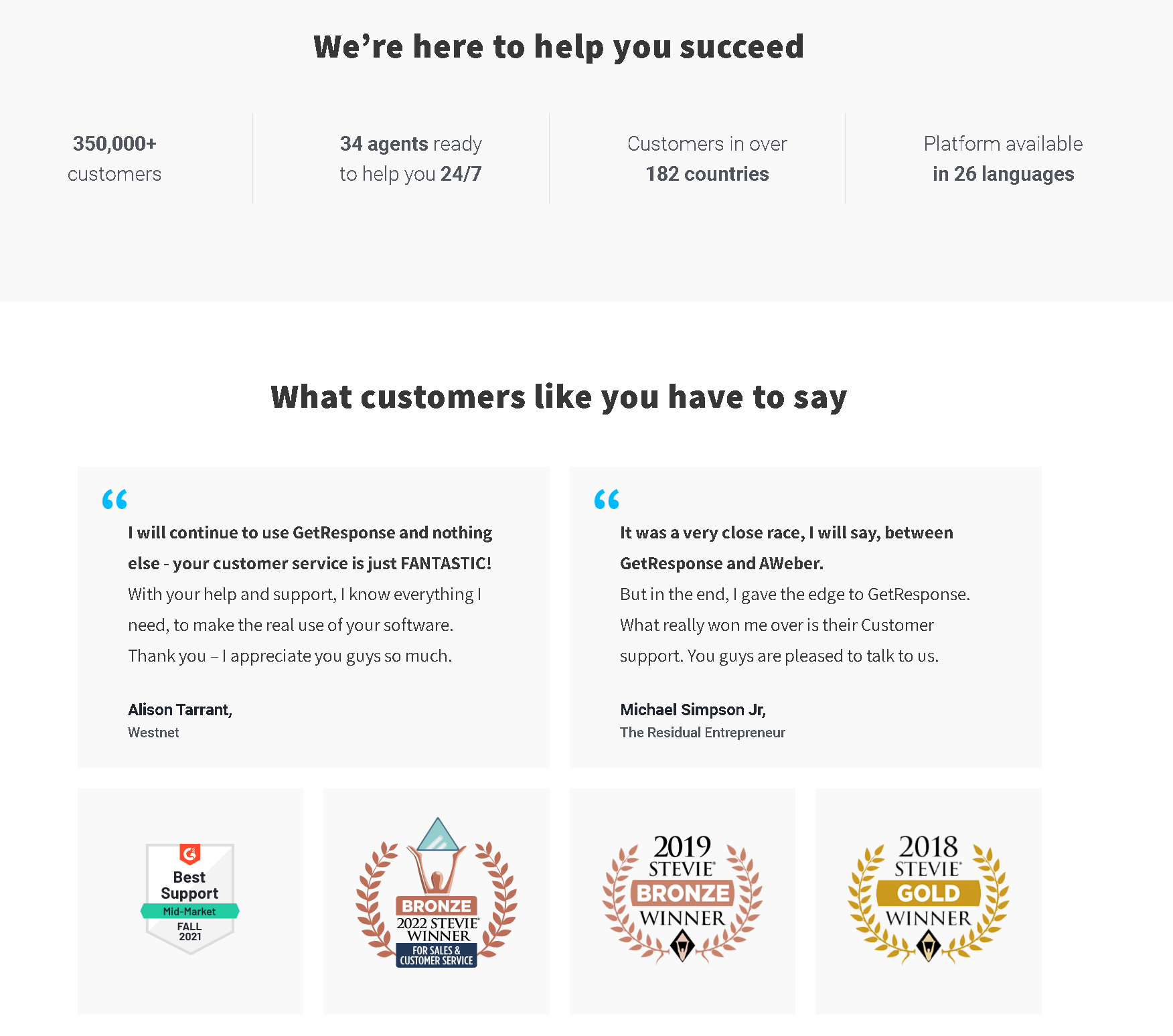 It is a great email marketing platform that allows you to create powerful emails to share with your customers easily. This can be done using the drag and drop editor, making it simple and easy to use.
If you have any problems with GetResponse, you can contact their support team. The GetResponse support team is available 24/7, 365 days a year, so if you want to get in touch with them, there is no need to wait until business hours. They will get back to you as soon as possible with an answer to your question or problem.
You can sign up for their free trial and get started with their services without making any upfront payments.
GetResponse is a good choice for small businesses with a small list of subscribers.
If you're a small business with a small subscriber list, GetResponse is a good option. It's competitively priced and has all the features you need to start building your email list and sending out automated emails.
Conclusion
GetResponse is a good choice for small businesses with a small list of subscribers. It has everything you need for email marketing, from easy-to-use templates to autoresponders. However, the features that make it shine for smaller teams are less useful for large-scale senders. The lack of advanced segmentation and reporting tools leaves gaps that Sendinblue can fill. That said, Sendinblue's pricing only supports one account per plan—a dealbreaker if your department has multiple users who need access to email marketing tools. With its list management features and integrated sales funnels, GetResponse is an excellent solution for SMBs looking to grow their customer base through email marketing.
We hope that this GetResponse review has given you a comprehensive picture of how it can help you achieve your email marketing goals and how easily it integrates with other popular web applications. You may find other platforms more appealing, but we feel that GetResponse's many features give it an edge over them. Overall, we highly recommend this email marketing platform to anyone looking to build their brand's online presence or expand their business through effective campaigns.
The best tools for succeeding in Email Marketing
Use powerful email marketing tools 
GetResponse
GetResponse is easy to use, powerful and flexible autoresponder and marketing email software. With GetResponse you can capture leads, track sales, manage subscribers and send unlimited personalized emails! We allow you to import subscribers and upload lists directly.
ConvertKit
ConvertKit is a powerful, easy-to-use email marketing platform that helps you with all the essential email marketing tasks including creating and sending emails, automating newsletters, tracking results, and more.
Fix all your Grammar Mistakes and check Plagiarism
Grammarly
Grammarly is one of the most popular grammar checkers on the market. It offers a wide range of features, great uptime, and excellent customer support. Grammarly also has a very user-friendly platform that makes it easy to use for everyone, regardless of their skill level.
Generate your Marketing Copy in Seconds
Copy.ai
Copy.ai is a great tool for quickly generating marketing copy. It offers a wide range of templates and examples to choose from, making it easy to find the right one for your needs. Copy.ai also offers a wide range of customization options, so you can tailor your copy to your brand. Download Our Affiliate Marketing A-Z Guide