How to use Google My Business to improve your blog's local SEO
Learn how to use Google My Business to maximize your online presence, boost local visibility, engage customers, and drive growth in today's digital marketplace.
Google My Business (GMB) is a powerful tool for businesses looking to enhance online visibility and attract potential customers. Optimizing your GMB profile can significantly improve your blog's local SEO, resulting in higher search rankings and an improved online presence. Follow these steps to effectively use Google My Business to boost your blog's local SEO:
1. Create and Claim Your Google Business Profile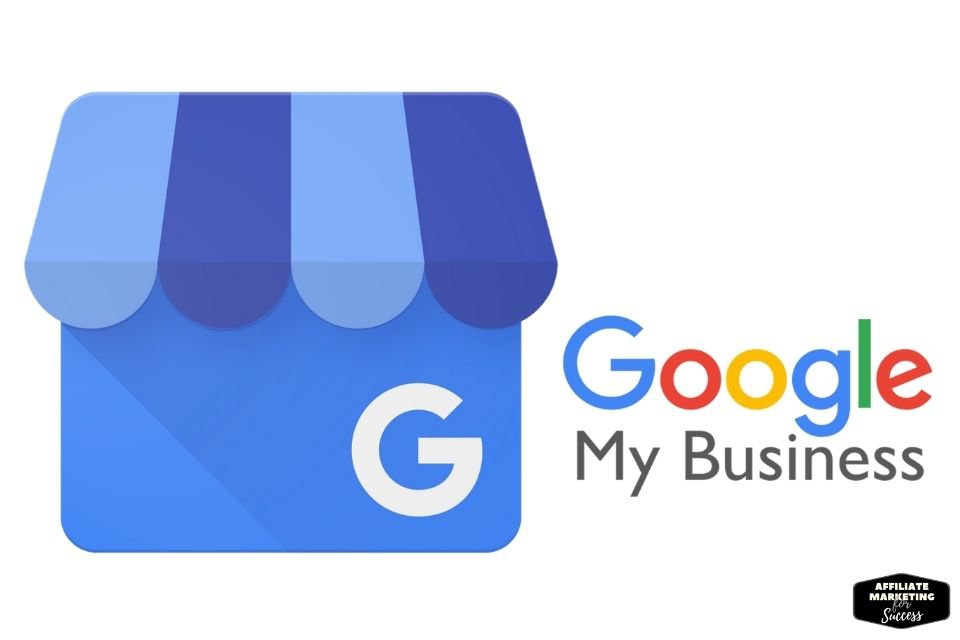 Sign up for a Google My Business account and claim your business listing.
Provide accurate and up-to-date information about your business, including the physical address, business hours, email address, and phone number.
2. Select Relevant Categories
3. Optimize Your Business Description
Write a clear and concise description of your business, including the services you offer and any unique selling points.
Incorporate relevant keywords to improve search engine rankings.
4. Add High-Quality Images
Upload high-quality images of your business, products, or services. Images can attract potential customers and provide a better understanding of your offerings.
5. Encourage and Manage Customer Reviews
Positive customer reviews can significantly impact your search rankings.
Encourage your customers to leave reviews on your GMB profile and respond to positive and negative feedback.
6. Create Regular Business Posts
Share updates, events, or promotions related to your business using Google Business posts.
This keeps your audience engaged and informed, which can improve your SEO rankings.
7. Update Your Business Hours and COVID-19 Updates
Keep your operating hours up-to-date and provide any relevant information about how your business is operating during the COVID-19 pandemic.
8. Track Your GMB Performance using Google Analytics and Google Search Console
Regularly monitor your GMB profile's performance to identify areas for improvement and measure the success of your local SEO efforts.
9. Build Citations from Industry Directories
Get listed in relevant industry directories to improve your online presence and increase your chances of being found by potential customers.
10. Integrate GMB with Your Content Marketing Strategy
Incorporate your GMB profile into your overall content marketing plan, including blog posts, email marketing, and social media promotion.
Following these steps and optimizing your Google My Business profile can significantly improve your blog's local SEO and attract more potential customers. Maintaining a strong online presence is an ongoing process, so monitor and adjust your strategy to ensure your business's success.
Additional Tips for Maintaining a Robust Online Presence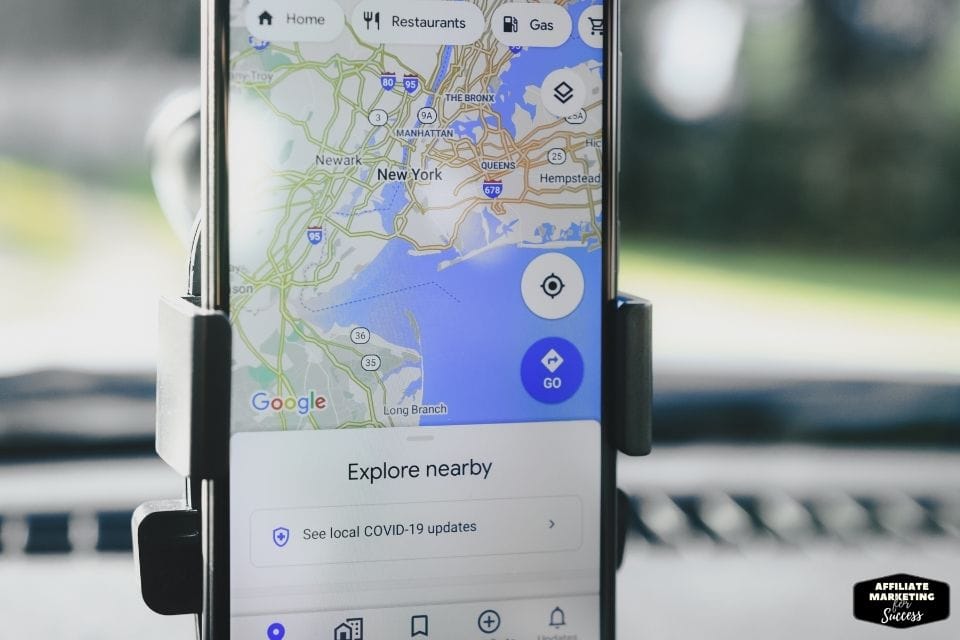 Google My Business (GMB) is a powerful tool for businesses looking to enhance online visibility and attract potential customers. Your blog's local SEO can be significantly improved by optimizing your GMB profile. This can lead to higher search rankings and a more substantial online presence. Here are some additional tips for maintaining a robust online presence:
Monitor Your Competitors:
Keep an eye on your competitors' GMB profiles and online presence to identify areas where you can improve or differentiate your business. This will help you stay ahead of the competition and ensure your business remains relevant in your niche.
Respond to Customer Feedback:
Engage with your customers by responding to their reviews and comments, both positive and negative. This demonstrates that you value their feedback and are committed to improving your products or services.
Update Your GMB Profile Regularly:
Keep your Google My Business profile up-to-date by adding new images, updating business hours, and posting regular updates or promotions. This will help maintain your search rankings and attract potential customers.
Use Google Ads to Increase Visibility: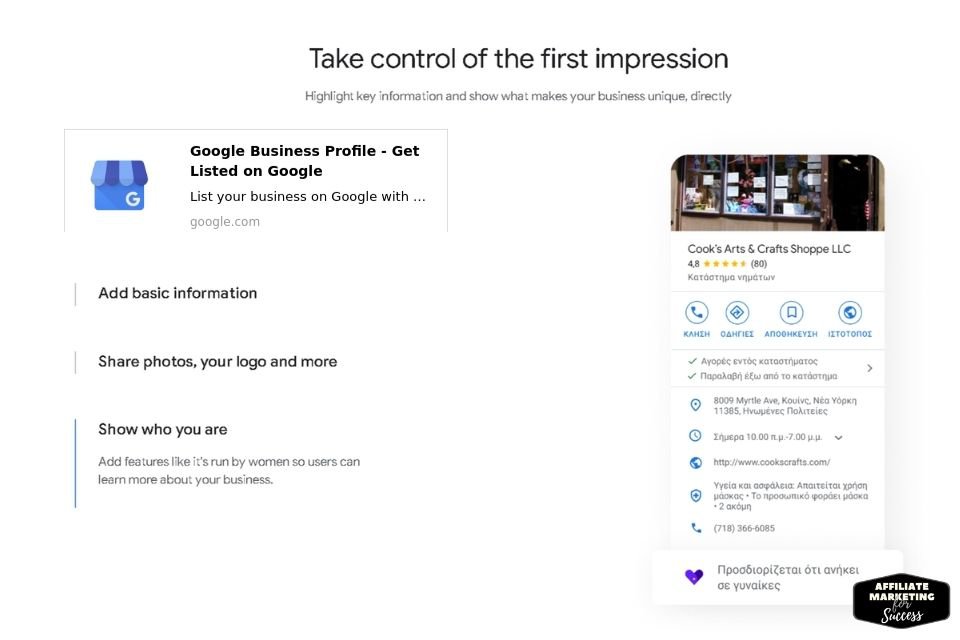 Use Google Ads to promote your business and target specific keywords or locations, further enhancing your online presence. You can also use Google Ads to test different marketing channels and messages and see what works best for your business.
Optimize Your Blog for Voice Search:
As voice searches become more popular, ensure your blog content is optimized for voice search by using conversational language and answering common questions. This will help attract potential customers searching for information using voice-activated devices like Amazon's Alexa or Google Home.
Build and Maintain High-Quality Backlinks:
Focus on building high-quality inbound links from reputable sources, as this can boost your website's credibility and search engine rankings. One way to do this is by creating high-quality content that other websites will want to link to.
Conduct Regular SEO Audits:
Regularly audit your website and GMB profile to identify areas of improvement and ensure that your local SEO strategy remains effective. This will help you stay on top of changes to your industry's search engine algorithms or best practices.
Leverage Social Media:
Promote your GMB profile and blog content across social media platforms to increase visibility and engagement with your target audience. This can help you reach new customers and build relationships with existing ones.
Stay Informed about Industry Trends and Algorithm Updates:
Keep up-to-date with digital marketing and SEO developments to ensure your strategy remains relevant and effective. This will help you stay ahead of the curve and make informed decisions about your business's online presence.
Collaborate with Other Local Businesses:
Partner with other local businesses to host events or promotions, boosting your online presence and attracting more customers. This is a great way to build relationships with other businesses in your community and attract new customers to your blog.
In conclusion, by following the tips in this guide and consistently updating and refining your local SEO strategy, you can maintain a solid online presence and ensure your business's long-term success. Remember to focus on providing value to your customers and creating high-quality content that meets their needs and interests. By doing so, you'll be able to attract more potential customers, build your online reputation, and grow your business.
Set up on Google My Business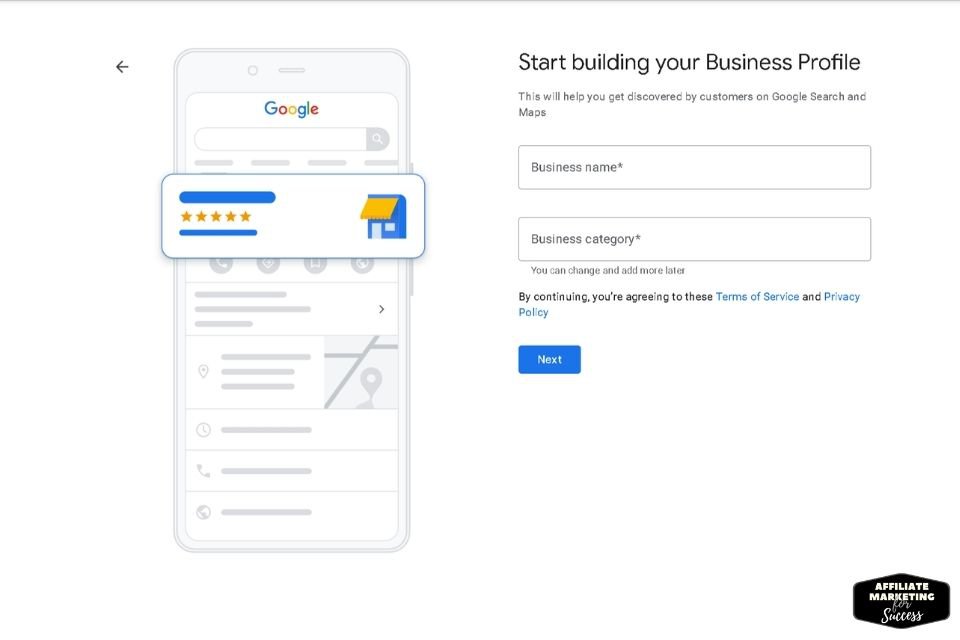 Setting up Google My Business (GMB) is crucial for any business looking to establish an online presence and increase its visibility on Google Search and Maps. Follow this step-by-step guide to set up your Google My Business account:
Create a Google account:
If you don't already have a Google account, go to accounts.google.com and click "Create account." Fill in the required information, and follow the prompts to complete the account setup.
Visit Google My Business: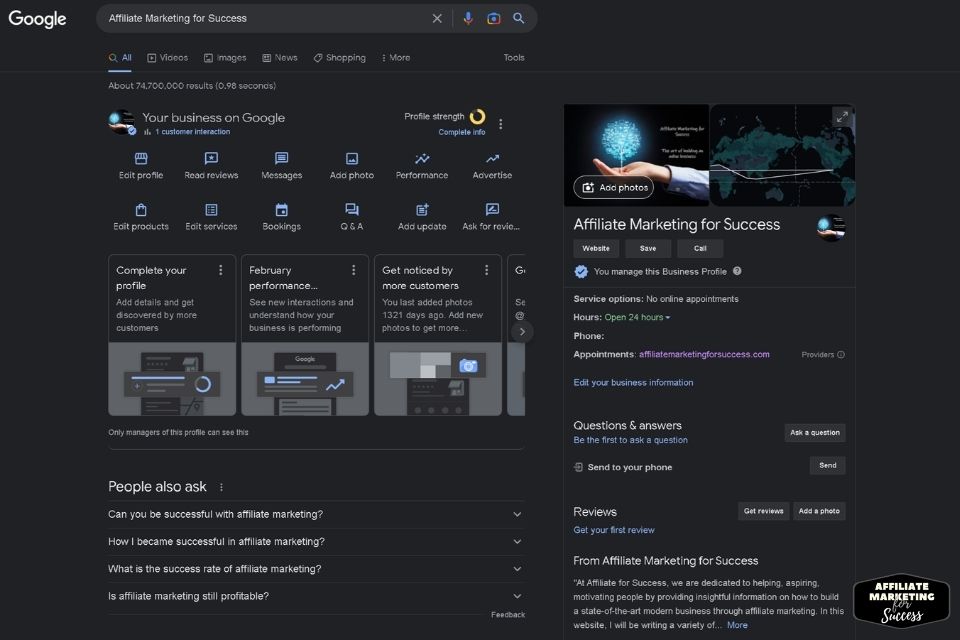 Navigate to google.com/business and sign in using your Google account credentials.
Click "Manage now":
Once on the Google My Business homepage, click the "Manage now" button to set up your business listing.
Enter your business name:
Type in your business name and select it from the dropdown list if it appears. If it doesn't, click "Add your business to Google" and proceed to the next step.
Choose a category for your business :
Select the category that best describes your business. This helps Google determine which search queries to display your business for and helps users find you more easily.
Add a business location: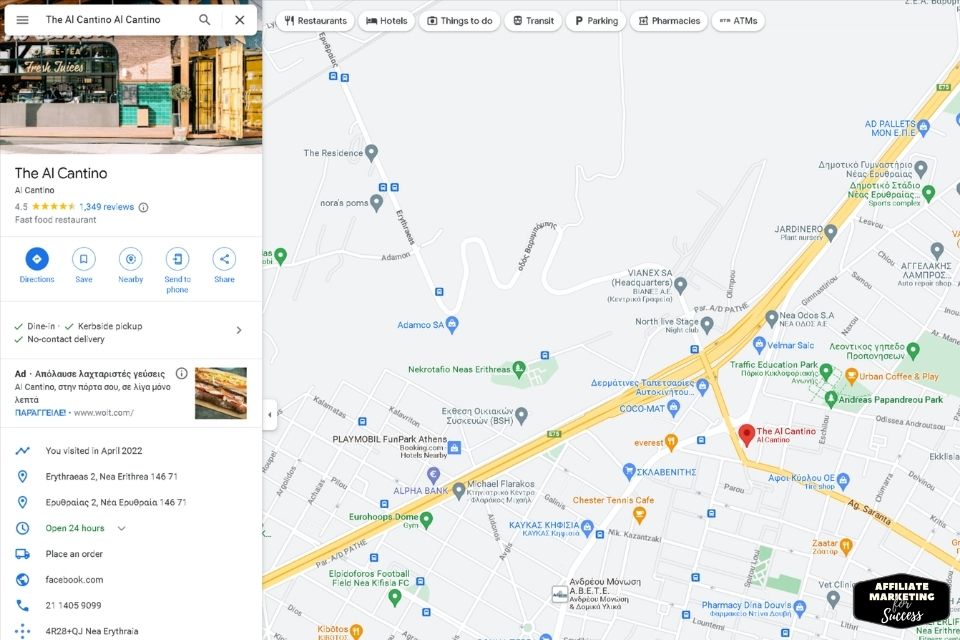 Indicate whether your business has a physical location that customers can visit by clicking "Yes" or "No." If you choose "Yes," enter your business address, including street name, city, state, and postal code. If your business is a service-area business, select "No," but you'll still need to provide a service area in the next step.
Set your service area (for service-area businesses):
If your business serves customers within a specific location, define the site by entering cities, postal codes, or regions. This information will help Google display your business in relevant local searches.
Add contact information:
Provide a phone number and website URL for your business. This information will be displayed on your listing, allowing customers to easily contact or visit your website.
Complete the verification process:
To confirm the authenticity of your business, Google requires verification. You can verify by mail, phone, email, or instant verification (if you're already using Google Search Console). Mail verification is the most common method, and Google will send a postcard with a verification code to your business address. Once you receive the code, log back into your Google My Business account and enter the code to complete the verification process.
Optimize your listing:
After verification, you can add more information to your listing, such as photos, business hours, and additional business categories. The more information you provide, the more appealing and informative your listing will be to potential customers.
Respond to reviews and engage with customers:
Actively manage your Google My Business listing by responding to customer reviews, answering questions, and updating your information. This engagement helps build trust and shows that you value your customers' opinions.
Use insights and analytics:
Google My Business provides insights and analytics to help you understand how customers find and interact with your listing. Use this information to make data-driven decisions and improve your online presence.
By following these steps, you'll have successfully set up and optimized your Google My Business listing, helping your business become more visible and accessible to customers on Google Search and Maps.
Online presence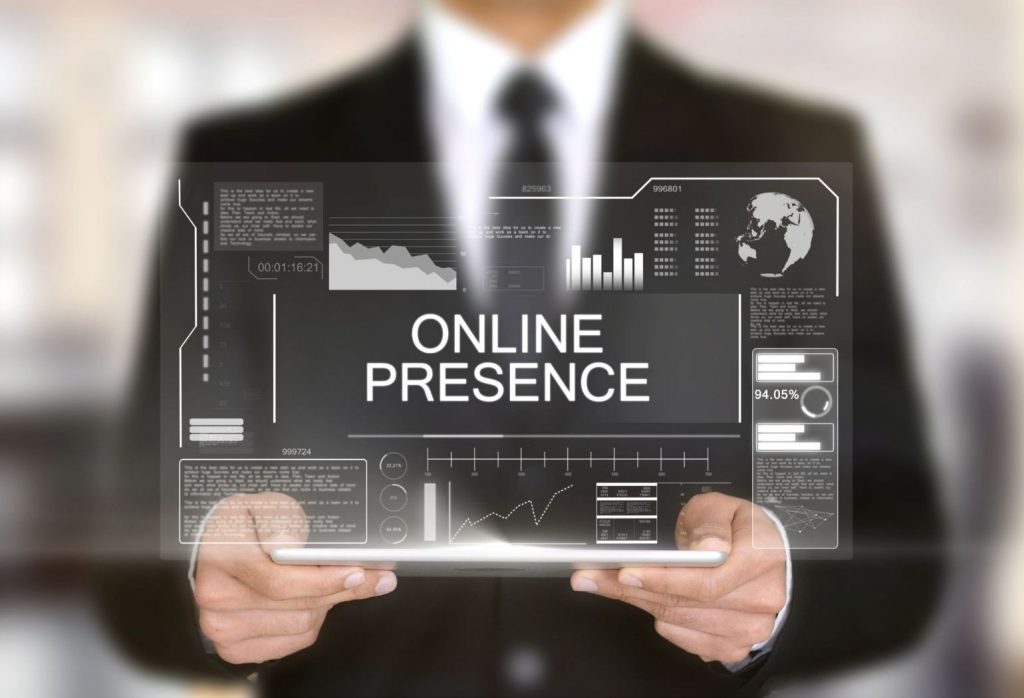 Google My Business is a free service from Google that helps businesses with their online presence. It has been built into Google maps and can be used to provide customers with details about your business, such as your address, opening hours, contact number, etc. By getting your business listed in Google's products, such as AdWords and Search, you can build trust and authority within the search engines.
We are in the golden age of smartphones, meaning that more and more people will search for mobile businesses. Now more searches are coming from mobile devices than from desktop computers. Google My Business is a must-have tool for local businesses to help customers find you when they're ready to buy.
Benefits of Google My Business
Google My Business (GMB) is a powerful, free tool for businesses looking to enhance their online presence across Google platforms, including Search and Maps. By utilizing GMB, businesses can reap numerous advantages contribute to their growth and success. Here are some essential benefits of using Google My Business, uniquely articulated and optimized for SEO:
Boost local visibility:
GMB is pivotal in amplifying your business's presence in local search results and Google Maps. This heightened visibility connects you with potential customers actively seeking products or services in your vicinity.
Climb search rankings:
A well-crafted GMB listing can elevate your business's position in local search rankings, increasing the likelihood of users discovering your offerings when searching for relevant keywords.
Establish trustworthiness and reliability: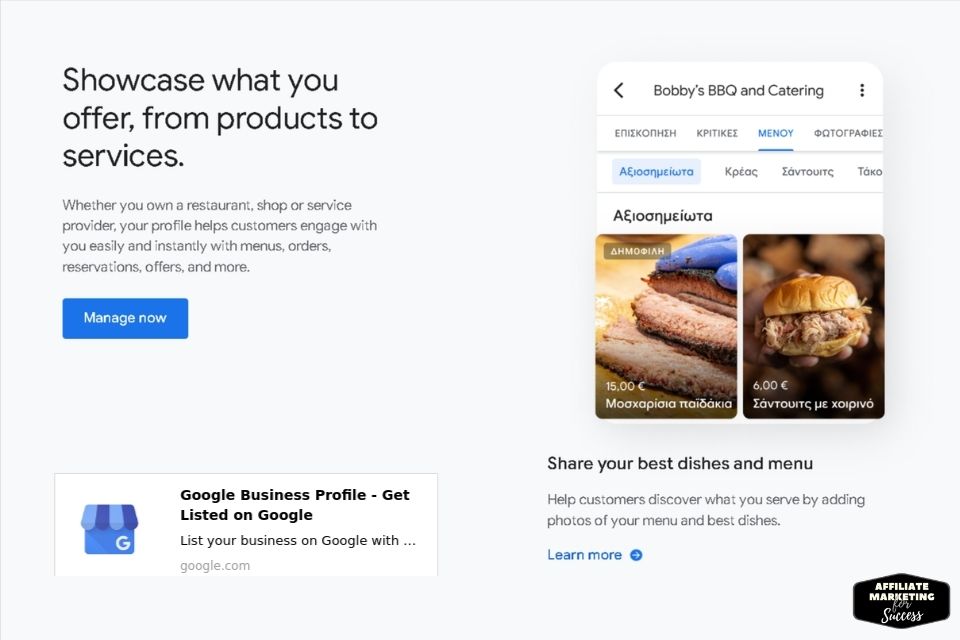 A comprehensive and precise GMB listing offers critical information about your business, such as contact details, operating hours, and visuals. This transparency fosters trust and dependability among users considering your services.
Leverage customer reviews and ratings:
GMB empowers customers to share their experiences through reviews and ratings. Positive feedback and high ratings can entice new clientele, while your timely and thoughtful responses to comments display your dedication to stellar customer service.
Gain valuable insights and analytics:
Google My Business provides data-driven insights and analytics, enabling you to understand user interactions with your listing. Utilize this information to refine your marketing tactics and bolster your online presence.
Engage and connect with customers: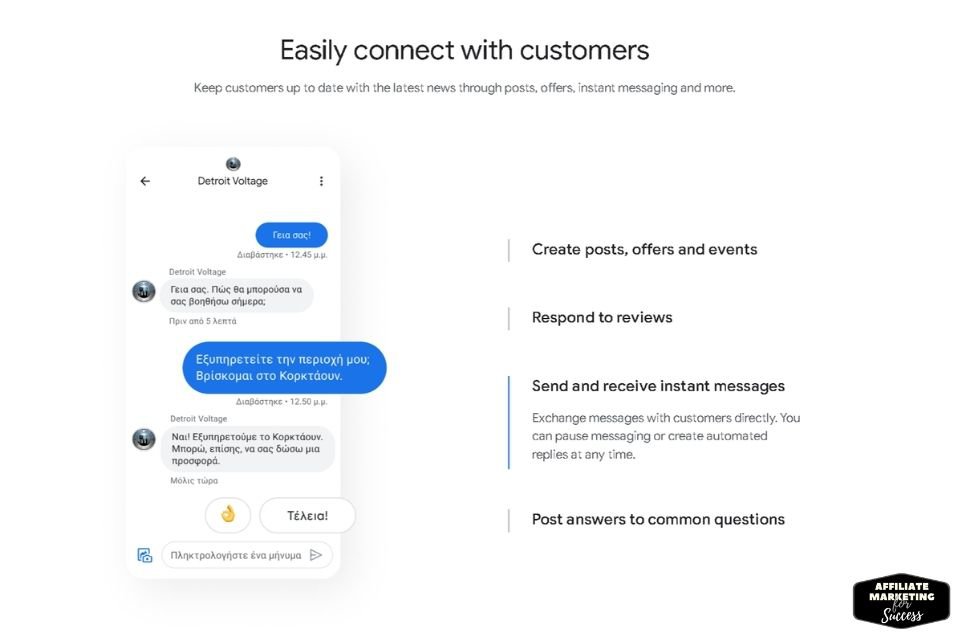 GMB facilitates direct communication with customers via Google Q&A and messaging features. Promptly addressing customer inquiries and concerns demonstrate your commitment to their satisfaction and foster long-lasting loyalty.
Showcase your offerings:
GMB allows you to highlight your products and services through captivating photos, videos, and in-depth descriptions. This visual content lets users grasp your offerings, making them more appealing to prospective customers.
Share promotions and events:
Google, My Business lets you create posts spotlighting exclusive events, deals, or promotions. These updates appear on your listing and can attract new customers or incentivize repeat business.
Centralize multi-location management:
GMB streamlines the management of multiple business locations, enabling you to oversee all your listings from a single dashboard. This consolidated approach ensures up-to-date, consistent information across all areas.
Seamless integration with Google services:
GMB integrates with various Google services, such as Google Ads, Google Analytics, and Google Search Console, providing a holistic perspective of your online presence. This comprehensive view empowers you to make data-driven decisions for optimizing your marketing endeavors.
By capitalizing on the unique benefits of Google My Business, businesses can bolster their online visibility, foster customer engagement, and drive increased traffic and sales.
Why it's essential to have a Google My Business presence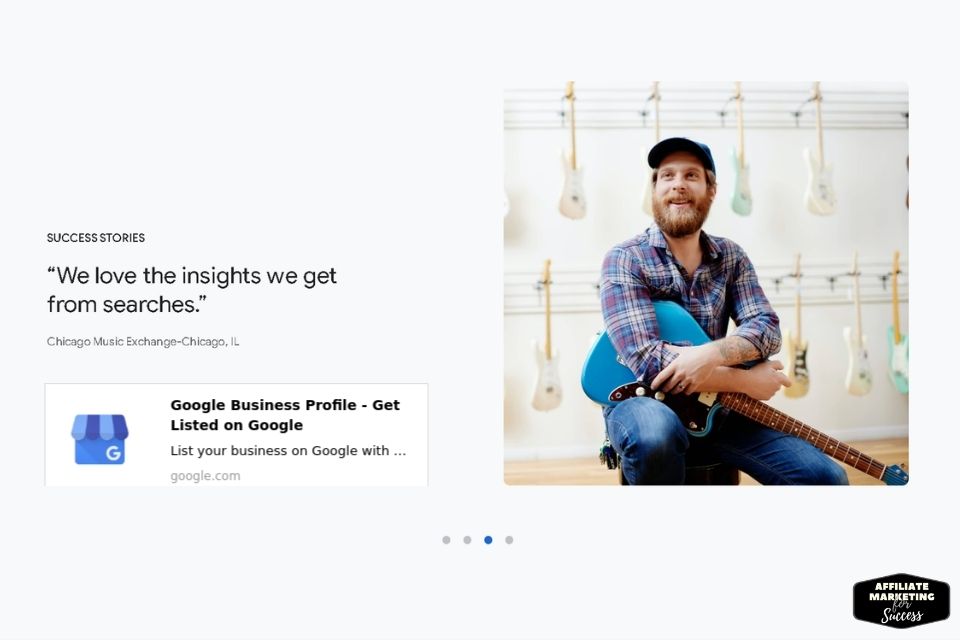 What is Google my business, you ask? The directory of businesses on Google allows users to search for a list of local services. In an increasingly competitive marketplace, having a well-developed Google My Business presence is vital so you can rank in local searches. If you're searching for the "best lawn maintenance company near me," wouldn't you want the best results showing up for your search? A simple Google search will most likely show results from Yelp, Facebook, Twitter, and other online platforms.
We could go on and on about creating a website for your business. But one thing often overlooked but presents an even greater opportunity for growing your business is providing information about your business to Google. A well-optimized Google My Business profile allows you to target a specific audience of potential customers using concrete search terms. You can be as local or as international as you like!
Every business owner must have a Google My Business page
This is a new requirement for all operating businesses; you must take time to get it right. Why? Because every factor on this new page will directly impact your search rankings.
Did you know the average American spends 88% of their time indoors? This means that we spend most of our time on Google. Yet even though we spend so much time on Google, more than half of all Americans do not have a page on Google My Business! Does this sound like you? It's never too late to claim a free Google My Business listing. Your competitors certainly will if you don't claim your business page now.
All the different places where you can spend your advertising dollars are essential. However, Google My Business is one of the most critical areas for a positive return on investment. You can drive qualified traffic and customers to your business from Google. However, you can also grow your local SEO rankings to get more free organic traffic in the long run.
While not every business needs to be on Google My Business, there are significant benefits to having a business listing, especially if you want to rank higher in Google's local 3-pack. While this article will undoubtedly create controversy about whether a listed business is "relevant" or "useful" to consumers, I think most would agree there are enormous advantages to finding and rating a business.
How does Google My Business evaluate your blog ranking?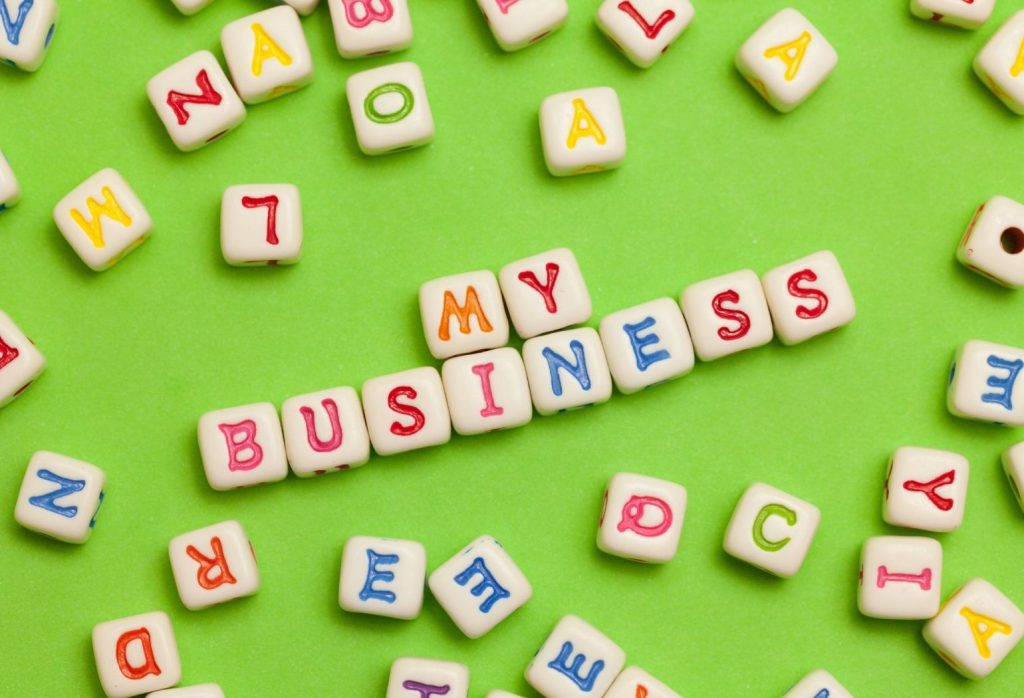 When you register your business with Google My Business, the app uses different parameters to determine your blog ranking. This translates into a score or category that gives you. Here are the three main factors to consider:
Relevance: It determines your blog's appropriateness for users' search intent. To achieve this, I recommend that you design and write the content of your website in a way that suits what people are looking for. Your blog should be clear, accurate, and focused on its goal of rising in the rankings of relevance.
Proximity: Being application-oriented towards local shops, your blog must have the address in the search result. For example, when someone searches for a traditional Greek tavern in Athens, the ones in the Greek capital will be better positioned than those in London.
Prominence: Here, we consider the activity from your blog and the number of updates, whether in posts, events, or photos. This means you can improve your prominence every time you update your website. It's no secret to anyone that outdated websites don't want to see them, so distinction makes it better positioned.
Impacts your local SEO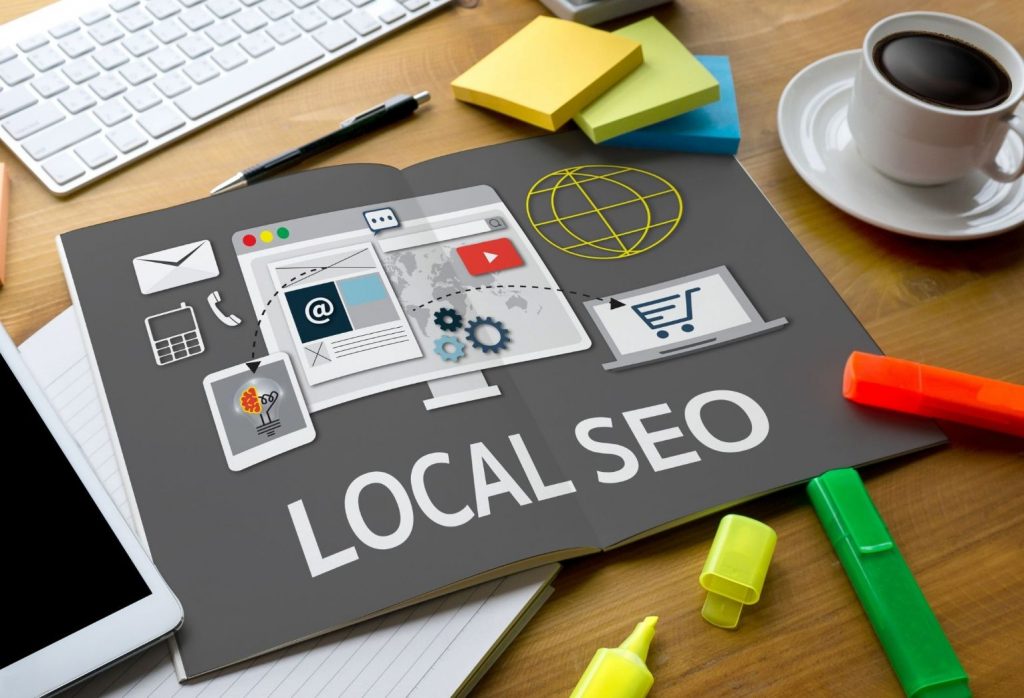 In addition to these three aspects, it is worth noting that you can not neglect the management of your local SEO. Google My Business can help position your blog, but it's not everything.
Local SEO is related to your business or the business's geographic location. Specifically, when you own stores that depend on a physical location, this SEO strategy helps increase traffic to your website and your establishment or office.
Naming your locality or sites of interest within your geographic range of action could help keep your SEO local. The idea is to use keywords that users who require the type of service or product you promote on your blog can use.
The key is to have your website sorted and create eye-catching content using your keyword and your business or location. You can also ask your users to value your website in My Business to increase visibility.
FAQs
Conclusion
In conclusion, Google My Business (GMB) is an indispensable asset for businesses aiming to amplify their online footprint, foster customer engagement, and accelerate growth. By meticulously optimizing and updating a GMB listing, businesses can bolster their visibility in local search results, cultivate trust and credibility, and effectively spotlight their offerings.
Moreover, the platform enables seamless customer communication, empowering businesses to address concerns and exemplifying their dedication to customer satisfaction. Additionally, GMB's integration with other Google services and its capability to deliver insightful analytics equip businesses with the knowledge required to make data-driven marketing decisions. Harnessing the potential of Google My Business is essential for any business striving to thrive in the competitive digital marketplace.
References
Google My Business Help Center: The official help center for Google My Business offers comprehensive guides, FAQs, and support for users managing their GMB listings. Source: https://support.google.com/business/
HubSpot: The Ultimate Guide to Google My Business: This comprehensive guide by HubSpot, a renowned marketing software company, provides insights into using GMB effectively for your business. Source: https://blog.hubspot.com/marketing/google-my-business
SEMrush: The Ultimate Guide to Google My Business: This extensive guide by SEMrush, a leading SEO and digital marketing software company, covers various aspects of GMB, including setup and optimization. Source: https://www.semrush.com/blog/google-my-business/
Oberlo: Google My Business: The Ultimate Guide for 2021: This guide by Oberlo, a popular dropshipping platform, provides detailed information on using Google My Business effectively. Source: https://www.oberlo.com/blog/google-my-business
CallRail: The Ultimate Guide to Google My Business: This comprehensive guide by CallRail, a call tracking and analytics company, covers everything you need to know about Google My Business. Source: https://www.callrail.com/blog/guide-to-google-my-business
Buffer: The Ultimate Guide to Google Business Profile (Formerly Google My Business): This in-depth guide by Buffer, a renowned social media management tool, explores the features and benefits of Google Business Profile, formerly known as GMB. Source: https://buffer.com/library/google-business-profile-ultimate-guide/
I'm Alexios Papaioannou, a word wizard, and affiliate marketing ninja with a decade of experience crafting killer blog posts that captivate and convert. Specializing in affiliate marketing, content writing, analytics, and social media. My secret weapon is a love of running that boosts my creativity and energy. Let's create epic content together!