Advanced Keyword Ideas: Boosting Your Organic Ranking
Trying to boost your organic ranking in Google can be challenging. However, advanced SEO techniques and Advanced Keyword Ideas will help you out!
You'll want first to ensure that your website is mobile-friendly and has a fast loading time before embarking on this journey, but once you've done that, these other tips might bring you success!
Tips for Boosting Your Organic Search Ranking
| Tip | Details |
| --- | --- |
| Optimize page titles | Keep titles under 60 chars, include target keyword, add branding |
| Write meta descriptions | Max 160 chars, include target keyword, compelling description |
| Optimize content | Focus on one target keyword per page, include it naturally 2-3 times, good H2 and H3 tags |
| Get backlinks | Outreach for high authority backlinks from industry websites |
| Improve site speed | Compress images, minify CSS/JS, use caching, CDN hosting |
| Enhance user experience | Mobile friendly, easy navigation, good IA, compelling content |
| Track analytics | Monitor sessions, bounce rate, pages per visit, goal conversions |
1. Build A Content Strategy
One of the biggest mistakes people make when SEO is not having any strategy. This leads to a situation where you constantly try different things without knowing if they're working! A content marketing strategy can help you determine what your audience wants, how they want to receive their information, and what types of content will be most effective for your business! Once this has been established, it becomes much easier to find new topics for pages on your site, create an editorial calendar with deadlines for each piece of content, etc.
2. Boost Your Social Presence
Besides creating more organic traffic, having a solid social presence will also help improve your SERP ranking. It has been widely proven that social signals such as Tweets and Likes help Google figure out how popular your website is, and this information then gets factored into their search engine algorithm. Boosting your social presence will also encourage more people to engage with your content, significantly impacting your SEO!
4. Use Advanced Keywords
Of course, you want to include your site's most frequently searched keywords (and ensure they're not too long or complicated), but using more advanced grammar can help you rank better! Tools like Google's Adwords Keyword Tool can give you ideas for some great keyword phrases that might be difficult to acquire otherwise. Some examples of types of keywords could be: Comparative phrases (cheap vs. cheap flights), Noun/verb combinations (best time to sell a house), Single-word modifiers (hotel rooms)
5. Boost Your Website Loading Speed
Studies have shown that Google can determine how fast or slow your website loads and will rank your page lower if it takes too long! A study by Akamai found that 47% of consumers expect web pages to load in 2 seconds, and 40% expect the site to load in 1 second. Boosting your loading speed will provide a better user experience for people landing on your site and improve your rankings! There are plenty of free tools online that help you test the speed of any website.
Boost Your Organic Ranking With These Advanced Keyword Ideas Boosting your organic ranking on Google can be challenging. However, there are advanced SEO techniques that will help you out! You'll want first to ensure that your website is mobile-friendly and has a fast loading time before embarking on this journey, but once you've done that, these other tips might bring you success!
The concept of website keywords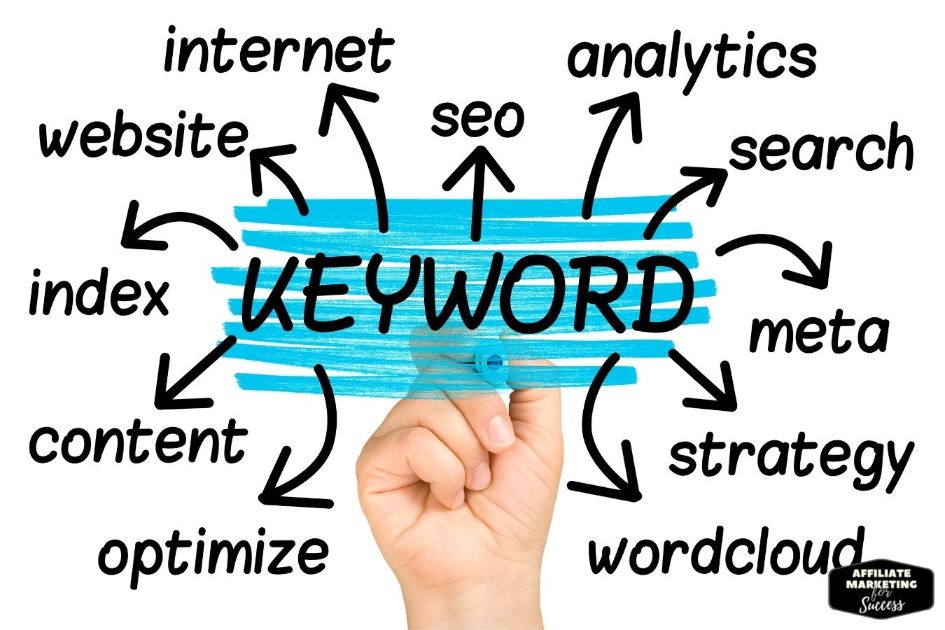 The idea behind website keywords is straightforward, but the implementation may be complex. Using keywords for SEO (search engine optimization) isn't difficult if you know what to do. This implies a more significant number of people visiting your website.
What are keywords?
In a nutshell, keywords describe the website's theme to Google and other search engines so that they may propose it to searchers. Isn't it simple? Not so fast! The difficulty lies in deciding which keywords to use, where to position them, how many to utilize – while avoiding overuse – and whether synonyms are recognized.
Why Are They Important To Your Business?
Keywords are essential because they help customers find your business when they type something in the search box. For instance, if someone searched the Internet for "pizza restaurants near me," they would probably visit one of the top websites that rank highly for those words.
How Many Keywords Should Be Used In An Article?
There are no actual rules about the number of keywords per article. However, remember that the more keywords you use, the higher your article's search results will appear. You should reconsider your strategy if you don't need to add any keywords.
Are Keywords Necessary When Writing An Article?
You don't necessarily need to write an entire article full of keywords, especially if the topic is relatively broad. However, if you're writing a particular niche article, it makes sense to include keywords. By doing this, you're telling Google precisely what your article's subject matter is.
How Do I Decide Which Words To Include In My Article?
One way to decide which words to use in your articles is to ask yourself questions. What are the most common searches for my business? How often do they occur? Is there a gap between the frequency with which specific keywords are used and the frequency with which others are used? You'll get a good idea of which words to use by answering these questions.
Another method for determining which words to use includes using Wordtracker, which allows you to analyze a list of potential keywords. Enter the name of your business and choose the location from which your traffic comes. Then click "Search." You can also create lists based on how people search for your products and services.
Finally, another option is to conduct keyword research. This involves analyzing competitor sites and identifying their keywords to see what terms they're ranking well for. You can see what terms you should target and develop a plan for implementing them into your content.
Do Keywords Affect Rankings?
Yes, they do. According to Moz, a famous website analytics company, 57% of all clicks come from keywords. Also, 82% of clicks come from two to three keywords, and 95% come from five or fewer. So, if you're not utilizing many keywords, you're missing out on a lot of traffic.
What About Synonyms?
Synonyms are similar words that mean the same thing. For example, "restaurants" and "cafes" refer to places where food is served. So, naturally, they'll have the same meaning to search engine users. You should avoid duplicating your keywords by adding synonyms to your site.
How Much Time Should I Spend On Keywords?
We frequently hear this question: "Shouldn't I spend more time developing quality content than worrying about keywords?" While it's true that spending too much time on SEO isn't always advisable, focusing on keywords helps ensure that your efforts are worthwhile. Building links and ranking high takes time, but traffic will increase significantly once this happens.
So, before you begin your next project, ask yourself some of these questions. Knowing what makes your business unique will help you determine which keywords to target and which to leave alone.
Creating a solid brand is the first step toward building a successful online business. A brand is essentially a promise made to the world. It's a promise to deliver exceptional customer service and great value. But it's even more than that – an emotional promise that resonates deep within our souls. When a consumer connects emotionally with a brand, trust, and loyalty develop. That's why every business owner needs to understand how to build a powerful brand.
To learn more about building a brand, read this article on how to build a brand… and then practice! Once you know how to make a brand by following these steps, you'll find it easy to apply those skills when promoting your own business.
Create Brand Identity
Your brand identity represents who you are and what you stand for. It's the reason why consumers want to buy your product or service. It's what sets you apart from other businesses. And it's what gives your customers reasons to keep coming back to you repeatedly.
Let's take a look at how to build a brand identity.
Branding Basics
A brand identity is a set of guidelines defining your business's personality. Every business has its own brand identity. Some companies focus on selling widgets to widget makers. Others sell widgets to widget buyers. Still, others sell home decor items to home decorators.
Regardless of the products you offer, you can create a brand identity by applying the principles below:
Do You Have a Unique Selling Proposition?
You probably already know what your USP is. If you don't, here's a quick definition: "Unique Selling Proposition refers to the key benefit that distinguishes one product or service from another. The USP is usually expressed in terms of benefits rather than features."
Every business has something special that differentiates them from its competitors. Whether it's low prices, free shipping, or an excellent return policy, your USP defines who you are as a business.
To develop a compelling USP, ask yourself: What am I offering my customers that no one else offers? How does what I offer to solve a problem? Why would someone choose me instead of my competition?
Once you've identified your USP, write down everything you can think of that might describe it. Then make sure you talk about each item you listed. This exercise will give you plenty of ideas for your next marketing campaign.
Do You Have a Clear Mission Statement?
Like most small business owners, you may be tempted to skip this step. After all, isn't a mission statement part of the branding process?
Yes, but there's a big difference between a mission statement and a brand identity. While both are important, a mission statement describes what you do. A brand identity defines who you are. So, to develop a solid brand identity, you need to start with a clear mission statement.
Here's a simple example of a good mission statement: "We provide high-quality food services to people living with HIV/AIDS." Now let's take this statement and turn it into a brand identity.
What Does Your Mission Statement Say About Who You Are?
According to Wikipedia, a mission statement is typically written: "Our mission is to…." In contrast, a brand identity is often written: 'We are known for…"
There's a massive difference between the two statements. While the first focuses on providing quality services, the second focuses on delivering quality services.
Think about your company's purpose. What does it say about who you are? For instance, "We help people find jobs online" sounds more like a job board than a brand identity.
How Can You Use Your Brand Identity To Generate More Leads?
Your brand identity should also include keywords that attract potential clients. That means your website content needs to use those exact keywords. Combining well-written copy with relevant keyword phrases increases the likelihood that prospective clients will click through to your site.
For example, when looking for an SEO agency, we searched Google using the phrase: "SEO agencies near me." We found several local businesses that claimed to provide search engine optimization services. But after reading reviews posted on sites such as Yelp, we decided to work with an SEO agency called Search Engine Experts Inc.
They provided SEO services for local businesses when we visited their web page. They even included some specific keywords and phrases. As a result, our decision was easy.
Now let's look at how you can apply this concept to your offline advertising campaigns. One way to attract new prospects is to advertise in publications that target similar demographics. For example, if you run a pet store, you might place ads in magazines targeting dog lovers or cat lovers. The ad would highlight products that appeal to these particular groups.
Another option is to create a print advertisement based on your brand identity. For example, you could create a flyer with pictures of your products and your logo. If you have a retail location, you can put up signs at locations where customers are likely to walk by.
The point is that you don't always have to rely solely on traditional media. Instead, you can promote yourself using free resources available online.
Write Down Your Goals And Strategies
Even though many companies focus only on improving their websites, improving other aspects of your marketing strategy is possible. For example, you can add social media buttons to your website. Those buttons allow visitors to share your page on Facebook and Twitter.
You can also post updates on LinkedIn and YouTube. By doing so, you increase the chances that people who visit your site will become repeat customers.
In addition, you can send out emails promoting special offers or contests. If you're unfamiliar with email marketing, check out this article from MarketingProfs.com. It includes tips for writing successful emails.
Finally, you can set up direct mail campaigns. This type of campaign uses pre-printed letters to reach potential buyers. For example, you may want to send out flyers to current customers asking them to recommend your business to others.
As you can see, many ways to boost your organic ranking exist. However, before spending money on paid advertisements, ensure your website loads quickly and has high conversion rates.
What keywords should I use?
Begin by asking yourself, "If I was looking for the information on this web page, what search phrases would I use?" Google Trends may assist you in refining your choice of terms. Input the conceivable search term to see how popular it is among Googlers. Google Trends also offers alternative words and phrases as suggestions.
How many words should I use?
Keywords phrases, or long-tail keywords, are generally more successful at improving your ranking on SERPs (search engine results pages). The optimum length is usually about three to five words. Larger websites and companies shouldn't push your site down the rankings by using low-competition keywords (less popular and less likely to be used by rivals).
In a previous post on SEO, we used the example of a small local furniture store. Single keywords like "furniture," "sofas," and "bookcases" would likely get top rankings for large, established furniture store websites. In addition, customers that are more knowledgeable about what they're searching for use more complex search phrases such as cedar patio furniture.
Let's take a look at an example. A local store may be marketing a retro, mid-century modern furniture collection and including a blog article on its 1960s-style barstools. If the term were restricted to one word, such as a sofa, the post would be buried among dozens of larger furniture shop websites. Better still is a multi-word long-tail key phrase like retro bar stools from the 1960s. Location-based keywords, such as retro bar stools in Charlottesville, would benefit the local business.
However, you may use Google Trends to examine a specific search. For example, the term "retro barstools of the 1960s" might be used in a search engine query to get results for this topic at Google. However, while it does provide options for retro furniture, it doesn't go deep enough to find information about retro barstools of the 1960s or other related terms.
Is it possible to attract search engines and readers with unimportant phrases?
Search engines have gotten quite smart nowadays, and they can typically tell if you're using popular keywords that don't belong to your page. How might they tell? When many people click the same link but return quickly to the results page to see what else is available, the search engine shows that the conclusion isn't what people were looking for.
When users stay longer on a subsequent result, that site ranks higher in Google's eyes. "Google pays attention more to user activity than content on the page," according to Search Engine Journal.
Users dissatisfied with your product or service send several additional signals to search engines, including high bounce rates and short stays on the site. These indicators can significantly impact how well you rank on search engine results pages (SERPs).
Other words do you think are essential in a key phrase?
Yes! Synonyms should also be utilized. They accomplish two things: enhancing the quality of your text and aiding search engines in locating your page.
If you recall your high school or college composition courses, you may recall instructors drilling the use of synonyms into your head. Repeating the same word repeatedly becomes tiresome, as it appears unprofessional. Rather than repeating the primary term, instructors would have recommended switching up the preceding word with a synonymous one. If you were writing about your loyal dog, you could include words like a pooch, pet, pup, hound, etc. He wouldn't just be trustworthy; he'd be devoted and friendly.
The second goal of keywords in online content is to improve visitors' likelihood of finding the page. Some people may not use the same key terms as you, but they might enter synonyms instead. Instead of 1960s retro barstools, they could look for vintage 1960s bar chairs, mid-century modern bar stools, bar furniture, kitchen stools, etc. They may search for outdoor wood furnishings rather than teakwood patio furniture.
LSI Keywords
Keywords and synonyms should always be used naturally in your text, as they did here. Enforcing them can make your writing seem awkward, incorrect, and challenging. A lot has been said about LSI (Latent Semantic Indexing), a similar idea.
In the late 1980s, this algorithmic approach was created to improve information retrieval by better "reading" and "understanding" the semantic connections between document words to index them more effectively. Synonyms are included within latent semantics.
However, the usefulness of factoring LSI into improved SEO is disputed. Some experts still insist that "Yes! Google utilizes LSI to enhance your SEO! You must comprehend it to improve your SEO!" However, John Mueller, webmaster trends analyst for Google, tweeted in July 2019 that "LSI keywords don't exist — anyone who says otherwise is incorrect."
"Even if there's no proof that Google employs LSI, adding synonyms throughout your content won't cause any damage. As a result, it's well worth trying." This was the conclusion drawn by Search Engine Journal.
"Synonyms throughout your content will not harm your writing; therefore, you should try it out even if you don't have evidence that Google uses LSI.
How many should I use?
The total number of keywords on each page is unpredictable. The amount does rely on the copy's length. A 500-page blog article would require fewer keywords than a 1,500-word essay. Similarly, there is no secret formula for determining optimal keyword density: the proportion of times the focus words are used vs. the full word count of the text. Yoast claims that 0.5 percent to 3 percent is the best range – not considering synonyms.
Finally, you want to ensure you don't say these same things or phrases too often. Overfilling your post may harm both the content and SEO, making your site appear spammy. Use these crucial words naturally in your writing to please both search engines and visitors – your potential consumers!
A website is today's business necessity, and keyword usage for SEO is just one of many factors to consider. Ross Media Solutions can help you develop a website, promote targeted media content through social media, and more. RMS has been developing niche media and digital marketing for 20 years and wants to take your company to the next level.
FAQs
How can I find new keyword ideas for my site?
Use keyword research tools like Google Keyword Planner to find low competition keywords related to your niche that could help boost rankings.
What makes a keyword "advanced" for SEO?
Advanced keywords go beyond basic keywords by targeting long-tail, geo-targeted, and semantic match variations to reach more specific audiences.
Should I use keywords in subheadings and image filenames?
Yes, working keywords into subheadings, image names, alt text, and file names helps search engines better understand your content's focus.
How often should I update my target keywords?
It's best to review and update your target keywords at least quarterly to keep pace with trends and account for new related keywords.
Should I focus on keywords with high search volume?
Not always – mid to low competition keywords can be easier to rank for and still drive relevant traffic to your site.
Conclusion
Ranking in organic search results is the Holy Grail for SEO and content marketing success. By conducting in-depth keyword research, identifying advanced opportunities, and implementing optimized strategies, you can achieve top positions in Google search results and reap the rewards of increased traffic, conversions, and credibility.
While competition continues intensifying and algorithms keep evolving, the fundamentals of search engine optimization remain the same. Provide value by solving real user problems. Create authoritative and evergreen content. Build internal link architecture and external links from high-quality sources. Optimize content for discoverability through titles, headers, URLs, metadata, and keywords.
Track performance and make adjustments to boost traffic and conversions. Forbidden keywords, new ideas, content additions, link building, or technical optimization may unlock your next breakthrough. Stay focused on user experience, not just rankings, for their own sake. The most successful organic strategies have real user benefits at their core.
Remember, ranking in Google is a journey, not a destination. Continue improving, adapting, and innovating to reach new heights of success. Learn from both the wins and losses. Surround yourself with other SEO professionals committed to mastery. Persistence, consistency, and constant optimization will lead to your goals over the long run.
References
This article explains 10 ways to improve organic search rankings on Google. It provides tips on creating content hubs, developing thoughtful content, identifying target keywords for SEO strategy, and more.
This article explains organic keywords and how to find and optimize them. It provides information about how organic keywords attract free traffic with search engine optimization (SEO).
This article explains the 13 best keyword research tools to boost organic traffic. It provides information about how keywords are essential for increasing organic traffic because searchers only find content if Google thinks it's relevant to what they're searching for.
I'm Alexios Papaioannou, an experienced affiliate marketer and content creator. With a decade of expertise, I excel in crafting engaging blog posts to boost your brand. My love for running fuels my creativity. Let's create exceptional content together!