Understanding the Importance of SEO for Online Success
Search engine optimization (SEO) has become essential to any successful online marketing strategy. With more people using search engines like Google to find products, services, and information online, appearing at the top of the search results is critical for driving relevant traffic to your website and boosting conversions.
In this comprehensive guide, we will dive into all the key aspects of SEO and why it is so essential for your business.
Why SEO Matters: Key Takeaways
| Topic | Summary |
| --- | --- |
| What is SEO? | SEO stands for Search Engine Optimization. It refers to strategies and techniques used to improve a website's ranking in search engines like Google. Good SEO helps people find your site when they search for related topics. |
| Importance of Keywords | Doing keyword research to understand what terms people search for related to your business is crucial for SEO. Optimizing pages for targeted keywords can boost traffic. |
| On-Page SEO | SEO stands for Search Engine Optimization. It refers to strategies and techniques to improve a website's ranking in search engines like Google. Good SEO helps people find your site when they search for related topics. |
| Off-Page SEO | This includes tactics applied directly to your website, like using keywords in titles, headers, content, etc. This helps search engines understand your pages' topic. |
| Mobile Optimization | Getting other high-quality sites to link back to your pages with anchor text helps search ranking—tactics like content marketing and link building aid off-page SEO. |
| Local SEO | With growing mobile usage, making pages mobile-friendly with responsive design ensures a good mobile user experience. This is a ranking factor. |
| Performance | Fast load times, good website infrastructure, and efficient code help with user experience and search ranking. |
| Monitoring & Adjusting | Using analytics to monitor performance and continuously improving pages based on data helps maintain good SEO. |
What is SEO and How Does It Work?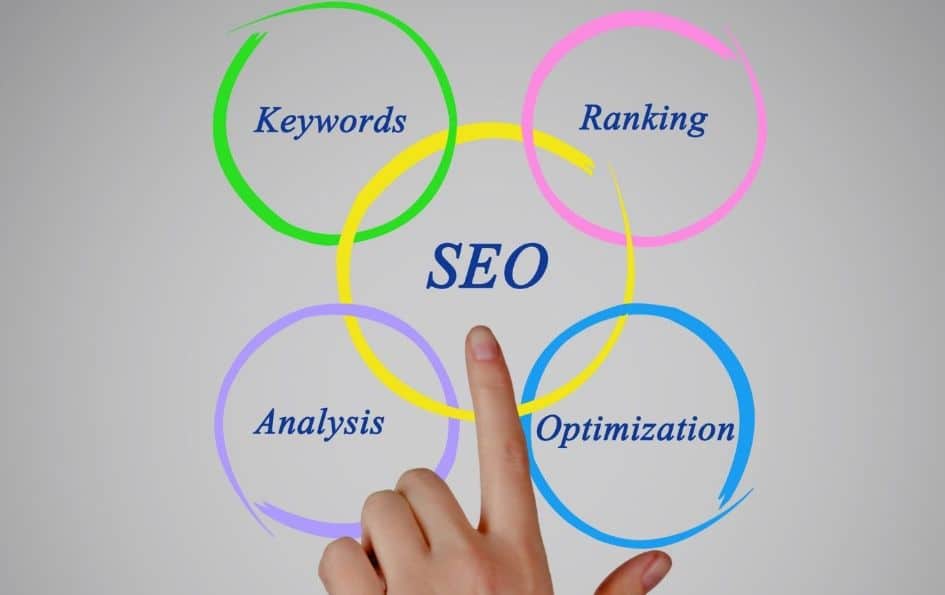 SEO stands for search engine optimization. It refers to improving a website's visibility and ranking in the unpaid, organic search results on search engines like Google.
When someone searches for a topic on Google, the search engine displays two main types of results:
Organic results – The web pages most closely match the search query based on relevance and other ranking factors. These appear because they have been optimized for the keywords in the search term.
Paid results – Advertisements businesses can pay to show up for specific keywords. These paid ads appear above or alongside organic results.
To determine the organic rankings, search engines use automated programs called crawlers or spiders to browse and index the content on websites. They look at various ranking factors on a page to evaluate its relevance to the search query.
Some key factors that influence organic rankings include:
On-page SEO – Optimizing title tags, headings, content, meta descriptions, alt text on images, etc. This tells search engines what the page is about.
Off-page SEO – Building quality backlinks from other websites to signal popularity and authority.
Technical SEO – Website speed, mobile optimization, proper indexing, structured data, etc. This ensures a good user experience.
By optimizing these factors to target relevant keywords, websites can improve their chances of ranking higher in search and being found by their ideal audience.
Why is SEO Important for Your Business?
There are several reasons why SEO is essential for your business and online success:
Increase Visibility and Website Traffic
The higher you rank in search results, the more visible your website becomes to prospective customers searching for your products or services online. More visibility means more free, qualified web traffic that can convert into leads and sales.
Websites on the first page of Google results get over 90% of search traffic. So if you are not ranking in the top results for your target keywords, you are missing out on a major source of new visitors.
Reach Your Target Audience and Their Search Intent
SEO lets you reach people actively looking for your products, services or information online. By optimizing for keywords your ideal customers are searching for, you can get your business in front of those most likely to buy from you or engage with your content.
It also enables you to connect with users based on their specific search intent, whether they want to purchase, read a blog post, or find a solution to a problem. You can tailor content accordingly.
Build Trust and Authority in Your Niche
Ranking high in organic search results helps establish credibility and authority in your industry. It signals to searchers that your site is relevant, trustworthy, and valuable within your niche.
This perception can increase conversion rates as visitors land on your pages. Studies show top-position sites convert over 30% better due to higher trust rankings.
Overcome Competitive Challenges Online
SEO helps level the playing field against larger or more established companies in your space. It allows small businesses to compete based on merit, not just marketing budgets.
With effective optimization, you can potentially outrank bigger brands targeting the same keywords. The higher visibility can help you grab market share in your niche.
What are the Benefits of SEO?
Here are some of the key benefits that SEO provides for your business:
Increased targeted website traffic
Improved brand awareness and authority
Higher conversions and sales
Better return on investment than other channels
Generates more leads and inquiries
More cost-effective than paid advertising
Long-term results that can be sustained over time
Helps counteract competition and retain market share
Enables you to reach customers at the key moment of search
Provides insights through analytics on customer behavior
Measurable results that can be tracked and optimized
SEO is one of the most versatile and results-driven channels for establishing an online presence and driving growth for your business. The rewards clearly outweigh the efforts.
What are the Key Elements of SEO?
To implement an effective SEO strategy, some key elements must be considered:
Keyword Research
Thorough keyword research provides the foundation of your SEO efforts. It involves identifying high-potential keywords that align with your products, services, and target audience interests. Tools like Google Keyword Planner can help uncover relevant search volume data.
Content Creation
Your website content should be optimized for the keywords you are targeting while also providing value for readers. Ensure to include keywords in titles, headers, meta descriptions, image alt text, etc. Update and add new content regularly.
Link Building
Getting quality websites in your industry to link to your pages helps improve domain authority and page rank. Guest posting, partnerships, outreach, and usage of internal links can all generate new backlinks.
Website Structure
Make it easy for search engines to crawl and index your site by maintaining a simple information architecture, navigation schemes, site maps, etc. Broken links or pages hamper SEO.
Page Speed
Faster loading pages improve user experience and search rankings. Optimize images, enable caching, compress files, and minimize redirects to enhance speed.
Mobile Optimization
With Google's mobile-first indexing, sites must be optimized for mobile users. Use responsive design, eliminate pop-ups, check device page speed, etc.
Analytics and Tracking
Tools like Google Analytics allow you to monitor website traffic sources, top pages and posts, conversion funnels and KPIs to gauge SEO success.
How to Do SEO Effectively?
Here are some best practices to implement SEO effectively:
Define Your Goals and Audience
Be clear about what you want to achieve through SEO – traffic, conversions, and awareness. Identify your target audience and the keywords/topics that resonate best. Conduct competitor analysis too.
Perform On-Page and Technical SEO
Carry out a site audit using tools like Google Search Console. Fix technical errors, improve site speed, enhance content quality, and optimize meta titles and descriptions.
Conduct Keyword Research
Identify the search terms and phrases with high search volume and low competition or difficulty scores. Tools like Ahrefs, SEMrush, and Google Keyword Planner can help.
Create High-Quality, Optimized Content
Create content pillars, blogs, and videos centered around your focus keywords. Optimize them for both search engines and users by following on-page SEO best practices.
Promote Your Content
Build high-quality backlinks through guest posting, partnerships, social media engagement, etc. Improve domain authority.
Monitor and Measure Results
Use analytics to track website traffic, rank improvements for target keywords, backlinks gained, conversions, and other KPIs. Continuously refine efforts.
Optimize Based on Insights
Analyzing search engine algorithms and leveraging emerging opportunities like voice search, featured snippets, etc. can help boost SEO success.
What is Organic Traffic?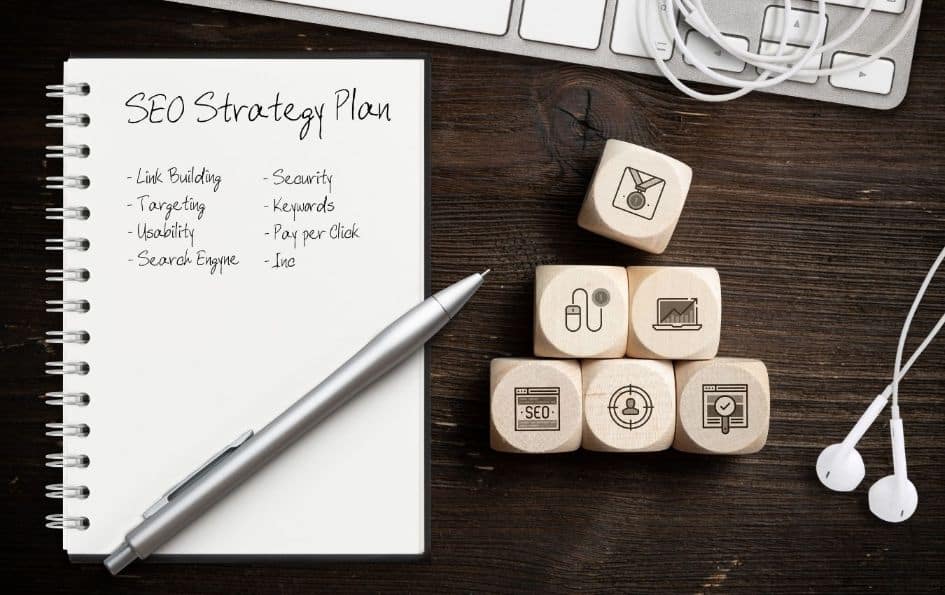 This type of traffic refers to people searching through search engines and clicking on a result that is not an advertisement.
According to a study by The RAIN Group in 2009 and published in 2010 by HubSpot, the website influences 97% of customers' purchasing decisions. Today's advantage is that social networks also help us get our prospects to our website or search for us directly on our profiles through Instagram, Facebook, Twitter, Tik Tok, etc . this is known as Social Search.
What is Direct Traffic?
This type of traffic is directly related to a metric called "brand awareness," or brand awareness, which directly impacts sales. Brand awareness tells us how well-recognized a specific brand is by consumers.
Direct traffic consists of the number of visitors that come to your website by directly typing the URL of your website in their search engines instead of coming from another website, a search engine result, or social networks.
We should think of SEO more as Search Experience Optimization or Search Experience Optimization since it is a crucial part of our strategy. It has a direct impact on sales. It makes us a reliable source of information for our prospects.
SEO Elements
Understanding the importance of SEO is critical if you want to:
FAQs
Why is SEO important for my business?
SEO helps your website rank higher in search engines, driving more relevant traffic to your site and increasing visibility.
How can SEO increase my website traffic?
Good SEO leads to higher search rankings for relevant keywords, placing you ahead of competitors in results.
What are the benefits of good SEO?
The main benefits of good SEO are increased website traffic, greater brand awareness, and higher conversion rates.
How quickly can SEO improve my rankings?
SEO results build over time, but you can see a positive impact in rankings within 3-6 months with proper optimization.
Is SEO worth the investment for my small business?
Yes, SEO delivers a strong ROI by driving targeted traffic to your site at a lower cost than paid options.
Conclusion
As evidenced in this comprehensive guide, SEO should be integral to your digital marketing strategy. Optimizing your web presence for targeted keywords and phrases will ensure that your brand ranks highly in organic search and taps into the customer journey at the opportune moment.
By leveraging various on-page and off-page optimization best practices, you can boost website visibility, build authority and trust, reach more of your ideal audience, increase conversions, and gain a competitive edge. Tracking metrics and constantly refining efforts based on performance will help maximize ROI.
While SEO requires time and effort, it generates a high return by delivering qualified, free website traffic over the long haul. The results are measurable and sustainable when done right. In the ever-competitive online sphere, businesses cannot afford to ignore SEO if they want to grow.
Start assessing your current SEO health, address gaps, and implement a comprehensive strategy today to take your online presence and revenues to the next level through organic search.
References
I'm Alexios Papaioannou, a word wizard, and affiliate marketing ninja with a decade of experience crafting killer blog posts that captivate and convert. Specializing in affiliate marketing, content writing, analytics, and social media. My secret weapon is a love of running that boosts my creativity and energy. Let's create epic content together!