Improving Your SEO Ranking: Simple Tips for Success
Do you want to know how to improve your ranking in SEO? If so, you're in luck. In this article, I will teach you the simple steps that will help you improve your ranking.
What is SEO?
"SEO stands for search engine optimization, which is a set of practices designed to improve the appearance and positioning of web pages in organic search results. Because organic search is the most prominent way for people to discover and access online content, a good SEO strategy is essential for improving the quality and quantity of traffic to your website."

moz.com. Accessed May 7, 2022. https://moz.com/learn/seo/what-is-seo.
Search engine optimization (SEO) improves the visibility of a website or webpage. You can improve your ranking in search engines by using proper keywords, meta tags, and other relevant information on your webpage. It also includes providing fresh and unique content that keeps visitors engaged.
SEO is often referred to as the method of attracting visitors naturally. That's why it's often referred to as organic traffic – primarily through natural, editorially chosen, as opposed to paid, listings.
The best way to understand this is to think about how you would find information on Google if you weren't using Google. You wouldn't go directly to Google and type in your search terms. Instead, you would visit websites that have already organized information for you and then search for it on those sites. You do this because it saves time and makes finding what you want easier than trying to dig through lots of results yourself.
What are the Benefits of SEO?
How to improve your ranking in SEO With These Simple Tips 1
by Gearuptofit
Increased Traffic
The more visitors you get, the better. The more visitors you have on your website means better chances of converting them into customers or leads through sales or email marketing campaigns. More traffic means more money for your business.
When people discover your site through Google, they are much more likely to revisit it in the future because they know it provides relevant information for their needs. Optimizing your site for search engines can help increase overall traffic, leading to more conversions and opportunities for new leads down the road.
Builds Trust With Visitors
One of the main benefits of SEO is that it builds trust with potential customers who visit your site. When someone finds you through a search engine or social media, they don't know if you will provide them with quality information or cause them harm. When you optimize your site for search engines, it tells them that you care about delivering high-quality content and increasing traffic to your website. This increases their confidence in your brand and makes them more likely to engage with you further.
Increased Brand Awareness
SEO can help you establish your brand as an authority in your niche when done properly. This is especially important if you're competing against larger brands with more resources at their disposal.
Improved Rankings
You can put yourself at the top of Google's search results pages by improving your rankings. This will increase traffic to your website from all over the world!
A website is useless if it can't help you increase your sales and revenue. When you invest in SEO, your website will rank higher in search engine results pages (SERPs) This means that more people will see your website when they are searching for related terms. SEO is a 24/7 marketing strategy that works to generate leads and sales for your business. Unlike other marketing strategies, such as paid ads or email marketing, SEO will continue to work long after you stop investing in it. By investing in SEO, you can enjoy increased website traffic and higher conversion rates.

Adam SEO. "Why Is SEO Important? 10 Benefits of SEO Marketing For Business – Adam SEO." www.adam-seo.com, February 26, 2022. https://www.adam-seo.com/benefits/
How to Optimize Your Website For SEO?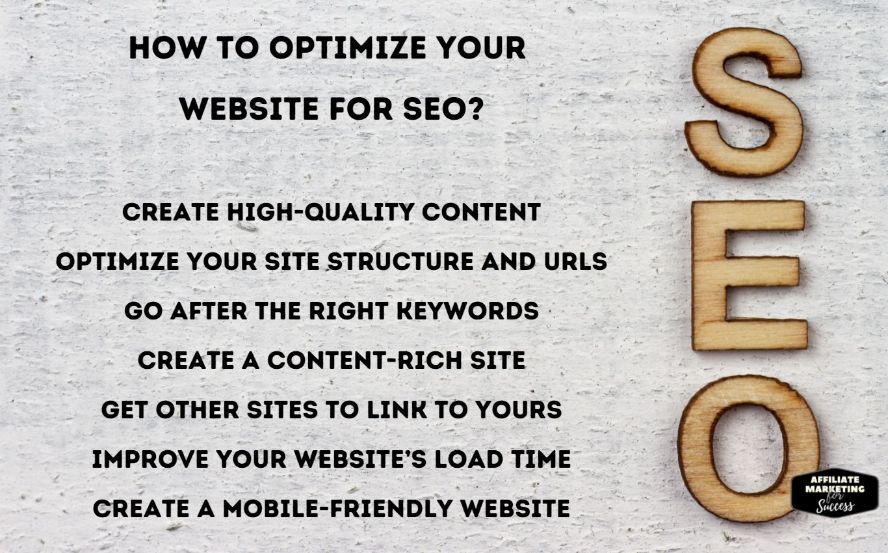 SEO is a vital part of any website's success, but it's not always easy to get your site to rank at the top of Google. If you're looking for some quick tips on how to improve your ranking, read on:
How to improve your ranking in SEO With These Simple Tips
by Gearuptofit
Create high-quality content
One of the best ways to get your site ranked higher is to create quality content that people want to read. While this might sound obvious, it's often one of the most overlooked areas for SEO. Try using keywords when writing your content and include images whenever possible. This will help make sure that Google knows what your content is about and will help them determine if it's worthy of being at the top of their search results or not.
Writing high-quality content means writing in a clear, concise, and engaging style so that readers will want to stay on your page for longer periods. Additionally, use images and videos to explain your points further or sell your products – Google loves seeing high-quality visuals when ranking pages in search engine results in pages!
Optimize your site structure and URLs
Another way you can improve your ranking in SEO is by making sure that everything on your site is optimized correctly. For example, if you have more than one page for an item (like a pair of shoes), make sure that each page has its URL so that Google knows which page belongs together and which one doesn't belong together with it at all! This also helps create links between pages within your site which can help improve visitor engagement and lead generation.
Go after the right keywords
The first thing you need to do when enhancing your site's SEO is choosing the right keywords for your content. You should select keywords relevant to what you're trying to sell so that it's easier for people to find what they're looking for on their search engine results page (SERP). If you don't know what keywords people would use when searching for something like yours, try using tools like Google Trends or Keyword Tool.
For example, if you're selling clothing online and want to rank higher in SERPs for "casual dresses" and "dress shirts," those would be good starting points for your efforts because they're both relatively high-volume keywords.
In addition to targeting the right keywords, you also need to ensure that your site content is full of them! This means making sure that every page has at least one keyword in it, including the title and meta descriptions, and using keyword research to find new and interesting keywords that you can target.
Create a content-rich site
The more helpful information you provide on your site, the better chance it has of ranking well in search engines. You don't need hundreds of pages; one or two pages with useful information are enough for most businesses. Make sure each page contains at least 300 words worth of unique text, and try including keywords naturally throughout each page.
The more content you have on your website, the higher your rankings. This is because search engines love websites with lots of information, and they rank these websites higher on their results pages.
Content can be divided into two categories: original and user-generated. Original content includes articles and blog posts you write yourself; user-generated content includes forum discussions and comments on blogs or articles.
The best way to improve your ranking in Google's eyes is to create as much original content as possible – but this isn't always easy if you don't have a large budget or staff!
Get other sites to link to yours
Get other sites to link to yours. The more links pointing to your site, the more Google will see it as an authority. That doesn't mean you should ask everyone for a link; instead, create good content and let people naturally link back to it through search engine optimization (SEO).
Link building can be done in various ways, but the most common is creating an article or blog post containing valuable information and publishing it on other websites. The more reputable the website you publish your work on, the better your chances of getting a link from them.
When writing content for other websites, make sure that it's relevant to their audience and offers something they don't already have. If possible, concentrate on producing original material rather than repurposing existing content elsewhere on the web.
Create a linkable asset. A linkable asset is an item such as a PDF or whitepaper that people will want to link to because it contains useful information about your topic.
Make sure your site has clear navigation and a logical structure
Sites with lots of clutter and poor navigation tend not to rank well, so make sure yours is easy for visitors to navigate and find what they're looking for quickly.
Improve your website's load time
A slow-loading website is not something visitors will want to stay on for long periods or even visit again. It's an indication that there are problems with your website or its hosting server or both, which make users leave quickly before they even have time to finish reading what they came for in the first place!
Create a mobile-friendly website
Mobile-friendly websites are essential for your business to succeed. According to Google, "mobile search queries have increased significantly in recent years and will continue to grow as people rely more on mobile devices. Mobile search queries have already surpassed desktop search queries."
Mobile-friendly websites are also a requirement for any website that wants to be listed in Google's search results.
If your site isn't mobile-friendly, it can show up poorly in search results — or not at all — for mobile users. This can hurt both your SEO and your traffic. For example, if you're trying to reach a younger audience who like to shop using their smartphones, your store's landing page might not rank high enough in the SERPs (search engine result pages) to be seen by those users.
Using a responsive design allows your website to automatically adjust its layout based on screen size or device type. For example, if someone views your site on a desktop computer, it will look different from what they view on their smartphone or tablet. Responsive design looks good on all devices and helps with SEO because Google can easily crawl through responsive designs and index them properly for their search engine results pages (SERPs).
Use Local SEO
Local SEO is a powerful way to improve your SEO ranking, as it is more likely to be relevant to users and will also help you get more traffic.
One of the best ways to optimize your website for local SEO is to create a Google My Business Page and fill out all the relevant information. This includes adding photos, opening hours, reviews, and more.
It would help if you also tried to optimize your website's on-page elements (including titles, meta descriptions, and content) for local search results. For example:
Using location-specific keywords in title tags and meta descriptions can help you rank higher in local search results.
Including an address in your header or footer can help you rank higher when people search for businesses nearby.
Focus on long-tail keywords
Keywords are an essential part of any SEO strategy because they let search engines know what content is on a page so they can index it correctly. However, using keywords too much can make them less effective because they're overused and become meaningless over time. Use keywords sparingly, and remember that long-tail keywords (those with three or more words) tend to perform better than short ones because they're more specific.
Optimize your title tags and meta descriptions
Make sure that all page titles are unique, descriptive, and relevant. Use descriptions only when necessary, such as when there isn't enough information about the page to fill out the title tag properly or when you have several versions of a page on the same topic (such as product reviews). Ensure that each description includes your keyword(s), but don't overdo it just for SEO purposes. Instead, keep them short, concise, and informative so people can understand what they're clicking on without reading a long description.
Publish more content
The more content you publish, the more you can rank for it.
If you want to improve your search engine rankings, the first thing to do is create new content. You need to write blog posts, add new pages to your website, and regularly update your social media channels.
The best way to get this done is by using a content marketing calendar. A content marketing calendar helps you plan out all of your content to publish it on schedule.
Publishing regular content consistently will help boost your search engine rankings in two ways:
It allows Google to crawl more pages on your site, which means that Google can index more pages than before (and therefore rank them higher).
It signals to Google that your site is active and updated frequently, which improves its ranking factors such as age and trustworthiness (i.e., how long people have been linking back to you).
Optimize your images and use social media to promote them
One of the most important things you can do to improve your search engine rankings is to optimize your images.
By optimizing your images, you can make them smaller in size (which will improve load time), add alt text for descriptions, and include keyword tags. You can also use social media to promote your optimized images.
For example, if you have an article about traveling in Europe, you could post a photo of the beautiful landmarks you saw while on your trip on Instagram. This will help promote the article and improve its search engine ranking.
Update your website regularly
Updating your website regularly is a key part of search engine optimization (SEO). So, if you want to stay on top of the search results, you need to update your website regularly. When search engines crawl the web looking for new content to add to their databases, they only index pages that have recently been updated or changed. The more often you do this, the more often they'll visit your page, which will help boost its rankings in search results. On the other hand, a website not being updated regularly can be flagged by Google's algorithm as irrelevant or outdated.
This will negatively impact your SEO ranking and cause potential customers to leave your site without engaging with it. The more often you update your website, the more often search engines will crawl and index it. This makes your site easier to find by potential customers.
So, it's essential to update at least once a month. If you can't update that frequently, then at least twice a year.
Identify and target a specific keyword phrase for each authoritative content page on your website. It is very difficult for a webpage to achieve search engine rankings for multiple keywords phrases.

Strategically link to relevant sources and additional information within your organizations broad website and even to other websites.

The best pages are written for the user, not for the search engine.

Don't forget to use bold, italics, heading tags (especially an H1), and other emphasis tags to highlight key keyword phrases.

Audit your content on a set schedule and make updates as needed.

Keyword metadata is rarely if ever used to tabulate search engine rankings.

You'll want to keep it to about 3-7 phrases with each phrase consisting of 1-4 words.

Use alt tags to describe your image and video media to help search engines locate your page.

Five Ways to Improve your Site's Ranking (SEO) | Michigan Technological University. "Five Ways to Improve Your Site's Ranking (SEO) | Michigan Technological University." www.mtu.edu. Accessed May 7, 2022. https://www.mtu.edu/umc/services/websites/seo/.
Conclusion
There are many ways to improve your ranking in SEO. Improving your ranking in SEO will help you create a website that works well.
Implementing the tips mentioned in this article will help you improve your ranking in SERPs and boost your business growth.
As you can see, there are many things you can do to improve your ranking in SEO. If you follow these seven simple steps, you'll be on your way to improving your website's ranking in search engines!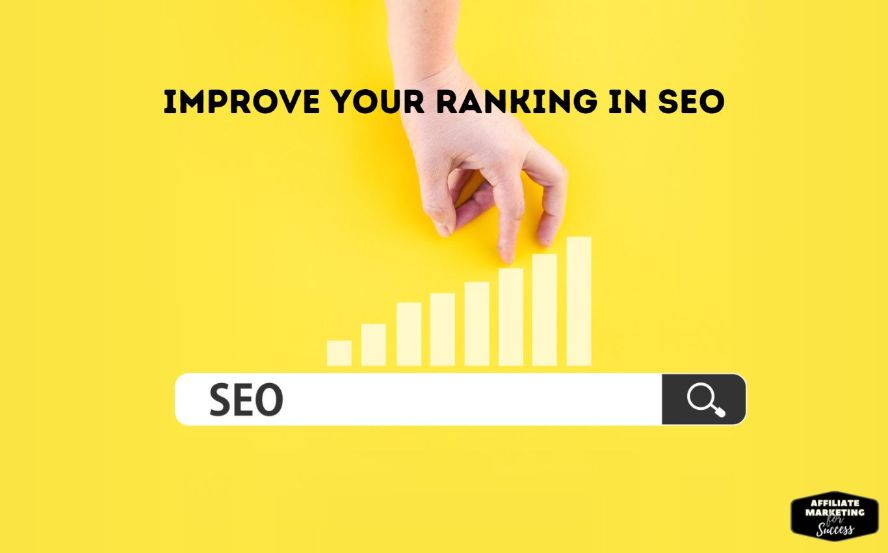 I'm Alexios Papaioannou, an experienced affiliate marketer and content creator. With a decade of expertise, I excel in crafting engaging blog posts to boost your brand. My love for running fuels my creativity. Let's create exceptional content together!