Cloudways Review: Best Web Hosting Services for Your Website
Cloudways is one of the leading cloud hosting providers. Read our Cloudways review to see the wide range of features that Cloudways offer.
What is Cloudways?
Cloudways is a managed hosting provider focused on simplified cloud hosting services. It was founded in 2011 and launched its services in 2013. It is based in Malta with offices in the United States, India, and Pakistan. Its mission statement is to "simplify cloud infrastructures for developers, designers, and agencies" by providing a platform that makes it easier than ever to benefit from the power of superior cloud hosting.
How does Cloudways work?
It is important to note that Cloudways does not host websites or provide access to servers; instead, it provides an intuitive interface on top of existing IaaS providers such as Amazon Web Services (AWS) and the Google Cloud Platform (GCP), DigitalOcean, Vultr, and Linode.
So, Cloudways doesn't own any of its data centers. Instead, it uses the best cloud providers to offer managed services on top of them.
To use Cloudways, you set up an account with one of these cloud providers and pay them directly for their services. Then you use the Cloudways interface to manage your servers and websites instead of logging into the provider's console directly.
This is a common strategy for managed WordPress hosting providers since it allows them to optimize the service for hosting websites rather than invest in building their cloud infrastructure from scratch.
How to get started with Cloudways
Sign up for an account and pick a hosting plan to get started.
Next, choose a cloud infrastructure, select a server from the options given, and click Create.
After that, you'll need to configure your server by selecting its size and location. Then click "Launch." Your server will be created within minutes. Enter the Server name and click "Done!"
Why Choose Cloudways?
Cloudways is a managed cloud hosting platform for developers and designers. It is not an ordinary web host. Cloudways offers a premium infrastructure with innovative technology.
The solution is designed to address the problems faced by developers, designers, and agencies. These are some of the reasons why you should choose Cloudways:
1. World Class Infrastructure
Cloudways offers top cloud providers such as DigitalOcean, Linode, Vultr, Amazon, and Google (coming soon). Our platform is integrated with these providers, which allows you to launch your servers in just a few clicks. In addition to this, we have partnered up with Bitnami to provide you with the 1-click installation of popular applications such as WordPress, Drupal, Magento, and other applications.
2. Innovative Platform
Cloudways has developed its platform to simplify deploying and managing servers. The unique features of our platform include:
GIT Deployment: GIT deployment feature allows you to deploy your code from your favorite repository directly on your server or on a staging area for testing purposes.
Server Cloning: With one click cloning feature, you can clone your entire server, including its application files and database, or only the database or application files.
3. 24/7 Customer Support
With Cloudways, you have access to fully managed servers, a dedicated environment, and 24/7 expert support. This means that you don't have to worry about setting up and configuring your server yourself or repairing your server if something goes wrong.
4. Pay As You Go pricing
You also don't have to worry about breaking your budget with Cloudways, as they offer Pay As You Go pricing. This means that you only pay for what you use while on the platform. You can also choose from one of their 5 different providers to fit your specific needs: Digital Ocean, Linode, Vultr, Amazon Web Services, or Google Cloud Platform.
How to get started with Cloudways
To get started, follow the simple process below:
Select the add Server option and then press launch.

Select the Application & Server Details: WordPress, Woocomerce, PHP, Laravel, Magento

 

Name your managed application. 

Name your managed server.

Create your project.

Choose one of the 5 cloud providers: Amazon Web Services (AWS), the Google Cloud Platform (GCP), DigitalOcean, Vultr, and Linode

Select your server size.

Select the server location. Always select the location nearest to your targeted audience.

Done! Just like that, you have set up your server.
Cloudways Migration
If you switch hosting providers, you may use Cloudways free migration service to migrate your site to their servers. Their dedicated team will be happy to help you out, and they can have your site migrated in no time.
Free site migrations
You can simply swap your current website to Cloudways if it is already hosted on another server. This might save you a lot of time by transferring all of the data from one server to another.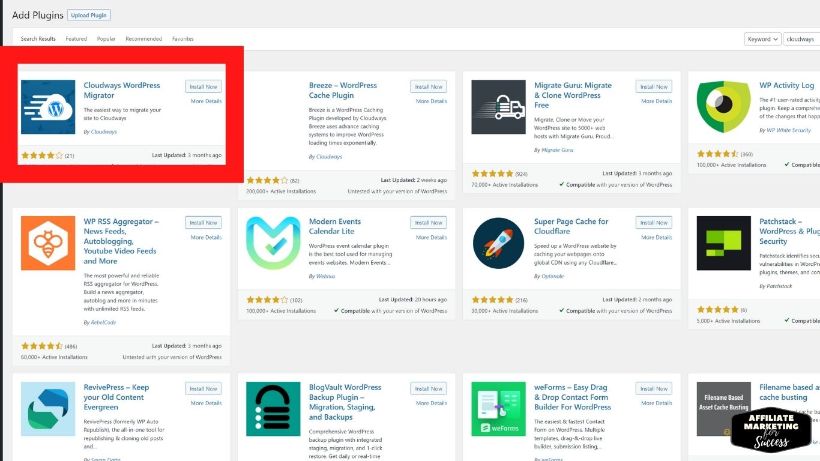 Cloudways offers free unlimited migrations via the Migrator Plugin.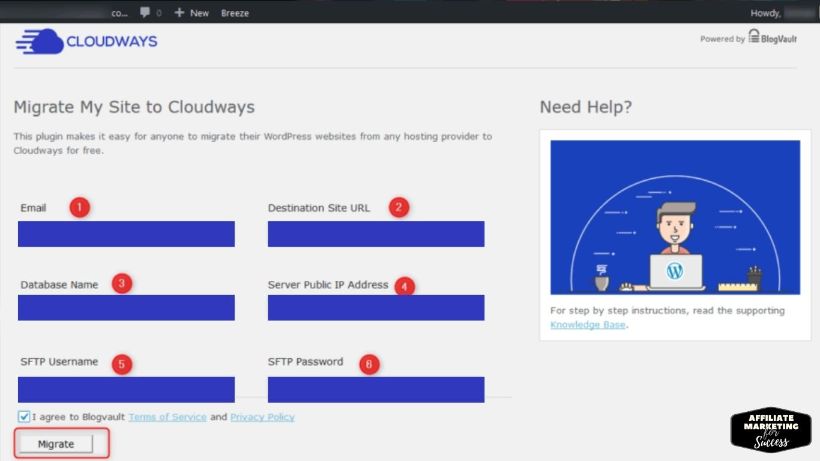 You can also use the Migration Wizard to automate the process.
Migrating your website to Cloudways
If you are migrating an existing website, then you should follow these steps:
1. Choose your migration type. There are two types of migrations that you can choose from Migration-from-premium-plan or Migration-from-basic.
2. Select your server and application. You need to decide which site you want to migrate to and then select the server and application where the site is currently hosted.
3. Configure your migration settings. You will need to specify the source domain, target domain, and database connection information for your migrated site.
4. Start the migration process by clicking on the Migrate button in the migration wizard or using the migrate command-line tool. Cloudways will take care of everything else!
They have a step-by-step guide on the process here: How to Request a Managed Application Migration to Cloudways | Cloudways Help Center
Cloudways dashboard
Cloudways is a cloud hosting service that offers a lot more than most other providers. The Cloudways dashboard is a one-stop-shop for managing your website and applications. It provides all the information you need to manage your website and applications, from billing to performance. You can also use the Cloudways dashboard to manage every aspect of your website easily.
Users don't need to worry about managing servers, installing software, or configuring anything. Instead, they focus on what matters – creating content.
The basic dashboard you see on log in will be a list of all your servers. Keep in mind that you pay for every server that you launch, not apps on each server. So many people will only see one server here, but freelancers and agencies might have dozens.
If you hit the toggle above the list, you will see a list of all different apps (read: webpages) that you have installed on your website. You will see a listing of WordPress installations or Drupal, or Joomla. All these appear in a single list, but you can sort through them using the Server and Project Tags.
The dashboard shows information about your server, including how many users, what type of hosting plan you are using, and more. You can also see when the last time your server rebooted and if there were any problems. On the left side of the screen, you can see a list of your accounts, and on the right side, you can see a menu containing different options. You can change your account name, view your IP address, or log into your dashboard in this menu.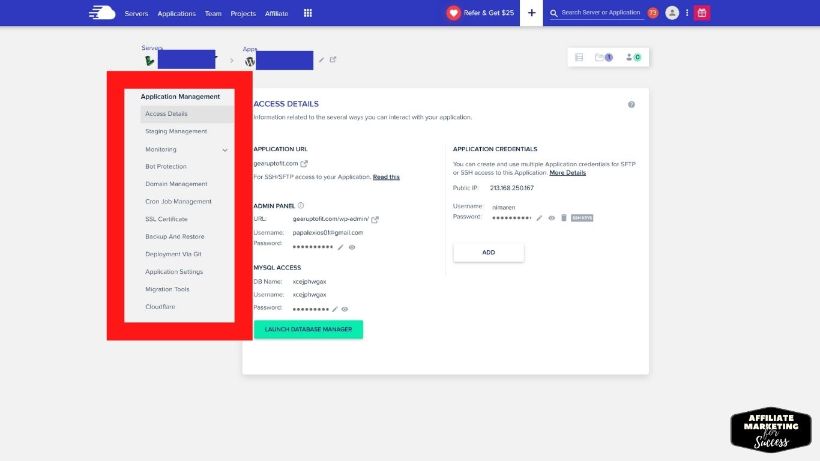 On the left side of the application of the Cloudways dashboard, you will find:
Staging management: allows for managing and controlling multiple environments and deployments.
Monitoring: allows for real-time data collection and analysis.
Bot protection: prevents automated attacks from bots.
Domain management: controls access to resources within a domain.
Cron job management: enables the automation of repeatable tasks.
SSL certification: ensures that your site is protected with SSL certificates.
Backup and Restore: ensures that your data is always safe and accessible.
Deployment via Git: simplifies deploying your site to the Cloudways platform.
Application settings: this allows you to customize the settings of your applications.
Migration tools: helps you migrate your applications to the Cloudways platform.
Cloudflare CDN: adds improved performance and security to your website.
Enable additional Application Add-Ons
Cloudways offers many useful add-on services for your website. These include:
DNS Made Easy,

Rackspace Email,

Elastic Email,

Application Migration,

Application Upgrade, and

CloudwaysCDN.
Site Speed
Free WordPress Cache Plugin – Breeze
Breeze is a cache plugin developed by WordPress that was explicitly created to help you speed up and optimize your WordPress sites while taking the pain out of trying many different cache plugins.
Varnish serves as a caching system, optimizing page load speeds and reducing server load for your WordPress site. Breeze automatically deploys Varnish cache on your site and combines File Exclusion, Minification (to help minimize the size of your HTML and CSS files), and Gzip Compression to accelerate page loads.
CloudwaysCDN
A Content Delivery Network (CDN) is a network of servers used to reduce latency when delivering content.
You may use a CDN on your WordPress site(s) with a single click. By reducing server loads, a CDN will help improve the load time of your website while also making it more resilient to traffic surges by lowering network costs.
Global Data Centers
Before launching your blog online, the first thing to consider is to figure out who you're going after. Cloudways has over 50 server locations worldwide, allowing you greater freedom in targeting your audience.
The closer the data center to your audience, the lower latency and a superior user experience for everyone who visits your website, resulting in a higher conversion rate. The advantage is that you'll have lower latency and faster speeds by connecting to your audience.
Built-in Caching Technology
Speed is critical for every website. Every Cloudways server includes caching technologies like Memcached, Varnish, NGINX, and Redis to guarantee that your WordPress blog does not become sluggish. These caches may be enabled or disabled with a single click from the platform.
Staging URLs
Because many consumers want to verify plugin and theme compatibility while the site is live, it's more difficult. This is one of the reasons why websites crash and go offline.
Staging URLs are a feature of Cloudways that allow you to test new plugins and themes without affecting your live site.
After you're certain that everything is working as planned and there aren't any plugin clashes, you may "Push" the staging version to the live site without breaking your website.
Security
Two-Factor Authentication
Every account on Cloudways is protected by Two-Factor Authentication to guarantee greater security for all of its customers. Two-Factor Authentication (2FA) is one of the most secure methods for safeguarding your accounts. It's good to use it on any website that asks for personal information, even if you have an account with them.
It's a way for you to keep your accounts safe from unauthorized access. The solution is a password, PIN, or answer to a question that only you know about in either a password, PIN, or an answer to a question.
Even if hackers get hold of one of your login credentials, they would have difficulty accessing your account. Two-Factor Authentication also boosts accessibility and protects against identity theft. Cloudways adds this functionality as part of the free package.
Server Security
With the number of cyber-crimes continually rising, hosting companies are increasingly concerned with security. Cloudways protects your site with platform-level firewalls that continuously scan all traffic. In the case of an issue, the firewalls block malicious packets and generate a warning.
Free SSL Certificate by Let's Encrypt
The Secure Socket Layer (SSL) encrypts the connection between online servers and visitors. Unwanted intrusions are more probable if you don't have an SSL certificate installed on your blog.
Cloudways offers a Let's Encrypt SSL certificate as a free add-on to aid in the protection of your WordPress site. You may set up an SSL with a single click.
Perfect Uptime
Cloudways provides excellent uptime. They never went down in my tests. Their uptime was 100%!
One of the essential features of a hosting plan is its website availability. Clients or consumers cannot locate you or access your goods or services while your site is down, and they are less likely to return. That's why I'm pleased to say that Cloudways maintains a high level of uptime.
Cloudways Backups
Cloudways' Backup feature protects your server and application data by storing it in safe data centers in the event of a failure, so you don't lose any critical information.
You may set your backup schedule to occur hourly, daily, weekly, or monthly. Furthermore, you can activate/deactivate local backups. If you believe that you need to back up your data right away at any time, Take Server Backup Now is an option for you.
Customers may back up your server right from their Cloudways account, allowing them to keep any modifications or data.
You can have the system create backups at a time designated by you. Alternatively, you can take backups automatically every 1 – 7 hours.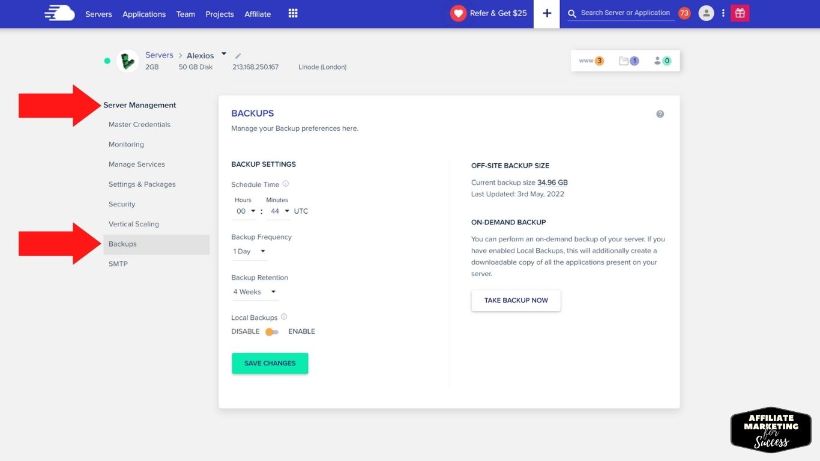 You may take an on-demand backup before any application upgrade using the ON-DEMAND backup option to restore to a previous version.
To take backups on your server, click the Backups tab in Server Management.
All of your website's backups are stored securely on Amazon S3 servers and can be used in a disaster. Additionally, you have the option to take local backups if you prefer.
The Cloudways Bot
Cloudways Bot is your server assistant that helps optimize your server and application settings. It automatically monitors your server and application performance. The bot sends any notifications about security, billings, and updates. It also keeps an eye on your overall account performance.
Cloudways is continuously improving CloudwaysBot to ensure it is as easy to use as possible. Besides, it will also send Tips and Tricks on how one can enhance their Cloudways Server Performance. You can further set channels on which you want your Cloudways bot to send notifications.
The Cloudways Bot
Cloudways Bot is your server assistant that helps optimize your server and application settings. It automatically monitors and checks the health of your servers and notifies you if there is an update or a problem. By using this tool, you can keep tabs on the status of your servers and make necessary modifications or adjustments as needed. Besides, it sends any notifications about security, billings, and updates. It also keeps an eye on your overall account performance.
Cloudways is continuously improving CloudwaysBot to ensure it is as easy to use as possible. Besides, it will also send Tips and Tricks on how one can enhance their Cloudways Server Performance. You can further set channels on which you want your Cloudways bot to send notifications.
Cloudways pricing
Pricing for the Cloudways platform is based on the service you choose, including DigitalOcean, Linode, Vultr, Amazon Web Services (AWS), or Google Cloud Platform (GCP). You are charged based on the cost of that service plus what server resources you need.
For example, if you use DigitalOcean as your infrastructure and opt for 1GB RAM and 25GB storage, Cloudways' monthly charge would be $10. This doesn't include a traffic fee or bandwidth cost.
You can also run a staging site at no additional charge using an app cloning feature. If you'd like to add a third-party application or domain name to your account, these are billed separately at their normal rates.
This is similar to how other cloud hosting providers work, such as DigitalOcean and Linode.
Cloudways performance test
While Cloudways' marketing focuses on speed and performance, they also provide many other services. We've already gone over how they offer more than just website hosting. They also have you covered with all your email needs, making it easier to manage these communications in one place. In addition to site performance and email service, Cloudways provides:
A free SSL certificate for each website you host

Free WordPress migration

Fast provisioning (within minutes)

Daily backups at no extra cost
They understand that the best way to run a WordPress site is by using the latest version of PHP, which allows websites hosted there to load faster and be more secure. This is one of their built-in features that work without configuration from the user's side.
Customer support
Customer support is where Cloudways shines. Cloudways provides 24/7 live chat assistance to answer any questions you may have. You may also contact Cloudways, write an email, go on the blog and knowledge base, or visit the community forum and Cloudways' social media platforms. CloudWays also has CloudWaysBot that checks the servers and notifies you if there is an update or a problem.
Cloudways, by default, supports your hosting server and the Cloudways platform. If you're having difficulties with your host or something on Cloudways, they'll be there for you.
You can access support through the help center on their website or email the Cloudways team at help@cloudways.com.

The support team is available 24/7 via live chat and ticketing system.

You can also find community-driven solutions on their forums.
Cloudways offers a variety of benefits for webmasters, including reliable speed and great customer service.
With Cloudways, you can finally take your website to the next level by eliminating any concerns you may have had about hosting. Thanks to their state-of-the-art facilities, and highly trained staff, your hosting will be as fast and secure as possible. We are confident that if you choose Cloudways for your hosting needs, you will see an immediate improvement in your online presence.
2 New Features Offered by Cloudways
Object Cach Pro
Object Cach Pro is a caching tool that helps optimize your website for faster load times. It intelligently caches your static files and reduces the number of requests made to your web server. This will result in improved performance for your visitors and reduced hosting costs.
Cloudways offer Object Cache Pro for free. Save $95 / month!
Speed-Up your WordPress Website
The most frustrating part of visiting a slow-loading website is that it takes far longer than usual to load.
Improve your site's loading speed Cloudways+Object Cache Pro (FREE).
 
 
 
 
 
Performance
W3 Total Cache
LiteSpeed Cache
WP Redis
Redis Object Cache
Object Cache Pro
Batch Prefetching
Data compression
Cache priming
Asynchronous flushing
Features
 
 
 
 
 
Cache Analytics
Secure connections
Highly customizable
Logging support
Cluster support
Replication support
Reliability
 
 
 
 
 
Mitigates race conditions
Extensively unit tested
Integrations
 
 
 
 
 
WooCommerce optimized
Query Monitor integration
Basic
Advanced
WP CLI integration
Basic
Standard
Basic
Advanced
Site Health checks
Batcache compatible
Relay integration
Cloudflare Enterprise 
This add-on allows you to benefit from Cloudflare's entire performance and security features, including our WAF. Collaboration, customizable rulesets, and instant DDOS detection are just a few reasons high-performance companies trust Cloudflare Enterprise.
Cloudflare Enterprise is available under Cloudways Application Management. It offers:
Enterprise CDN

Managed WAF

DDoS Protection

Mobile Optimization

Image Optimization

Full Page Cache (coming soon)
Let Cloudways measure your Google Page Experience
Loading
Largest Contentful Paint (LCP) is a Core Web Vitals and should be under 2.5 seconds for a pleasant user experience.
Interactivity
For a positive user experience, the first Input Display (FID) is part of Core Web Vitals and should be less than 100 milliseconds.
Visual Stability
CLS should have a score of less than 0.1 for a great user experience, and it's part of Core Web Vitals.
Mobile Friendly
50% of Google queries are conducted on mobile devices. Make sure your website is responsive and adjusts to all screen sizes.
Safe Browsing
Your website should not include harmful (malware) or deceptive content, and it should be safe for everyone who visits.
HTTPS
When Google investigates your website for Encryption, Data Integrity, and Authentication, HTTPS is the first line of defense.
Interstitials
Websites that employ intrusive pop-ups or advertising to obscure the actual material are penalized by Google since they detract from the user experience.
Bottom Line
If you're looking for a reliable and affordable managed cloud hosting provider, Cloudways is a great option. With their pay-as-you-go pricing, you can choose the plan that's best suited for your needs without breaking the bank. And with 24/7 customer support, you can rest assured that you're in good hands.
Disclaimer:
This post contains affiliate links, so I get a small commission at no extra cost for you if you buy from them. However, Cloudways is the best web hosting provider that I strongly recommend.