Making Money Blogging: The Ultimate Guide for Success
This is the most common question I receive about blogging. How to make money by blogging?
Starting a blog can be an incredibly rewarding way to earn an income online. With hard work and persistence, bloggers have the potential to make a full-time living doing something they love.
But how exactly can you make money from a blog? What are the most effective monetization strategies?
This comprehensive guide summarizes the top ways to monetize a blog and turn your passion into a profitable business. Whether you're just starting out or looking to take your existing blog to the next level, use these proven tips to earn real money.
Earn Money from Your Blog: Top Tips for Success
| Tip | Description |
| --- | --- |
| Choose a profitable niche | Research profitable niche markets with audience interest and potential sponsors. |
| Create valuable content | Provide useful, high-quality content that solves problems for readers. |
| Monetize with ads | Join ad networks like Google AdSense to earn from impressions. |
| Sell affiliate products | Recommend relevant products and earn commissions on sales. |
| Offer consulting/freelancing | Sell your expertise through consulting gigs or freelance writing. |
| Create online courses | Make informative courses that readers pay to access. |
| Sell merchandise | Design t-shirts, mugs, and other items related to your brand. |
| Crowdfund with Patreon | Let loyal readers support you with monthly donations. |
| Host sponsored posts | Get paid by brands to create sponsored content. |
What is monetisation?
"To put it simply, monetization means making money from your site. When you earn revenue from the online content on your blog, that's monetization." (Google AdSense)
Monetisation is the process of turning traffic into revenue for a blogger. There are many ways to monetise a blog, and in this guide we will go over a few of the most popular methods.
Why Blogging is a Great Way to Make Money Online
Before diving into the specifics, let's look at some of the key benefits of blogging as an income stream:
Low barrier to entry: Starting a blog is very affordable. You can get set up with a custom domain name and hosting for less than $100 per year.
Work from anywhere: As long as you have your laptop and an internet connection, you can manage your blog from anywhere in the world. No commuting or set schedules.
Creative outlet: Blogging lets you share your ideas and expertise on a topic you enjoy.
Passive income potential: Many monetization options like display ads or affiliate marketing earn you money passively over time.
Build authority: Blogging helps you establish yourself as an expert in your niche and gain a loyal audience.
Flexibility: You control your own schedule and workload. Blogging can be done part-time or full-time.
So blogging can be the perfect platform if you want to earn money doing something you love. With the right strategy, replacing your 9 to 5 income over time is possible.
Next, let's look at how to set up your blog the right way from the start.
The first way to make money from your blog is through affiliate marketing.
If you have a website or product that you want to promote, you can sign up with an affiliate marketing company and earn a commission on any sales that your readers make through your link. This method is not as easy as it sounds, and it takes some time and effort to build up a large affiliate network, but if you're serious about making money from your blog, this is one of the main methods.
The second way to make money from blogging is through advertising.
You can place ads on your blog or directly link to advertisers pages. This method is more difficult than affiliate marketing, but it offers more flexibility and control over your income.
The third way to make money from blogging is through merchandise sales.
If you have good design skills or know how to create beautiful e-books or courses, you can sell those products online through your blog. This method requires some investment in time and effort, but if you have the skill set it can be lucrative.
There are many other ways to monetise a blog, and this list is by no means exhaustive. If you're interested in finding out more about how bloggers make money from blogging, I highly recommend reading The Simple Dollar's Guide To Making Money Blogging or The Penny Hoarder's Guide To Making Money From Your Blog . These two guides offer an overview of the different methods available to bloggers and provide tips on starting to make money from blogging right away.
Choose a Profitable Niche for Your Blog
The very first step is choosing a niche. This is essential for building the right audience and maximizing earning potential.
Your niche should be:
Something you're passionate about: You'll be writing about this topic regularly, so make sure it's a subject you genuinely enjoy and can create great content around.
Profitable: Research potential affiliate products, online courses, sponsorships, and other income streams to ensure you can monetize the niche.
Not too broad or competitive: Find a specific enough niche with dedicated followers but isn't oversaturated with competing sites.
For example, a blog about "travel" is very broad. Narrow it down to something like "budget backpacking through Europe". This taps into an interested audience looking for specialized information.
Take the time upfront to find the right niche for you. This will pay off greatly long-term.
Choose the Best Blogging Platform
The most popular blogging platforms are:
WordPress: The world's most widely used CMS. Easy to use with endless customization options.
Blogger: A free blogging platform owned by Google. Limited features and customization.
Medium: A popular free platform focused on building an audience. Very limited monetization options.
Squarespace: An all-in-one web-building solution with blog features. Beginner friendly but can be pricey.
For maximizing revenue potential, WordPress is by far the best blogging platform available today. The open-source CMS powers over 30% of all sites on the internet.
With WordPress, you get:
Complete design flexibility
Robust features and integrations
Ability to monetize in various ways
Scales to accommodate huge traffic growth
Large support community for help
The only catch is that WordPress requires purchasing your own hosting and domain name upfront. But top web hosts like Bluehost offer affordable WordPress packages to get you started.
WordPress provides the best foundation for building a profitable long-term blogging business.
Set Up Your Blog's Design and Structure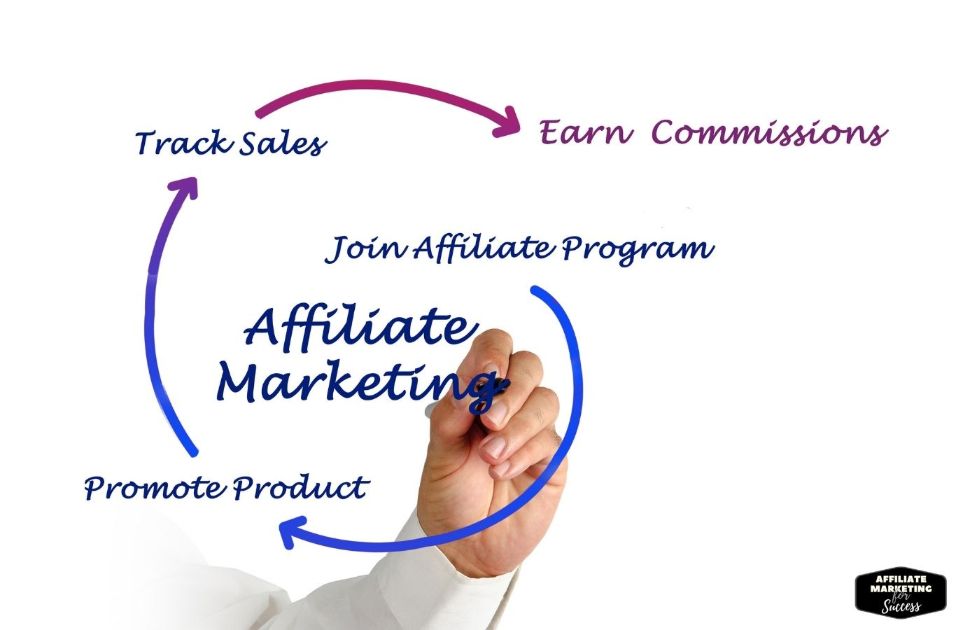 Once your WordPress site is installed, it's time to set up the design, layout, and structure.
Here are some key tips for maximizing user experience:
Choose an easy-to-navigate layout: Typically a menu bar at the top with sidebars for widgets.
Make sure pages load fast: Compress images, enable caching, minimize plugins. Check your page speed at Google Pagespeed Insights.
Mobile responsive design: Over 50% of traffic comes from mobile, so your blog must adapt to fit any screen size.
Consistent branding: Match your color scheme, fonts, and logo placement across your entire site.
Include visuals: Images, graphics, videos, and illustrations make content more engaging.
Write clear navigation menus: Organize your content into logical main and submenu categories.
Install essential plugins: For security, speed, SEO, and functionality. Limit plugins to the essentials.
Set up analytics: Use Google Analytics to track traffic, users, and links and measure ROI.
Also, customize your blog's "About Me" page to help visitors get to know you and your niche better. Take the time to optimize both design and technical elements – this will pay dividends as your blog grows.
Step 4: Create Useful, Engaging Content
Consistently publishing high-quality content is how you build a loyal audience and establish expertise in your niche.
Focus on creating content that provides value for your readers. Here are some proven types of posts that get results:
"How to" tutorials
Best [product type] reviews
Case studies and examples
Comprehensive guides and ebooks
Research-backed articles
Interviews with Industry experts
Unique data and insights
Actionable tips and advice
Answers to common questions
Optimize each post for SEO by including relevant keywords naturally throughout. Producing regular, useful content not only attracts new visitors but also gives existing readers a reason to come back to your blog repeatedly.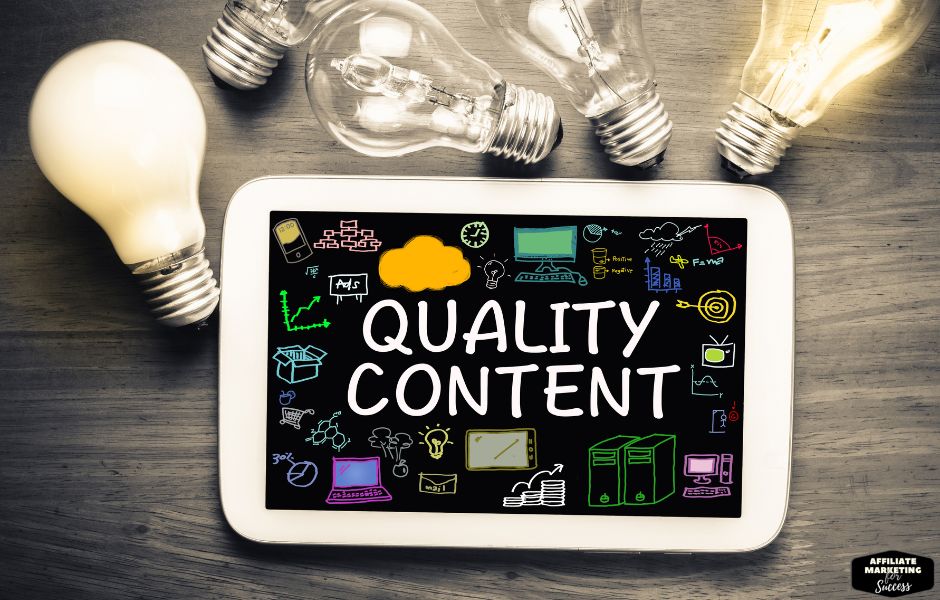 Promote Your Blog Content
Building an audience takes time. But you can accelerate growth with some smart promotion tactics:
Write guest posts for other established blogs in your niche to gain new readers. Make sure to link back to your site.
Network and link share with other bloggers and social media influencers in your space.
Engage on social media platforms like Facebook Groups, Twitter, Pinterest, and LinkedIn to connect with potential visitors.
Run giveaways and contests to incentivize current readers to share your content and refer friends.
Send targeted outreach emails with personalized pitch angles to get placements on large publications.
Use SEO to improve Google ranking and organic search traffic. Producing frequent high-quality content also helps with rankings over time.
Promoting your new blog takes persistence, but it gets easier as you build relationships, credibility, and an audience.
Now let's explore some of the best ways to monetize your blog.
Monetization Strategy #1: Sell Online Courses
One of the most lucrative ways to monetize a blog is to sell online courses. These allow you to share your expertise while earning passive income.
According to LearnWorlds, the global eLearning market is over $200 billion. Bloggers can tap into this massive demand.
When structured properly, online courses can become a significant source of revenue. For example, blogger Michelle Schroeder-Gardner earns over $110,000 per month selling online courses on her blog Making Sense of Cents.
Here's a step-by-step process for creating a profitable course:
Identify a high-demand topic in your niche. Look for common questions from readers or problems they need help solving.
Outline the course structure and syllabus. Break lessons down into individual modules.
Record videos explaining each concept and giving actionable advice. Supplement with downloadable resources.
Build automated quizzes, worksheets and Q&As to enhance interactivity.
Host your course using a platform like Teachable, LearnWorlds or Thinkific. These make it easy to publish, market and sell your course.
Promote the course to your email list and blog readers who know and trust you already. Offer a launch discount.
Consider doing a free preview lesson or tips series to demonstrate your expertise and get sign ups.
The combination of passive income and helping others makes selling online courses a smart monetization method for bloggers.
Monetization Strategy #2: Display Advertising
One of the easiest ways to start earning money from your blog is through display advertising.
This means putting ad banners or text/image ads on your site. Advertisers pay for these ad placements in hopes of reaching your audience.
Here are some top options for making money from ads:
Google AdSense – The most popular program that automatically matches text and display ads based on your site content. Earn money when visitors click or view ads.
BuySellAds – Allows you to sell direct ad space to brands on your site. Gives you more control with higher rates.
Media.net – Another ad network with good reach and decent CPM rates.
Amazon Associates – Place product ads related to your niche. Earn up to 10% commission when a reader makes a purchase.
Monumetric – Focused on high-impact ad units like banners and pop-unders with competitive payouts.
The amount you earn depends on your niche and traffic volume. But it's possible to generate thousands per month with ads once you build a sizable audience.
And remember – ad types like AdSense earn money passively to supplement other income streams nicely.
Monetization Strategy #3: Affiliate Marketing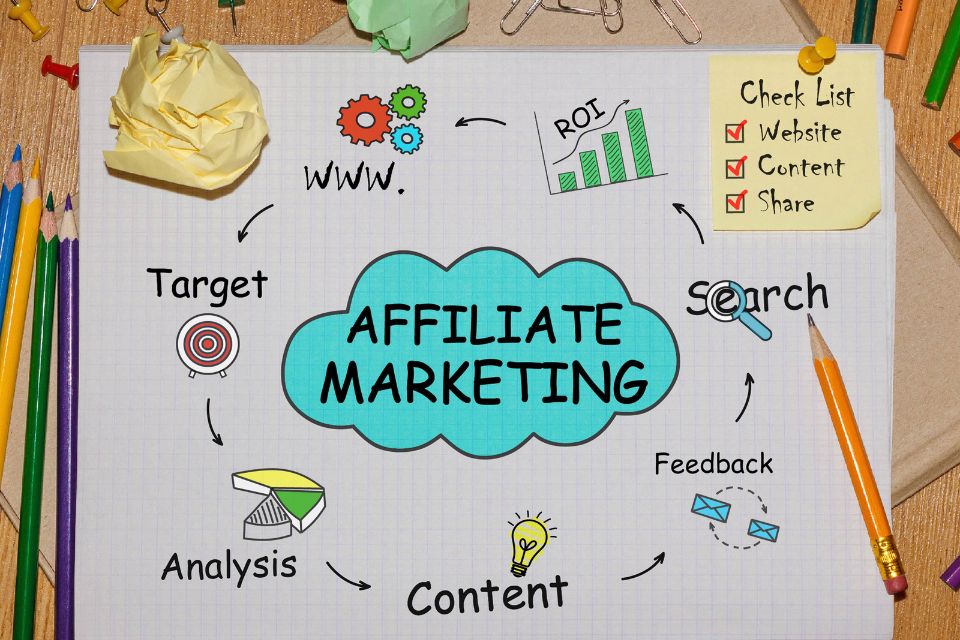 Affiliate marketing is another smart passive income channel for bloggers.
It works like this:
Find affiliate products relevant to your audience. These are typically online courses, software, tools, apps, etc.
Join the vendor's affiliate program to get a custom link.
Promote the affiliate product in targeted blog content. Send readers to the vendor site via your link.
Earn a commission when someone makes a purchase after clicking your link. Commissions average around 30% but can reach up to 75%.
Top affiliate programs include:
Amazon Associates
ShareASale
Rakuten
CJ Affiliate
Niche-specific products convert best since they align tightly with your audience and content.
Some bloggers make 6 figures or more solely through affiliate income. So promote products strategically and watch the passive commissions roll in.
Monetization Strategy #4: Sponsored Posts
Sponsored posts involve blog content promoting or reviewing a specific brand's product or service. The brand pays you to publish the custom article.
Rates vary greatly depending on your niche and audience size. But here are typical price points:
Less than 25k pageviews per month = $75 – $200 per post
25k – 50k pageviews per month = $200 – $500 per post
50k – 100k pageviews per month = $500 – $1000 per post
100k+ pageviews per month = $1000+ per post
You can connect with sponsors directly or use an ad network like BuySellAds that matches bloggers with relevant brands.
Just make sure to disclose sponsored posts as ads with an FTC disclaimer clearly. Write genuinely about brands you trust – never sacrifice integrity just for money.
With a significant readership and strategic partnerships, sponsored posts can become a very stable revenue source.
Monetization Strategy #5: Memberships and Paid Communities
One more way for bloggers to monetize is through paid memberships and exclusive communities.
This gives your most loyal readers bonuses and perks in exchange for a monthly or annual fee.
Membership benefits you can offer include:
Additional premium content
Discount codes and deals
Exclusive Q&As or webinars
Private discussion forums
Early access to products and content
Subscriber-only giveaways
Personal coaching and feedback
Priority requests and support
Software like MemberPress or Wishlist Member makes it easy to collect membership fees and restrict access.
According to G2.com, the community industry will reach $1 billion by 2022, so now is the time to build one around your blog niche.
Create an eBook
You can create your own eBook and sell it on your blog, or you can sell it on other sites like Amazon. This is a great way to make money because it doesn't require much work and you don't need to spend any money on marketing or advertising. However, if the eBook isn't well-written, people won't want to buy it because they'll think that what's inside isn't worth their money.
Amazon will also give you 70% of the profits from each sale of your eBook as long as there are more than 10 units sold within 7 days (which shouldn't be hard if you have enough traffic coming in). You're also allowed two free downloads per month from Amazon so that people who download your eBooks know what they're getting into before making their decision about whether or not they'd like to purchase them for full price ($4-$5).
Freelance writing/editing/designing.
Freelance writing/editing/designing. You can do this from home, and you can get paid by the word or by the hour, or by the project (a website copyedit, for example). You can also get paid by the hour or the project, but some writers prefer being paid by the word because they know exactly how much to charge for a certain amount of work.
Memberships.
Membership can mean a lot of things. It can be for a community or an online course or even a live event.
Memberships can be free or paid, so you can choose what works best for you and your audience.
If you're offering memberships for something that is currently available on the internet, it's important to give people the chance to try out your service without having to pay first.
Sell digital or physical products on your blog.
You can sell digital or physical products on your blog.
Digital products like ebooks and videos can be downloaded directly to the customer.
Physical products are things that customers have to buy with a credit card and pay for shipping costs.
"Not only are digital products a great way to make money now, but they also give you a valuable asset that you can sell." (Andre)
You can make money blogging using one of these methods
If you're looking to make money blogging, there are a few different ways you can do it.
Advertising
If you are lucky enough to attract a large number of visitors to your site, then you may be able to generate some income by placing advertisements on your page. This is one of the easiest ways to get started with making money blogging. The most common way is through AdSense and affiliate marketing. Although it's not an easy way to make money blogging, especially when you're just starting out, it can be very profitable if done right!
Advertising allows you to earn money without having to write anything yourself. Many types of ads are available, including banner ads, text links, and pop-ups.
Sponsored Posts
Another way to make money from blogging is to offer sponsored posts. Sponsored posts allow you to get paid to promote a product or service. For example, you could create a sponsored post promoting a new book or movie.
Affiliate Marketing
One of the easiest ways to make money from your own blog is affiliate marketing. Affiliate marketing involves partnering up with companies that sell products or services. When people buy these items through your website, you make a commission off of each sale.
Sell Products Online
Another popular method of making money from blogging is selling products online. Some bloggers choose to focus on specific topics like fashion, beauty, health, home decorating, etc., while others choose to focus on general topics like technology, business, parenting, etc. Regardless of what type of niche you choose, there are thousands of products out there that you can sell online.
Selling your own digital products
You don't have to sell anything physical like books or other merchandise; instead, you can sell your own online courses or ebooks through platforms like Udemy or Teachable (my personal favorite). This way makes sense if your blog has become pretty popular because people will be willing to pay for what they know works well for them anyway!
Blogging Platforms
Finally, another option is to start your own blog platform. This gives you complete control over all aspects of your blog. It also makes it easier to monetize your blog since you don't have to worry about integrating third party programs into your site.
Selling services
If there is something specific about your niche that makes you unique (like Photoshop skills), then why not offer those services? Just make sure that whatever service(s) you're offering has a demand in the market before jumping into this type of monetization method!
The best tools for succeeding on how to make money blogging
Best web hosting services
Cloudways – Best Overall
Cloudways is one of the most popular cloud hosting providers on the market. They offer a wide range of features, including a free domain name, unlimited storage, and unmetered bandwidth.
SiteGround – Best Customer Support
SiteGround is another great option for those looking for quality web hosting services. They offer 24/7 customer support, which is always a plus.
Domain Name Registration
NameCheap – Best Overall
NameCheap is one of the most popular domain name registrars on the market. They offer a wide range of features, including a free domain name, unlimited storage, and unmetered bandwidth.
Fix all your Grammar Mistakes and check Plagiarism
Grammarly – Best Overall
Grammarly is a great tool for those who want to make sure their writing is free of grammatical mistakes. It offers a wide range of features, including grammar checker, plagiarism checker, and more.
Generate your Marketing Copy in Seconds
Copy.ai – Best Overall
Copy.ai is a great tool that helps you generate marketing copy in seconds. It offers a wide range of features, including a free domain name, unlimited storage, and unmetered bandwidth.
FAQs
What is the easiest way to make money blogging?
The easiest way to make money blogging is through display ads like Google AdSense which allow advertisers to pay for ad placements.
How much money can you make blogging full time?
It's possible to earn a full-time income of $50,000 per year or more blogging if you have a sizable audience and diversified monetization strategies.
Can you really make money with a blog?
Yes, you can absolutely earn money blogging through strategies like online courses, affiliate marketing, sponsored posts, and selling advertising.
What blog topics make the most money?
The most profitable blog topics provide value on subjects like business, marketing, software, tech, lifestyle, health, and finance.
How long does it take to make money blogging?
It typically takes 6-12 months to start earning income from blogging. But profits can scale significantly after 1-2 years with consistent effort.
Conclusion
Launching a successful blog that earns real money is completely doable with the right strategy and persistence. But it also takes significant time and effort.
This guide covered the essentials of monetizing a blog through online courses, advertising, affiliate marketing, sponsorships, and memberships.
There's incredible potential in blogging, but you have to stay focused. Find your profitable niche. Establish your authority by consistently publishing amazing content. Then implement diversified income streams to maximize your earnings.
The work is well worth it for living life on your own terms as a professional blogger.
I hope this gives you a roadmap to building a thriving business around your passion and expertise. For more blogging advice and case studies, check out my latest articles here.
References
How to Make Money Blogging in 2023 (Complete Guide) – Wix.com
Follow these 10 actionable steps to hone in on your craft and monetize your blogging efforts: Choose..
How to make money blogging | TechRadar
Software Services How to make money blogging How-to By Ruby P. Jane published 23 January 2023 Making money blogging is definitely possible, but it..
How to Make Money Blogging: A Simple (But Complete) Guide – Ahrefs
Making money via blogging is real. Whether you've just started a blog or have been running one for a while, implementing tried and tested tips..
Guide: How to Make Money Blogging – NerdWallet
How much money can you make from blogging? Heres what Google says Google is the king of content. Your content, that is. Google decides if..
I'm Alexios Papaioannou, an experienced affiliate marketer and content creator. With a decade of expertise, I excel in crafting engaging blog posts to boost your brand. My love for running fuels my creativity. Let's create exceptional content together!