How To Make Money Blogging: The Ultimate Guide
This is the most common question I receive about blogging. How to make money by blogging? Can you really make money as a blogger? What is the average blogger's income, and how do bloggers make money from blogging?
What is monetisation?
"To put it simply, monetization means making money from your site. When you earn revenue from the online content on your blog, that's monetization." (Google AdSense) 
Monetisation is the process of turning traffic into revenue for a blogger. There are many ways to monetise a blog, and in this guide we will go over a few of the most popular methods.
The first way to make money from your blog is through affiliate marketing.
If you have a website or product that you want to promote, you can sign up with an affiliate marketing company and earn a commission on any sales that your readers make through your link. This method is not as easy as it sounds, and it takes some time and effort to build up a large affiliate network, but if you're serious about making money from your blog, this is one of the main methods.
The second way to make money from blogging is through advertising.
You can place ads on your blog or directly link to advertisers pages. This method is more difficult than affiliate marketing, but it offers more flexibility and control over your income.
The third way to make money from blogging is through merchandise sales.
If you have good design skills or know how to create beautiful e-books or courses, you can sell those products online through your blog. This method requires some investment in time and effort, but if you have the skillset it can be lucrative.
There are many other ways to monetise a blog, and this list is by no means exhaustive. If you're interested in finding out more about how bloggers make money from blogging, I highly recommend reading The Simple Dollar's Guide To Making Money Blogging or The Penny Hoarder's Guide To Making Money From Your Blog . These two guides offer an overview of the different methods available to bloggers and provide tips on how to start making money from blogging right away.
The first step is to start a blog.
The steps to starting a blog are:
Choose a topic that you are passionate about.
Research your topic and find the best sources of information.
3. Write engaging and informative posts that will interest your readers.
4. Promote your blog through social media, email marketing, and other methods.
5. Manage your blog's content and traffic to make money from your blog.
There are a few things to keep in mind when it comes to making money from blogging:
1. Your blog must be high quality to make money from it. If you post poor quality content, no one will visit or share your posts, and you will not make any money from your blog.
2. You need to have a good brand name and a web presence if you want to make money from blogging. If no one knows who you are or where to find you, it is very difficult to make money from blogging using traditional methods such as advertising or selling products online through your blog.
3. You need to have regular readers if you want to monetize your blog with advertisers or sponsorships. A small percentage of bloggers can make a living solely from their blogs through ad revenue and sponsored posts, but this is not the norm for most bloggers.
4. You must be able to manage your time well if you want to make money blogging. Many bloggers struggle with this task because they do not have other income streams that they can use to support their blogging habits.
5. Finally, remember that making money as a blogger is not easy – it takes time and effort on your part. However, with hard work and dedication, it is possible to achieve success as a blogger.
How To Make Money From Blogging
To help you understand how to make money from blogging, here is an overview of different ways to make money from blogging:
Affiliate marketing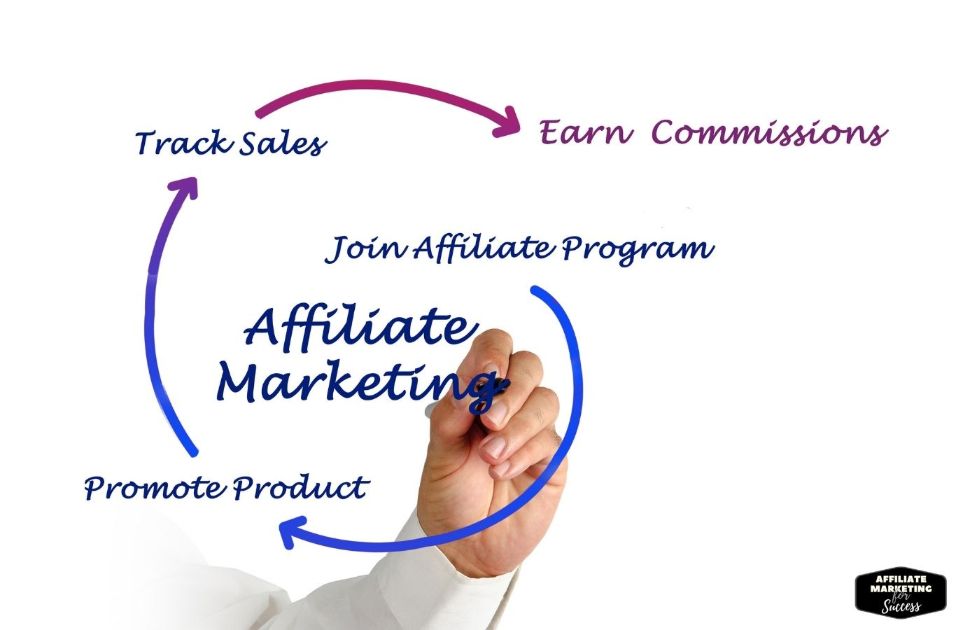 ""Choosing an affiliate program that is relevant to your entire blog can be a little tricky. There are lots of different affiliate programs available. Choosing the wrong one will make it hard to find enough relevant links to cover all aspects of your blog" (Affiliate Marketer Training) 
Affiliate marketing is a type of performance-based marketing in which you, as the affiliate, promote another company's (the merchant's) products or services and get paid for each visitor or customer you refer to them. Merchants set up affiliate programs on their websites or through networks that connect them with affiliates to sell their products or services.
As an affiliate marketer, you create content related to your niche and place links within that content pointing back to the merchant's website. When visitors click on those links and purchase something from the merchant's site, they're referred to as "sales conversions" because they've converted readers into buyers.
Affiliate Programs
There are hundreds of thousands of affiliate programs available online and in print today. Many merchants are willing to pay anywhere between $10-$50 per conversion depending on what type of product you're promoting (e-commerce vs. physical goods vs. digital downloads) and how much traffic it takes for someone to convert into a customer.
Ask for donations.
Another great way to make money blogging is by asking your audience to donate money to you.
It's OK if they don't give you any donations, by the way. It's a huge request and even though it may seem like a lot of people have done it before it doesn't mean that you will too. But still, don't be afraid of making this ask! You might not get what you want from your audience but at least no one can say that you didn't try!
"If you have a loyal, niche audience, they may be willing to support your site to keep the good stuff coming. Asking for donations is as easy as signing up for a PayPal account and adding a Donate button to your website." (GoDaddy Blog) 
Create and sell your own online course or product.
There are many ways that you can make money blogging, but the most popular is by creating and selling your own online course or product. If you have a specific skill set that could help others, this is an option worth exploring. However, in order to be successful with this method, you need to make sure that what you're offering is unique and valuable enough for people to pay for it. It's also important that your audience wants what you're offering—if they don't care about what they'll get from your product or course, then they won't buy it!
To make sure that your course/product will sell well enough for people to want it:
Think about what problems your audience has and how you can help them solve those problems by teaching them something new (your expertise).

Make sure that whatever knowledge or skillset(s) are taught are simple enough for anyone who buys into the program to understand without feeling overwhelmed by information overload (this means keeping things concise). For example, if someone wants to help lose weight then don't just give them a list of recipes…give them everything else too like setting goals etcetera so everything comes together nicely in one place instead of scattered across multiple locations where only certain pieces might apply on any given day depending on circumstances occurring within daily life instead."
"The online learning industry is already huge, and it's only going to get bigger as more and more students turn to online courses to further their education. In fact, the size of the global eLearning industry was estimated to be around $250 billion in 2020 and is expected to cross $1 trillion by 2027." (Mani) 
Dropshipping.
For those who are not familiar with dropshipping, it's a business model where you can sell products without having to buy them first. The supplier will pack the product in their warehouse and ship it directly to your customer.
You can start by searching for a product that is unique or has low competition. Then, find an online marketplace where you can start selling the product under your own brand. You don't need office space because all you have to do is just place an order when someone purchases from you.
Once you've chosen the right supplier and established yourself as a seller, marketing becomes one of your biggest challenges as well as generating sales through social media platforms like Facebook or Instagram. Another option would be promoting affiliate programs through blogs or websites where readers may click on links on content posted by others like Youtube videos etc., who promote certain products which pay commission when purchased through those links (this method usually doesn't work well unless there's good traffic flow).
eBooks.
Create an eBook.
You can create your own eBook and sell it on your blog, or you can sell it on other sites like Amazon. This is a great way to make money because it doesn't require much work and you don't need to spend any money on marketing or advertising. However, if the eBook isn't well-written then people won't want to buy it because they'll think that what's inside isn't worth their money.
Amazon will also give you 70% of the profits from each sale of your eBook as long as there are more than 10 units sold within 7 days (which shouldn't be hard if you have enough traffic coming in). You're also allowed two free downloads per month from Amazon so that people who download your eBooks know what they're getting into before making their decision about whether or not they'd like to purchase them for full price ($4-$5).
Freelance writing/editing/designing.
Freelance writing/editing/designing. You can do this from home, and you can get paid by the word or by the hour, or by the project (a website copyedit, for example). You can also get paid by the hour or by the project, but some writers prefer being paid by the word because then they know exactly how much money to charge for a certain amount of work.
Memberships.
Membership can mean a lot of things. It can be for a community or an online course or even a live event.
Memberships can be free or paid, so you can choose what works best for you and your audience.
If you're offering memberships for something that is currently available on the internet, it's important to give people the chance to try out your service without having to pay first.
Sell digital or physical products on your blog.
You can sell digital or physical products on your blog.
Digital products are things that can be downloaded directly to the customer, like ebooks and videos.
Physical products are things that customers have to buy with a credit card and pay for shipping costs.
"Not only are digital products a great way to make money now, but they also give you a valuable asset that you can sell." (Andre) 
You can make money blogging using one of these methods
If you're looking to make money blogging, there are a few different ways you can do it.
Advertising
If you are lucky enough to attract a large number of visitors to your site, then you may be able to generate some income by placing advertisements on your page. This is one of the easiest ways to get started with making money blogging. The most common way is through AdSense and affiliate marketing. Although it's not an easy way to make money blogging, especially when you're just starting out, it can be very profitable if done right!
Advertising allows you to earn money without having to write anything yourself. There are many types of ads available, including banner ads, text links, and pop-ups.
Sponsored Posts
Another way to make money from blogging is to offer sponsored posts. Sponsored posts allow you to get paid to promote a product or service. For example, you could create a sponsored post promoting a new book or movie.
Affiliate Marketing
One of the easiest ways to make money from your own blog is affiliate marketing. Affiliate marketing involves partnering up with companies that sell products or services. When people buy these items through your website, you make a commission off of each sale.
Sell Products Online
Another popular method of making money from blogging is selling products online. Some bloggers choose to focus on specific topics like fashion, beauty, health, home decorating, etc., while others choose to focus on general topics like technology, business, parenting, etc. Regardless of what type of niche you choose, there are thousands of products out there that you can sell online.
Selling your own digital products
You don't have to sell anything physical like books or other merchandise; instead, you can sell your own online courses or ebooks through platforms like Udemy or Teachable (my personal favorite). This way makes sense if your blog has become pretty popular because people will be willing to pay for what they know works well for them anyway!
Blogging Platforms
Finally, another option is to start your own blog platform. This gives you complete control over all aspects of your blog. It also makes it easier to monetize your blog since you don't have to worry about integrating third party programs into your site.
Selling services
If there is something specific about your niche that makes you unique (like Photoshop skills), then why not offer those services? Just make sure that whatever service(s) you're offering has a demand in the market before jumping into this type of monetization method!
The best tools for succeeding on how to make money blogging
Best web hosting services
Cloudways – Best Overall
Cloudways is one of the most popular cloud hosting providers on the market. They offer a wide range of features, including a free domain name, unlimited storage, and unmetered bandwidth.
SiteGround – Best Customer Support
SiteGround is another great option for those looking for quality web hosting services. They offer 24/7 customer support, which is always a plus.
Domain Name Registration
NameCheap – Best Overall
NameCheap is one of the most popular domain name registrars on the market. They offer a wide range of features, including a free domain name, unlimited storage, and unmetered bandwidth.
Fix all your Grammar Mistakes and check Plagiarism
Grammarly – Best Overall
Grammarly is a great tool for those who want to make sure their writing is free of grammatical mistakes. It offers a wide range of features, including grammar checker, plagiarism checker, and more.
Generate your Marketing Copy in Seconds
Copy.ai – Best Overall
Copy.ai is a great tool that helps you generate marketing copy in seconds. It offers a wide range of features, including a free domain name, unlimited storage, and unmetered bandwidth.
Conclusion
There are probably a lot of things that you can do to make money from your blog. The most important thing is to be creative and think outside the box!
The best way is to experiment with different strategies until one works for you and your audience. Thanks for reading!
Works Cited
Google AdSense. www.google.com, https://www.google.com/adsense/start/resources/how-to-make-money-from-blogging/. Accessed 25 May 2022.
Affiliate Marketer Training. www.affiliatemarketertraining.com, 20 Feb. 2022, https://www.affiliatemarketertraining.com/monetize-blog-affiliate-marketing/.
Mani, Baidhurya. Sell Courses Online. sellcoursesonline.com, 25 Aug. 2021, https://sellcoursesonline.com/sell-online-courses.
GoDaddy Blog. www.godaddy.com, 6 Nov. 2018, https://www.godaddy.com/garage/6-website-monetization-strategies-to-turn-your-site-into-a-moneymaker/.
Andre, Marc. Vital Dollar. vitaldollar.com, 26 June 2018, https://vitaldollar.com/sell-digital-products/.
I'm Alexios Papaioannou, a word wizard, and affiliate marketing ninja with a decade of experience crafting killer blog posts that captivate and convert. Specializing in affiliate marketing, content writing, analytics, and social media. My secret weapon is a love of running that boosts my creativity and energy. Let's create epic content together!