How To Increase Domain Authority Quickly And Easily with these simple tips
Are you trying to increase the domain authority of your website to see an improvement in your search engine ranking in the future? Look no further. This article will answer your questions.
Domain authority is simply the total number of links from different websites pointing to your website. The higher the domain authority, the more influential your website is.
Many people ask me: "What is Domain Authority?" Do you know what it is? Due to its significance in search engine rankings, Domain Authority has gained much popularity. You have most likely heard of this term if you've been around the internet writing world lately. But I am sure that not everyone understands fully what it means.
Several sites on the Internet tell you how to increase your domain authority. These are an excellent tool for marketing your website as well. You don't want to buy links or even guest blogs on low-ranking websites, as this will only harm your credibility within the search engines. What you need to do is build up your credibility through high-ranking websites related to your field.
Getting a higher domain authority will draw more traffic back to your website in the long term and make it more user-friendly for potential customers who are searching online for something similar to your niche.
What is Domain Authority?
Authority (DA) is a search engine ranking score developed by Moz that predicts how likely a website is to rank in search engine result pages (SERPs). Domain Authority scores range from one to 100, with higher scores corresponding to greater likelihood of ranking." (Moz)
So we understand that Domain Authority (DA) is a metric developed by Moz that predicts how far a website will rank in search engines. It considers the number of links to a page, how well those links are built, and other factors. The idea is that websites with high DA can more easily gain search rankings, whereas those with low DA will have less success.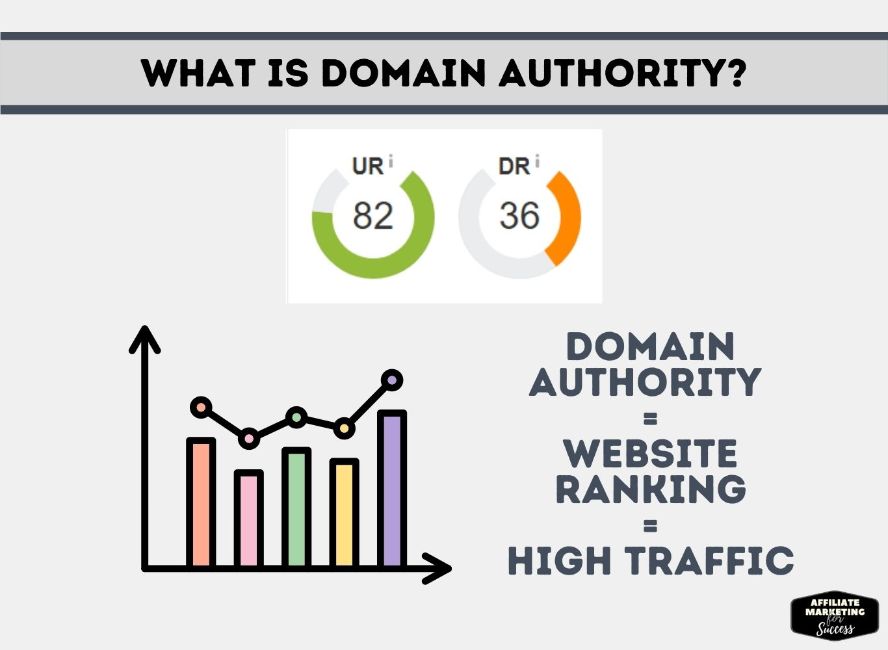 Domain authority is not a single metric but instead is made up of several different factors that together provide a prediction of how well a website will rank. A website's domain authority relies on data from hundreds of thousands of websites analyzed by the Mozscape system (Moz's spidering and indexing tool). In order to score your own website's domain authority, Moz will analyze your site and compare it to other sites in its index.
The factors that contribute to a site's domain authority are:
The number of external links pointing back to the site (the more links there are, the higher the score)
The number of links from other high-authority sites (the more links there are from sites with other high authority scores, the higher your score)
The age of your site (sites with older domains tend to be more trustworthy).
The number of pages linking to your site (more pages linked gives you a higher score).
How Can You Increase Your Domain Authority?
There are a few ways you can increase your domain authority. The most effective way is to increase the number of links from different websites pointing to your website.
Various factors affect your domain authority, and the key is to choose a few of them to focus on. If you want to generate more traffic from the search engines, improving your on-page and off-page factors is your best bet.
Create original and useful content.
It has been said that the number one factor in determining search engine ranking is the amount of quality content on a website. The more original, in-depth articles on your site, the more likely they will appear higher up on the results page.
And by "original," I don't mean slapping a different name on an article that already exists elsewhere on the Internet. There is nothing wrong with repurposing content as long as you are giving proper credit to the source and as long as you are not plagiarizing it word for word. Google's algorithms mean that duplicate content will get penalized, so use your own words but keep it fresh by updating the information.
Be more credible than your competitors.
The competition for links on specific keywords can be fierce, particularly in highly competitive verticals like finance or beauty. You will want to increase your domain authority if it is low because it makes you appear more credible. Having a higher DA shows that you've earned your position on the SERPs and bolsters your credibility. A higher DA is also essential if you are trying to get links from authoritative sites because they require high DA sites to link out to them.
On top of all this, having a high domain authority indicates that your site has longevity and is worth investing time into—this is known as "link equity," and it increases over time as you continue to build links and improve your site.
Write unique and helpful content.
Writing content that is original yet insightful and informative will attract new visitors and encourage them to stay around. By cultivating a large following of readers who find your content useful, they will link back to your site, and this will, in turn, boost your DA score as well as help get your site ranked higher in SERPs.
The higher your domain authority, the better search ranking you will get when people search for specific information related to your website. When it comes to writing unique and helpful content, you have several options:
Original content that directly answers the questions or problems of your target audience
A summary of relevant information already available on the Internet filled with original insights
A compilation of data from other sources but organized to make it easier for people to find what they need.
When writing unique and helpful content, make sure you're focusing on answering the needs of your target audience and helping them achieve their goals. You want to make it clear to your reader that you understand their problem (and what they're looking for as a solution) so that they feel comfortable turning to you for answers in the future.
Increase Link Shares
To increase your Domain Authority (DA), you must have high-quality, relevant links from other websites. If a website is constantly linking to another site, it indicates that the linking site owner believes that the other site is an authority in its field. When people scan the web for blogs, forums, and websites to add to their RSS feed, they will come across your blog if others regularly link to it. Encouraging others to link to your blog will be more likely to continue linking to it.
You should offer some incentive to encourage others in your niche or industry to link back to your blog. It could be something as simple as a thank you card or a small gift such as a keychain or cupcake. Make sure that any gift or incentive you offer has something to do with what they do and what you're trying to accomplish on your blog.
For example, if you sell shoes online and want designers who make shoes for babies in Africa to link back to you, don't offer them a gift certificate for shoes—they won't use it! Offer them something related, such as a baby t-shirt or some baby socks. This way, when someone comes across that designer's website and sees their blogroll, they
Building Better Relationships
A domain's PageRank—or, as it's more commonly known, its domain authority—is a critical factor in how well a site ranks in search engines. While building backlinks and getting good content on your site are essential pieces of this puzzle, building quality relationships with people in your industry cannot be overstated.
The best way to build relationships is to ask for things upfront. This means that you want to invite people to connect with you on social media or send them an email with a personal message asking them to link to something they like. If they're not interested or turn you down, don't take it personally—continue to remain friends and keep doing what you're doing. You never know who will have something going on that might need your help later on, so it's always best to stay friendly and help anyone who comes to your site (even if they don't link back).
Search engines are starting to use domain authority more and more as a ranking factor. If you are trying to build a robust website, it is essential to know what domain authority is and why it is essential.
Guest Posting
Guest blogging can be a powerful way to increase your domain authority. There are two main ways guest posting can help your website grow. First, it gives you a chance to reach an audience outside of your current visitor base, which is especially helpful if they are not looking for the same kind of content that you provide. This kind of exposure will bring you new traffic and visibility. Second, guest posting establishes you as a trusted name in your niche, which can improve the way viewers perceive your website. After all, if someone else has already vetted your work, that's one less thing the average reader needs to do for themselves.
As long as there is a high-quality piece of content being provided by the guest poster, readers are likely to see it as a positive thing. Even though guest posts don't link directly to your website, search engines still consider when determining how relevant you are too specific topics and how authoritative you are overall.
Guest posting also helps build relationships with other bloggers in your niche. You never know when their blog might be able to help you in some way down the line; establishing yourself as an ally now could lead to mutual assistance later on.
Write Articles for High-Traffic Websites
One of the quickest and easiest ways to boost your domain's authority is to publish your content on sites with high domain authority. You can do this by writing articles for related sites and submitting them via an RSS feed or a blog network. When you write for other sites, you establish yourself as a thought leader and show search engines your expertise. More articles on high-traffic, high-domain-authority sites will increase your site's domain authority.
It's tempting to publish straight on popular sites like Huffington Post or Buzzfeed (since we all want our names on those sites). However, this may not be the best option for your website's authority. These sites commonly use a nofollow tag, so none of their incoming links will boost your page rank. If you publish content for related sites with high domain authority and syndicate them, you can bring a lot of traffic to your site.
What Are the Benefits of Increasing Your Domain Authority?
There are many benefits to increasing your domain authority. Domain Authority, or DA for short, is a score from 1–100 that Google assigns to every website that has been verified with their Webmaster Tools. The score is based on several factors, including:
-Number of pages linking back to your site
-How well your site has been designed and constructed
-Your presence on social media outlets (Facebook, Twitter, etc.)
Increasing our domain authority was one of the essential parts of our overall SEO strategy. A higher Domain Authority indicates that Google trusts your website to have valuable and accurate information relevant to your target keywords. This means that your website will be more likely to appear in search rankings for the keywords you want to target. This means more traffic and increased revenue potential for your business!
How Can You Tell if Your Domain Authority Is High Enough?
There is no definitive answer to this question. However, you can use tools like Google's PageSpeed Insights or Moz's Moz Domain Authority to get an idea of your domain authority.
Specifically, there's a handy tool called the MozBar, which we've recommended before in our How to Find the Best PBN Domains article. It offers an easy-to-spot Domain Authority score right on its interface.
There's also an SEO standard called PageRank, supplanted by the Domain Authority metric. Google even touts Domain Authority as one of its ways to measure SEO mastery: "A high Domain Authority means that webmasters have linked to your site and trust your content."
To use the MozBar, install it on your browser (either Chrome or Firefox) and click on the icon. It should appear directly next to your URL in the top left corner of your browser, like so:
The yellow arrow points to our blog's PageRank—or DA—score (which is about 55). A higher score is better! Just for reference, Google's home page has a PageRank of 10, while Wikipedia has a DA of 99, and Bleacher Report has a DA of 93.
Conclusion
So there you have it—a few tips on how to increase your domain authority. Keep in mind that this is an ever-evolving process and that the algorithms used by search engines are constantly changing, so what works today might not work tomorrow. The best way to stay ahead of the game is to produce quality content and build your audience.
Improving your domain authority is one of the best ways to improve your website's search engine ranking. It is important to remember that domain authority depends on many factors, so there is no one-size-fits-all answer. However, following these simple tips will increase your domain authority quickly and easily. What other methods do you use to increase website conversions? We'd love to hear from you.
I'm Alexios Papaioannou, a word wizard, and affiliate marketing ninja with a decade of experience crafting killer blog posts that captivate and convert. Specializing in affiliate marketing, content writing, analytics, and social media. My secret weapon is a love of running that boosts my creativity and energy. Let's create epic content together!