Increasing Domain Authority: Quick and Easy Tips
Are you trying to increase the domain authority of your website to see an improvement in your search engine ranking in the future? Look no further. This article will answer your questions.
Domain authority is a metric developed by Moz that predicts how well a website will rank on search engine results pages (SERPs). It's calculated based on the quantity and quality of backlinks pointing to your domain. The higher your domain authority, the better your website's ability to rank for competitive keywords.
In this post, I will discuss the concept of domain authority, its significance for SEO, and share the best effective methods to boost your domain authority swiftly. By adopting these recommendations, you can expect to witness a gradual increase in your domain authority, leading to improved search rankings and increased organic traffic.
Boost Your Domain Authority Fast!
| Tactic | Description |
| --- | --- |
| Create high-quality content | Focus on creating in-depth, well-researched content that provides value for readers. Use keywords naturally. |
| Get backlinks | Reach out to other sites and ask to be included in their content as a source. Guest post on authority sites. |
| Leverage social media | Share content on social networks to drive traffic. Encourage likes, comments and shares. |
| Update old content | Refresh old posts by adding new info, media, etc. This counts as new content. |
| Improve page speed | Faster load times improve user experience and signals quality to search engines. |
| Fix technical issues | Check for broken links, meta errors, etc. Create XML sitemaps. |
| Build an email list | Collect email addresses and build loyalty through an email newsletter. |
What is Domain Authority?
Authority (DA) is a search engine ranking score developed by Moz that predicts how likely a website is to rank in search engine result pages (SERPs). Domain Authority scores range from one to 100, with higher scores corresponding to greater likelihood of ranking." (Moz)
Google and other search engines use domain authority as ranking factors. Websites with higher domain authority tend to have higher search rankings and more keyword visibility. Here are some of the specific benefits of having a high DA:
Increased organic search traffic – Higher DA websites are likelier to rank on the first page for valuable keywords. This results in more clicks and visitors from search.
Higher click-through rates – Searchers tend to have more trust for results with higher domain authority, making them more likely to click your listings.
Lower cost-per-click – Domain authority influences Google AdWords Quality Score. Higher DA sites tend to have lower CPCs.
More link equity – Sites with higher DA pass more link juice to pages they link out to. This gives your internal pages a boost in the eyes of search engines.
Increased conversions – Visitors who land on your site from organic search are more likely to convert to customers when you have higher domain authority.
There are many benefits to increasing your website's domain authority. Next, let's look at the proven tactics to do so.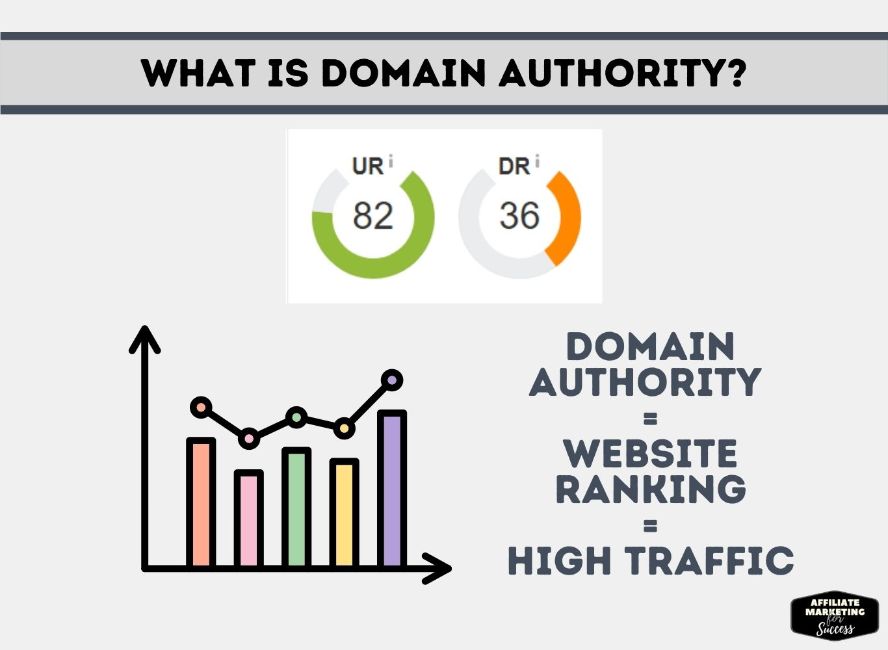 1. Acquire High-Quality Backlinks from Authority Sites
Backlinks remain one of the strongest signals of quality and trust to search engines like Google. In particular, backlinks from high authority websites pass a significant amount of link equity and help boost your own domain authority.
Here's what makes an ideal backlink for improving DA:
The referring site has a high domain authority itself (ideally higher than yours)
The link uses your brand name or relevant anchor text, not overly optimized or spammy anchors
The page the link is on is relevant to your industry and content
The link comes from an authoritative, trustworthy site related to your niche
The link is earned naturally, not bought or swapped
To build these types of high-quality backlinks:
Create link-worthy content assets like infographics, research reports, and tools to promote
Reach out to industry influencers and experts for backlinks to resources on their sites
Build relationships with reputable blogs and offer to contribute guest posts
Participate actively in online communities and forums related to your field
Use tools like Moz Link Explorer and Ahrefs to identify new link-building opportunities
Gaining backlinks from industry authority sites like Entrepreneur, Forbes, and Inc. can give your domain authority an immediate and lasting boost. In one example, this case study showed how a website increased its DA from 22 to 38 in just 3 months by building quality backlinks.
2. Create Killer Content That's Link Worthy
In addition to acquiring backlinks, creating high-quality, link-worthy content will attract natural links and positively influence your domain authority.
Here are some tips for developing content that earns links:
Provide original research and data-backed insights. Content with unique stats and data tends to get more links.
Create comprehensive guides and resources on topics related to your industry. These "ultimate guides" are very shareable.
Offer thought leadership on current trends and analysis of news in your space. Linkers value expertise.
Optimize content for keywords your target audience is searching. On-page SEO helps drive organic traffic for links.
Make content visually appealing with images, videos, graphs, and other media. Visual content performs well on social media.
Publish actionable advice and takeaways readers can implement. Instructional and tactical content gets more links.
Once you create useful content optimized for your industry, promote it:
Pitch guest posting opportunities to build links to your content.
Share it on social media channels, online forums, and communities.
Reach out to influencers and ask them to share or link to your content if it's relevant to their audience.
Repurpose content into different formats like podcasts, slide decks, and videos to expand its reach.
Creating high-quality, engaging content that appeals to influencers and websites in your space is one of the best long-term strategies for earning authoritative backlinks and increasing domain authority.
Create original and useful content.
It has been said that the number one factor in determining search engine ranking is the amount of quality content on a website. The more original, in-depth articles on your site, the more likely they will appear higher up on the results page.
And by "original," I don't mean slapping a different name on an article elsewhere on the Internet. There is nothing wrong with repurposing content as long as you give proper credit to the source and you are not plagiarizing it word for word. Google's algorithms mean that duplicate content will get penalized, so use your own words but keep it fresh by updating the information.
Be more credible than your competitors.
The competition for links on specific keywords can be fierce, particularly in highly competitive verticals like finance or beauty. You will want to increase your domain authority if it is low because it makes you appear more credible. Having a higher DA shows that you've earned your position on the SERPs and bolsters your credibility. A higher DA is also essential if you are trying to get links from authoritative sites because they require high DA sites to link out to them.
On top of all this, having a high domain authority indicates that your site has longevity and is worth investing time into—this is known as "link equity," and it increases over time as you continue to build links and improve your site.
3. Audit Your Site and Remove Bad Links
While building new high-quality backlinks is crucial, you must keep your site free of bad links that can dilute or negatively impact your domain authority.
Here are signs that a backlink may be harmful and should be removed:
It comes from an irrelevant or spammy site.
The anchor text is overly optimized, not natural.
There are a disproportionate amount of links from a single low-quality site.
The link is artificial or paid (not editorially given).
The page has low authority and metrics itself.
The site it's coming from has a poor reputation or shady SEO history.
To clean up your backlink profile:
Use tools like Moz Link Explorer and Ahrefs to audit your links.
Disavow spammy links through Google Search Console.
Contact poor-quality sites to request link removal.
Add a nofollow attribute to questionable links you can't remove.
Maintaining a healthy backlink profile by limiting risky links helps protect your domain authority in Google's eyes. Monitor your new links carefully and cuts ties with low-quality sites to prevent your DA from decreasing over time.
According to Ahrefs, sites that removed even just 25 toxic backlinks saw their domain authority increase by 2 points on average. Regular backlink audits pay dividends for your SEO.
4. Optimize Your Website Structure and User Experience
Beyond links, domain authority is also influenced by on-page optimization and user experience factors. Making your site easy to navigate, consuming content, and finding information improves organic rankings and authority.
Here are some website optimization tips to boost domain authority:
Use a logical, hierarchical site architecture with clear main menus and site navigation.
For discoverability, include keywords in page titles, URLs, headings, and meta descriptions.
Make content scannable with bullet points, images, graphs, videos, and other formatting.
Connect internal pages through contextual internal linking to highlight related content.
Ensure fast page speed by optimizing images, caching, minifying CSS/JS, and using a CDN.
Make pages mobile friendly with responsive design across screens and devices.
Include useful buttons and CTAs throughout pages to facilitate conversions and other actions.
By better structuring your site content and improving technical site performance, search engines can better crawl, index, and understand your pages, leading to higher domain authority.
Increase Link Shares
The interlinking between pages on your website also impacts domain authority and SEO. Optimizing your internal links helps search bots crawl your site and signals relevance between pages.
Best practices for internal link building include:
Use keywords as anchor text linking to related content pages throughout your site.
Link to important pages like service and product category pages from site-wide elements like the footer.
Cross-link content pages together that cover the same topics or keywords.
Link from blog posts to more evergreen pillar content for added context.
Point old outdated content to new pages or sections when you update and refresh content.
Utilize linking tools like Moz Bar and Ahrefs Site Explorer to find gaps in your internal linking.
When your internal pages all link to each other contextually, search engines will find, crawl, and understand your content more thoroughly. This ultimately results in higher domain authority.
One study by Citation Labs found that sites could gain 6 or more DA points in 5 months just through improving internal links.
Building Better Relationships
A domain's PageRank—or, as it's more commonly known, its domain authority—is a critical factor in how well a site ranks in search engines. While building backlinks and getting good content on your site are essential pieces of this puzzle, building quality relationships with people in your industry cannot be overstated.
The best way to build relationships is to ask for things upfront. This means that you want to invite people to connect with you on social media or email them a personal message asking them to link to something they like. If they're not interested or turn you down, don't take it personally—remain friends and keep doing what you're doing. You never know who will have something going on that might need your help later on, so it's always best to stay friendly and help anyone who comes to your site (even if they don't link back).
Search engines are starting to use domain authority more and more as a ranking factor. If you are trying to build a robust website, knowing what domain authority is and why it is essential is essential.
Guest Posting
Guest blogging can be a powerful way to increase your domain authority. There are two main ways guest posting can help your website grow. First, it allows you to reach an audience outside your current visitor base, which is especially helpful if they are not looking for the same kind of content you provide. This kind of exposure will bring you new traffic and visibility. Second, guest posting establishes you as a trusted name in your niche, which can improve the way viewers perceive your website. After all, if someone else has already vetted your work, that's one less thing the average reader needs to do for themselves.
As long as a high-quality piece of content is provided by the guest poster, readers are likely to see it as a positive thing. Even though guest posts don't link directly to your website, search engines still consider when determining how relevant you are too specific topics and how authoritative you are overall.
Guest posting also helps build relationships with other bloggers in your niche. You never know when their blog might be able to help you in some way down the line; establishing yourself as an ally now could lead to mutual assistance later on.
Write Articles for High-Traffic Websites
One of the quickest and easiest ways to boost your domain's authority is to publish your content on sites with high domain authority. You can write articles for related sites and submit them via an RSS feed or a blog network. When you write for other sites, you establish yourself as a thought leader and show search engines your expertise. More articles on high-traffic, high-domain-authority sites will increase your domain authority.
It's tempting to publish straight on popular sites like Huffington Post or Buzzfeed (since we all want our names on those sites). However, this may not be the best option for your website's authority. These sites commonly use a nofollow tag, so none of their incoming links will boost your page rank. If you publish content for related sites with high domain authority and syndicate them, you can bring much traffic to your site.
What Are the Benefits of Increasing Your Domain Authority?
There are many benefits to increasing your domain authority. Domain Authority, or DA for short, is a score from 1–100 that Google assigns to every website verified with their Webmaster Tools. The score is based on several factors, including:
-Number of pages linking back to your site
-How well your site has been designed and constructed
-Your presence on social media outlets (Facebook, Twitter, etc.)
Increasing our domain authority was one of the essential parts of our overall SEO strategy. A higher Domain Authority indicates that Google trusts your website to have valuable and accurate information relevant to your target keywords. This means your website will be more likely to appear in search rankings for the keywords you want to target. This means more traffic and increased revenue potential for your business!
FAQs
What is domain authority and why is it important?
Domain authority measures a site's power and influence based on backlinks and content quality. Higher DA improves SEO rankings.
How can I get more high-quality backlinks to my site?
Guest posting, partnerships, outreach, content marketing, link building tactics, and local citations get more quality backlinks.
What kind of content increases domain authority?
In-depth, well-researched, and engaging expert content signals authority and earns backlinks, lifting DA.
How long does it take to increase domain authority?
Domain authority increases gradually over months/years by consistently applying SEO and marketing best practices.
What tools can I use to track my domain authority?
Tools like Moz, Ahrefs, and Semrush provide DA scores and metrics to monitor your progress over time.
Conclusion
Improving your website's domain authority should be an ongoing focus for long-term SEO success. The higher your DA, the better visibility and traffic your site will gain in organic search.
This post covered the top proven tactics to increase domain authority:
Acquiring backlinks from authoritative sites
Creating high-quality, linkable content
Removing bad links through audits
Optimizing website UX and structure
Improving your internal linking scheme
Focus on building a natural backlink profile from relevant sites over time, developing engaging content built for your audience, and structuring your site for the best crawling and indexing.
Monitoring your domain authority monthly and implementing linking and on-page optimization tactics will steadily grow your DA and organic search presence. Within 6-12 months, you can gain multiple points.
References
7 Practical Steps to Increase Your Websites Domain Authority
SAVE 80% OFF on Digital Marketing Full Course Domain Authority (DA) is a number (metric) that indicates your website's authority. The higher your..
13 Proven Steps to Grow Your Domain Authority Fast – Jeffbullass Blog
13 Proven Steps to Grow Your Domain Authority Fast 2021 October 11 by Bright Ewuru In the current digital marketing ecosystem, search engine optimization (SEO)..
How Do I Increase My Domain Authority (DA)? – Moz
How Do I Increase My Domain Authority (DA)? Moz Tools | Link Building The Short Version: Don't obsess over Domain Authority (DA) for its own..
What Domain Authority Is (and Isnt), and How to Increase It – HubSpot Blog
Published: June 02, 2021 Some companies and brands use Domain Authority (DA) to study and evaluate the results of their digital strategies. But what does..
Domain Authority: What It Is and How Can You Boost It (5 Ways)
How to Increase Domain Authority How Do You Check Domain Authority? What is Domain Authority? Domain authority (DA) is a ranking metric that you can..
I'm Alexios Papaioannou, an experienced affiliate marketer and content creator. With a decade of expertise, I excel in crafting engaging blog posts to boost your brand. My love for running fuels my creativity. Let's create exceptional content together!